I have always been a bit of a water baby. Being my happiest when immersed in water. Some probably think that's strange but I don't care. My life, my rules!   My parents say I learnt to swim before I could walk in Malaysia 1983.  I learnt to walk in the snow apparently.
Being in the water makes me feel young and free. I play around like a seal and love it.  I feel inner peace and totally myself when I am in the water.
I have many happy memories of playing around in water.  I did actually train and swim for Wycombe swimming club for many years.  
Extra special memories are of swimming in the sea with family and friends. I love pools, the sea and the river Thames where I am lucky enough to live onboard a Dutch barge. This means I can jump in whenever I fancy a swim. Lucky me hey!   
My heart does call for a sea swim though. I love feeling the power of the sea. The salt water and the slight sense of danger!! 
Last February I had a wonderful experience in the North Sea. I went up to Scarborough to see an exhibition I was a part of (see previous blog 100 sawdust hearts); and thought that this would be a great opportunity to meet up with the local North sea swim group. So I asked on the outdoor water swimming society facebook group to see if there was a group I could join for a swim on the Sunday. Yes there was. I was so excited!! A chance to swim in the North Sea and with a group of people that love the water as much as I do. What could be better! Not much! 
So I spent the night in a cheap hotel and enjoyed a walk around Scarborough the day before. Enjoying some fish and chips and a cold drink, then early to bed!! 
I woke up the next morning after a restless sleep of anxiety and expectation. I had actually slept, because I remember dreaming of meeting the group. Thank fully it went a lot better than my dream! 
I packed up my things and drove to the meeting place. I had to go down the cliff railway to the SEA SWIM beach hut. There I was greeted by gleaming faces. Some a bit anxious about the thought of getting in the very cold water, but mostly just excited about the swim.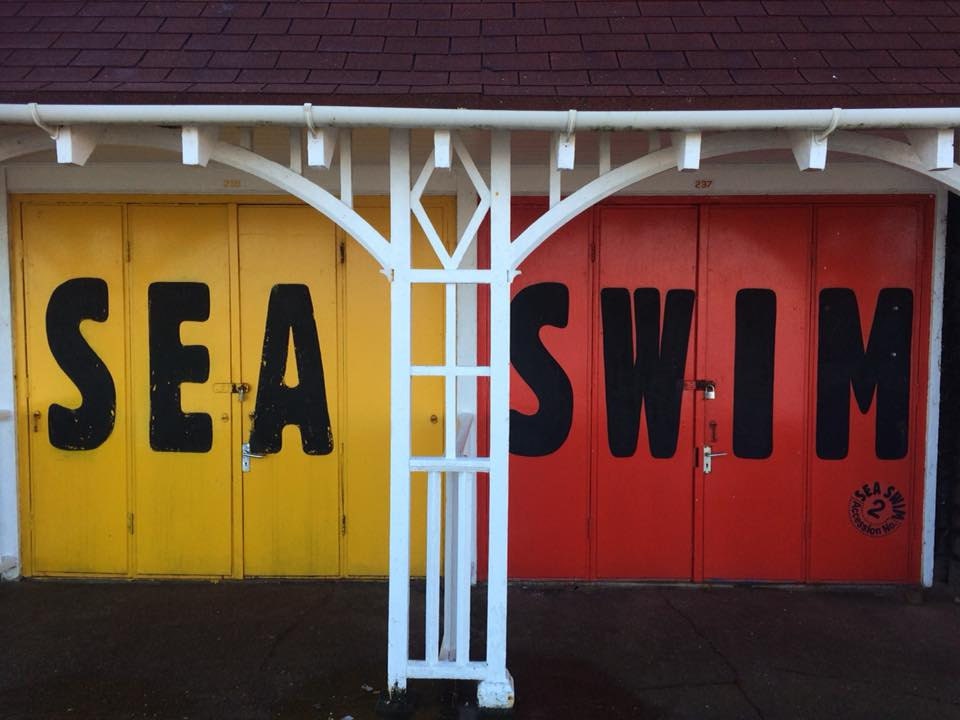 We all got our wetsuits on and made our way to the water. I was in my element!!! It was also a chance to use my new GoPro camera toy. I could capture the experience in the form of video and photos. Also something I love doing. I don't think I'd remember much if I didn't! So I have some memories that every so often I watch and it takes me back to this experience.   
So back to the beach. 
We all walked down to the water. Some had neoprene hats on as well. It was February in the UK after all. Thankfully it was a beautiful sunny day. Quite amazing really, it was horrible and dull for the rest of the weekend. We spent an amazing 30 minutes or so in the water. Being battered by Mother Nature and loving every minute.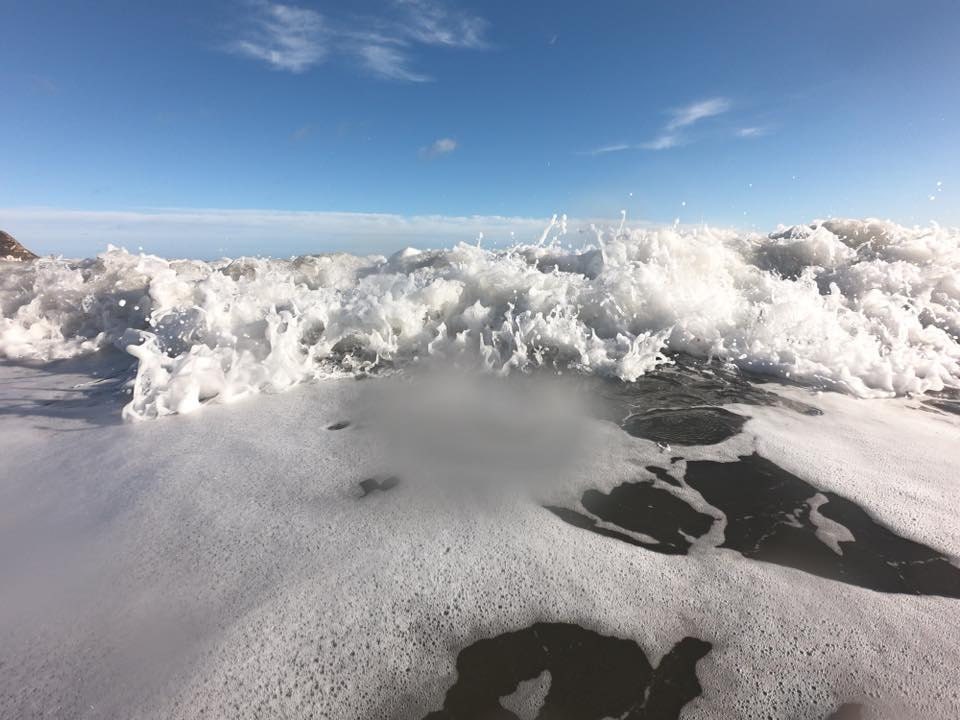 Lots of laughter and very happy people enjoying being in the cold water and feeling the benefits already! What a rush!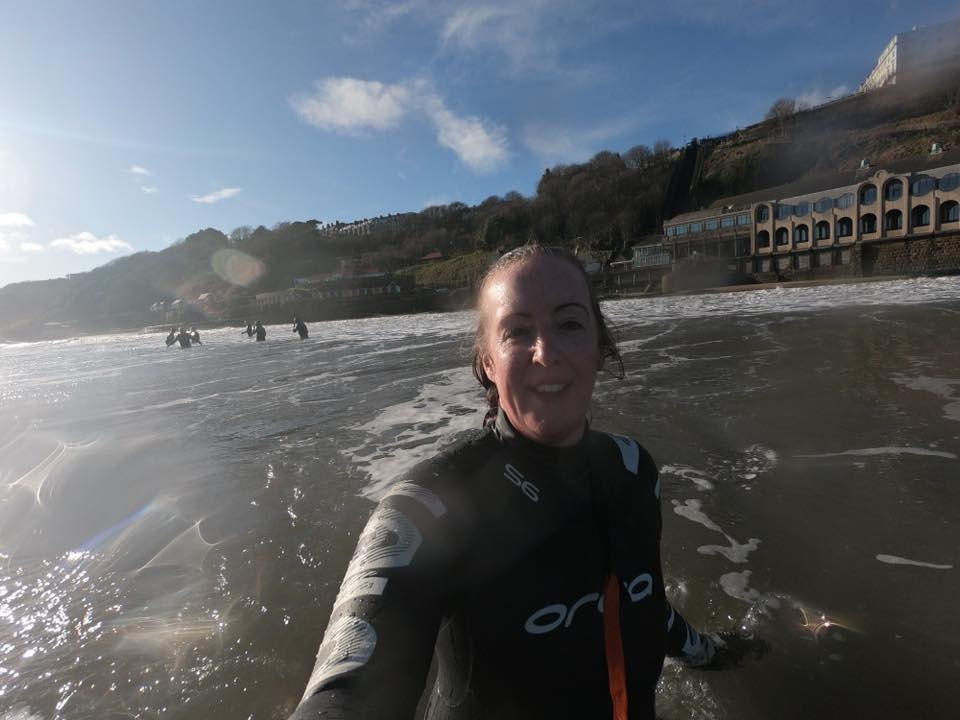 After the swim we all hurried back to the hut to changed and had tea and cake. All buzzing from the amazing power of open water swimming.    An experience I will never forget!   
Back to normality and my swimming in the river Thames. Not everyone's cup of tea I know. But I assure you; I monitor the river and only swim when I am happy with the conditions. The river is the cleanest it has ever been and you can even see the bottom. Not the entire river is like this. But here where we are moored, it is. 
I try and swim all year round. Of course I swim more in the warmer months because it is easier. But in the winter when the air temperature and the water temperature are a lot less then it is more about the challenge and the benefits I feel from being in the cold water. 
For all of my adult life I have had bad joint pain and back problems. I think that a lot of it is to do with the epilepsy medication I have been on for most of my life. It is just part of my everyday life now and I 'deal with it'. 
However until a few years ago, I took pain killers every day to take away the pain. I really didn't want to keep doing this and after swimming in the cold water more regularly I realised that the cold water was helping with my joint and back pain. It was a real breakthrough for me. I am now happy to say that I no longer take the pain killers!!  
I am still in pain every day, but it is not as bad, plus my mind is stronger and can deal with it most of the time. 
The other thing I love about open water swimming is that it connects people. Although I mostly swim alone. I can talk about it and post photos of my achievements on the outdoors swimming facebook groups.. The comments are very encouraging and seeing that other people are swimming in this crazy way is very reassuring. They are my tribe, even though I've never even met them.  
Every so often an opportunity presents itself and when it comes to swimming, I find it hard to resist. Especially when it is on our 'doorstep'. 
I was made aware of a lady who was swimming the Thames to raise awareness of plastic pollution (also something I feel passionately about). I found out when she would be passing our boat and tracked her down. 
It was very last minute and I didn't want to regret not doing it. I jumped in my dinghy and went to see where she was. She had just left Hampton court palace and was making her way in our direction. I shouted over and introduced myself to let them know that I was going to rush home and get suited and booted. So I did! 
Told my partner that he had to take to her in the dinghy and I would jump in a join her (he thinks I'm nuts as well).  
We swam and chatted about various things. She was accompanied by her friend in a Kayak and a mermaid made out of plastic they had collected along their way.  We swam to her destination for the day. It turned out she was staying over just opposite where we live. Pretty perfect circumstances really! We were greeted by cheering children and their parents. It was wonderful to meet Lindsey Cole and her friend. You can read more about her challenge Click here.   I was asked to swim with her on her final day of the challenge, but I was attending an event elsewhere. We are hoping to meet up for a swim again soon.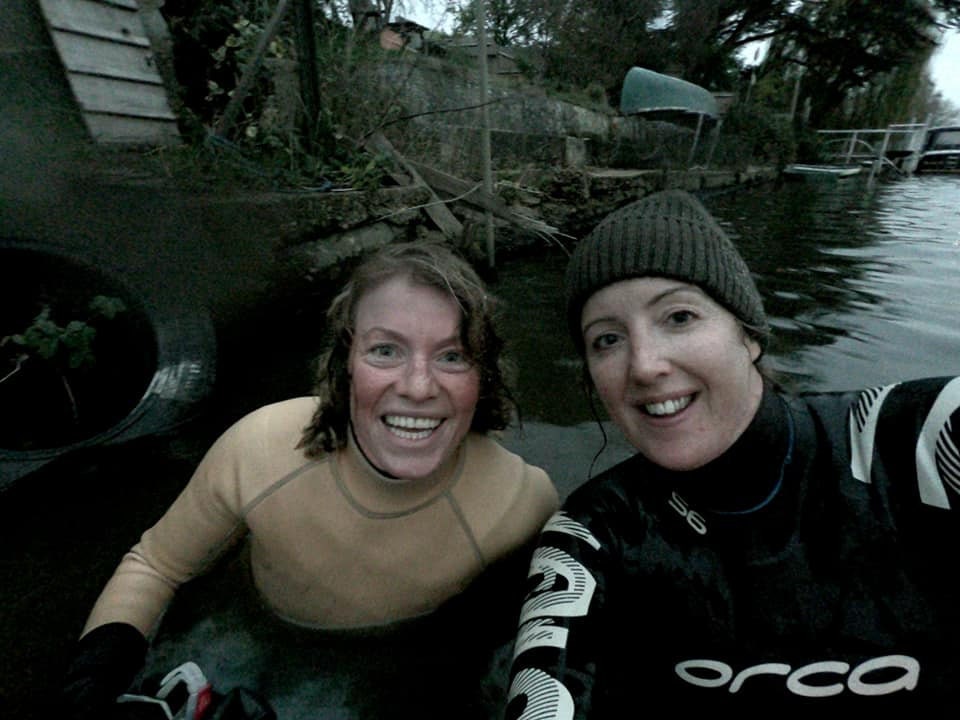 I really love how open water swimming has connected me with people. All for the love of swimming and its benefits. 
So its 2 degress outside today and I'm contemplating my first winter 'skins' dip! My body is craving it! Bring it on!!        
Thanks for taking your time to read this. Please feel free to comment below and share your swim stories. I'd love to read them.
Keep posted on my swim via my Instagram feed