In February 2022 we went on a trip for just over 1 month.  It was set to be a once in a lifetime experience.  Here is my account of what happened.
Flying over the river Thames as we departed terminal 5 I felt quite emotional.  Many reasons, firstly because I have swum all of it!  Also because we've actually made it onto the plane and so far so good. Thirdly because this is our first flight since covid started.  
Glenn retired one year into the pandemic and we had plans to do lots of travelling and see the world.  We had waited so long for the opportunity and it was taken away.
Ofcourse I know we are lucky that this is our worry!
So here we are finally making dreams come true.  Off to Panama we go.  
Coming in to land many hours later. I could see a lightening storm in the distance over the Pacific Ocean.  Tankers ships shinned bright as they queued up to go through the canal. 
Adventure starts tomorrow…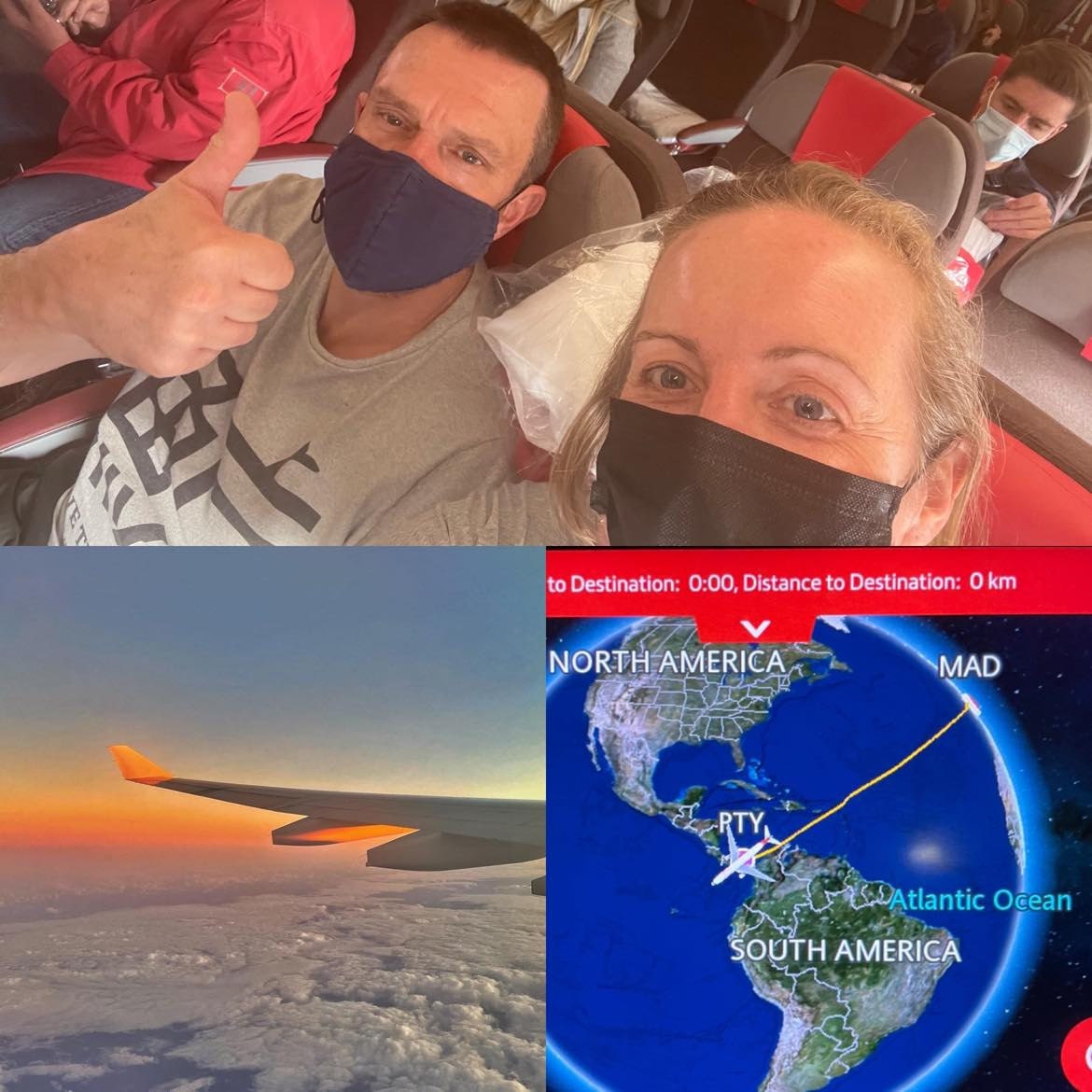 5 hours behind UK time here in Panama and we woke to a dark high rise city twinkling across our window on the 16th floor. Waking up early and as the sun rises to reveal a fantastic view of the Pacific Ocean beyond the building's.   Breakfast was served and I spotted a very colourful red bird flying around.  Feeling inspired already. A morning wandering around and getting our bearings.  A very complex city.  A lot of money and a lot of industry.  Unfortunately all drains are obviously leading to the river and into the sea. Lots of run off and plastics. The sound of tropical birds including hummingbirds dampen the traffic noise and I home in on that.  Pockets of wild forest are scattered in between the skyscrapers.  Black hawks soar throughout them riding the thermals. A city built for cars not pedestrians.  We soon figure that out. The traffic is friendly and the people are kind.  Super chilled and happy to help. We find a coffee house to stop and take advantage of the air con. 31°c outside today.   Back to the hotel to chill and enjoy the pool. Swimming, dipping,  lunching, chilling and watching white egrets and black hawk overhead.  Also a rather bizarre load of wood ash falling down from the sky. Looked like palm tree ash. Off to San Felipe district for drinks and food tonight.   Cocktails in my new favourite bar ever so far.  Great flavour balance.  Just perfect. 3 cocktails down and now onto a cool Argentinan restaurant.   … 
Oops, change of plan.  More amazing cocktails and snacks.  Maybe we should try the rum as well !!??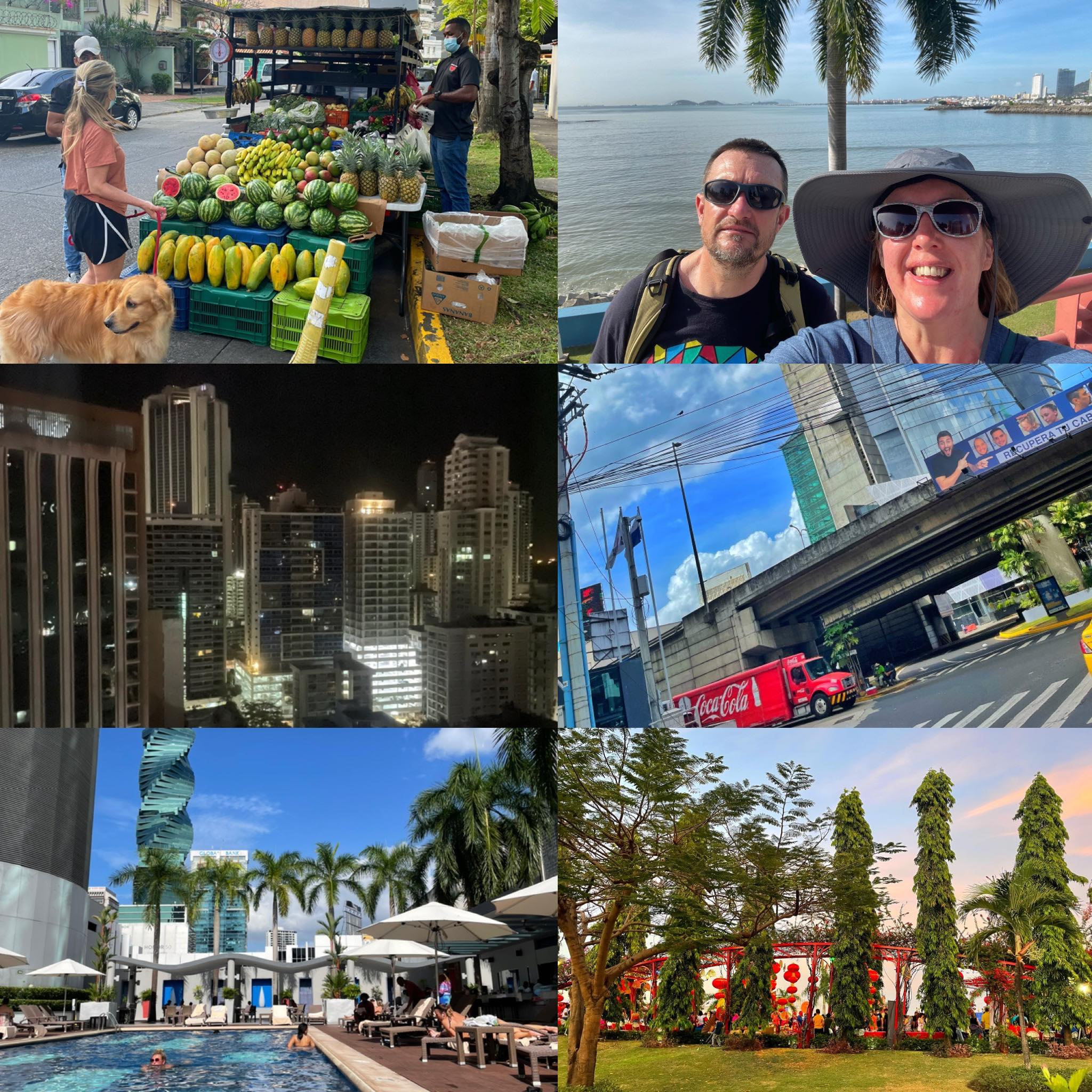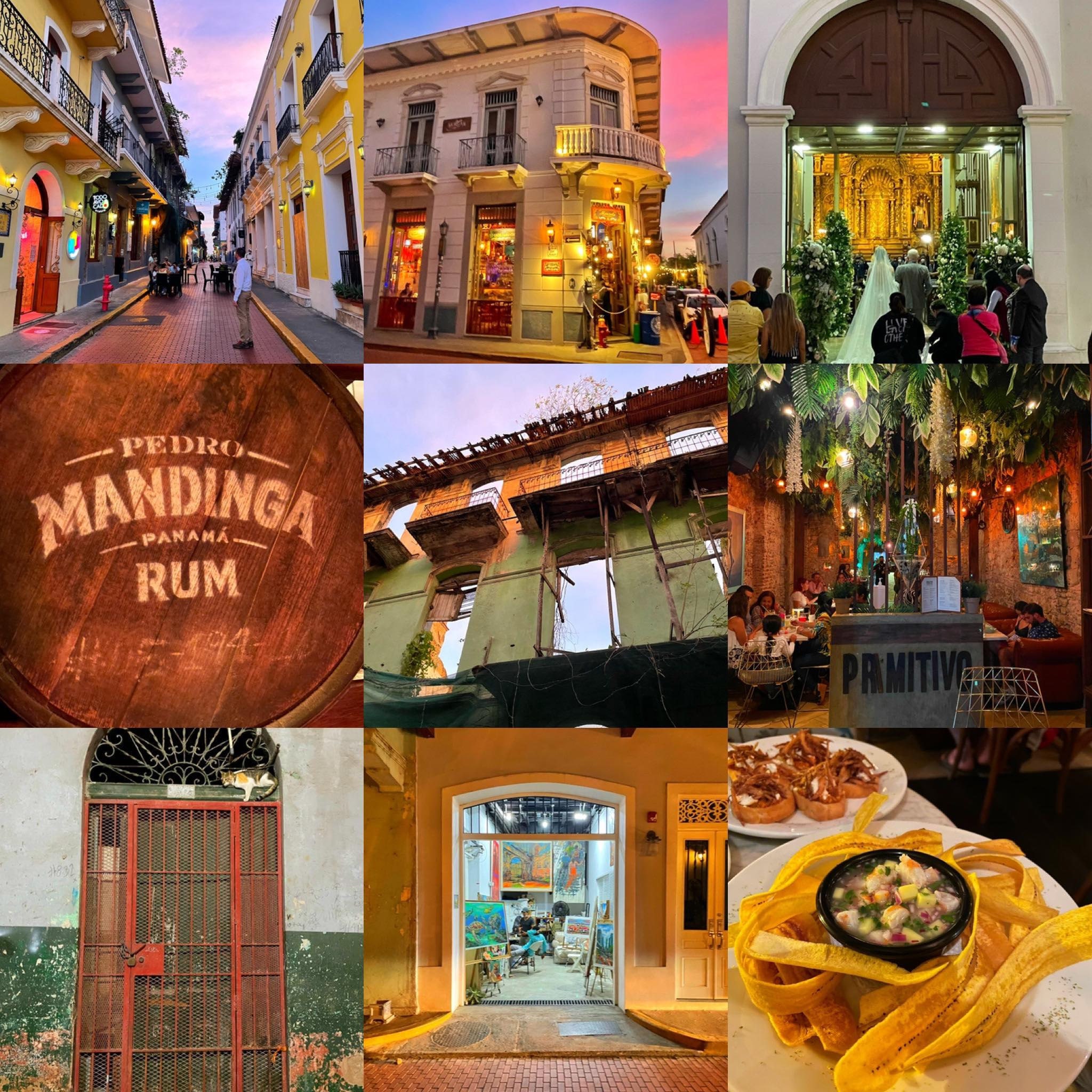 Walking from the hotel to San Felipe to see what it had to offer in the day time. The walking was hot and interesting.  Lots of activity as people did their Sunday morning exercise.  All along the coastal route were roller blades, some of the road was closed off to enable use for just bikes. People playing volleyball,  we sat under a tree to cool off and observe. As we got closer to the fishing port, the pelicans were circling, diving for fish.  The ones at the harbour were getting and easy meal from the leftovers from the market. A policeman spotted us and came for a chat.  We finally managed to chat.  Lost in translation for a while. We basically called each other film stars.  That being our only connection a reference.  He was a funny man. On to find a coffee house. Walking through the old town, gorgeous buildings, hat shops, cafes, big doors, lazy cats. Made our way towards the sea breeze.  Browsing the locally made stalls on the way.  Tropical bird sound filling the air.  Pelicans above us.  Don't open your mouth. We spot our next habitation in the distance.   Glenn attempts to ask for natural lemonade in Spanish.  Only to be told they have none left.  Offering us a pineapple alternative.  After we figure out the translation of what we have ordered, they arrive.  We order more.  Fresh and delicious. I notice the spice girls Spanish version playing on the stereo in the cafe. Reminds me of my youth. The name of the bar, 'the art of slow'. 5 miles walked in 32°c.  Taxi back for $5, pool time! Scorchio! Evening in the old town.  We love it. So much to see and watch.  It's a very photogenic place.  Lots of people snapping away for their socials.
We have cocktails in the square as a storm starts to whip a cooling breeze all around us.  We popped in for a cheeky mojito in our favourite rum bar.  Not intending to drink much as we were on route. The familiar waitress arrived with THE tray full of rums.  Looked on her phone so we could translate what they were.  Boy oh boy were they smooth.  Never tasted anything like it.  The coffee,  cocoa ones were our favourite.  Will have to go back tomorrow and buy a bottle.
Then we slide along to the Argentinan restaurant.  Steak cooked to perfection. A Malbec bar!   A dream come true.  Two of my favourite things.  That partnered with glorious colourful decor and passionate staff. Absolute perfect and the best steak we have ever tasted! I feel like I'm connecting with my Argentinan heritage.  My grandfather was Argentinan,  was moved to England as a child with his brothers and sisters. Time to retreat to the hotel I think! Time to go home.  More adventure tomorrow: 
11 miles walking.  Average 31°c air temperature.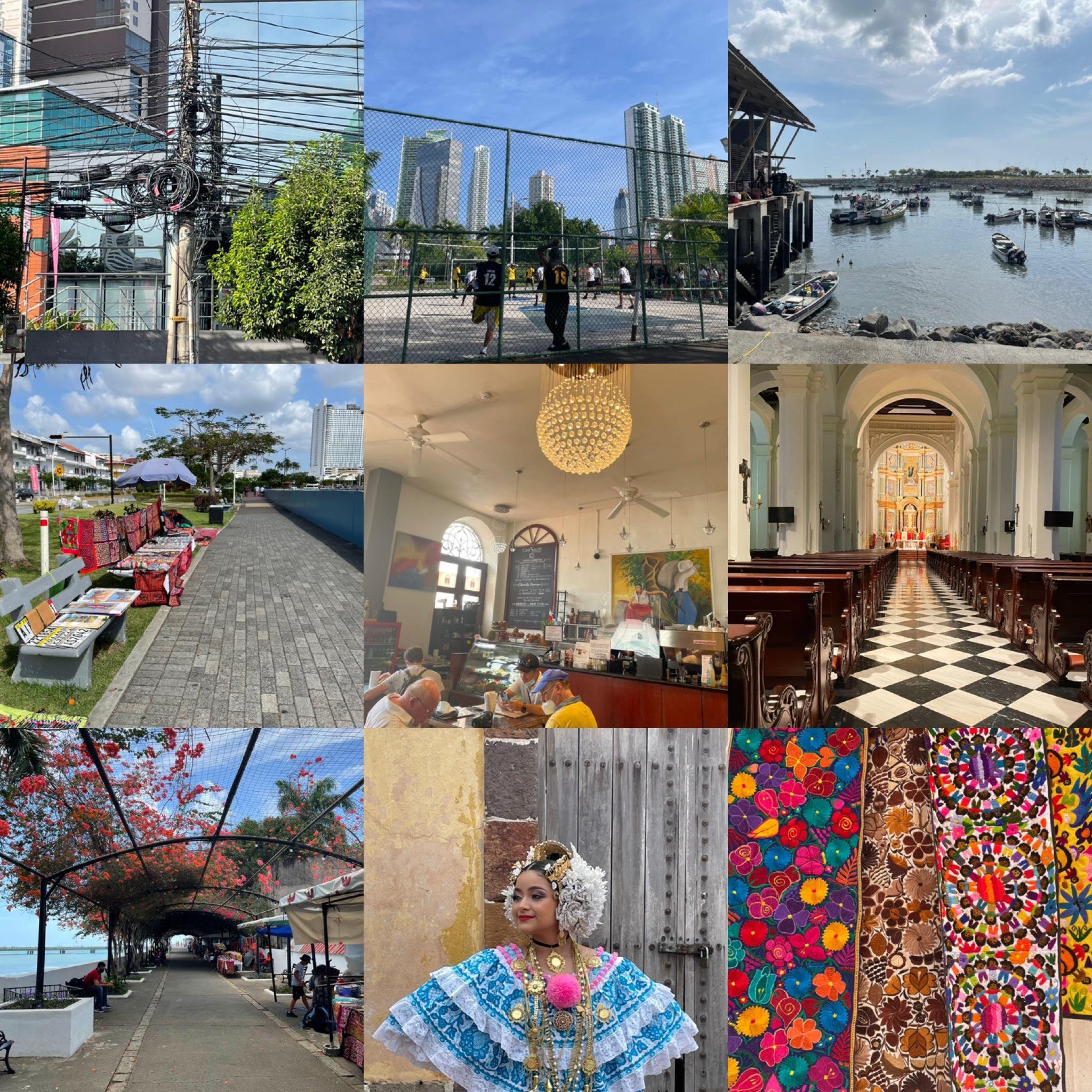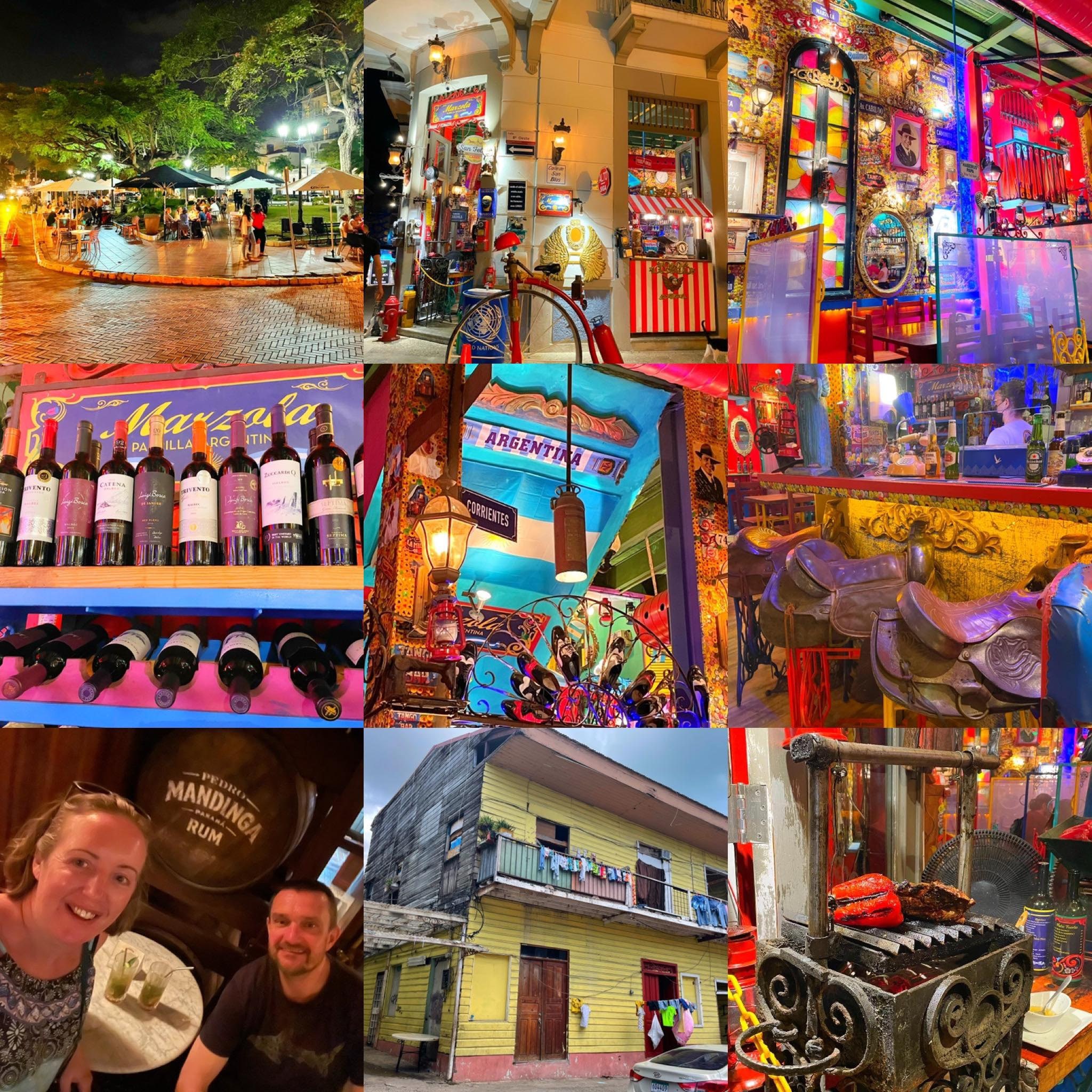 Cold shower needed this morning to jump start my day. Off out into the hot city we go.  It feels good to be travelling again and so far from home.
Uber time.  Out of town,  passing cranes, containers, trains,  ships, trucks .  Our destination is closed.  Ofcourse it is, it's Monday. We head back in search of something different.  I suggest the port.   This is no ordinary port,  everything is giant.   We hop out the cap on to a busy road.  Giant transportation all around us. Let's get a coffee.  
We plot a route.  Aiming for a view of the canal which divides north and South America.  It also joins the Atlantic and pacific oceans.  Quite the hub of activity and industry. We walk and walk some more.  Through a wealthy housing area,  through and through. There's a hill.  We got to go around it!  Up and round.  Through forest and wildlife.  It starts to rain! Sweet glorious rain.  This almost feels like rainforest.  We find a cafe. Inside to cool off.  82% humidity outside today. Through central avenue where the locals buy and sell. We are watched as we pass through. Then we reached the end and are back in old town.  There are lots of police here.  There is a definite tourist and locals divide. Let's go get a pineapple juice and a bite. 4 hours walking so far.  It's hot and sweaty work.  Both groggy and exhausted we holla for a cab back to the hotel. Let's chill. Also spotted our first Toucan today.   Now off to find food and refreshments.  Early night.  The real adventure starts tomorrow! 9 miles walked today. Average 31°c air temperature.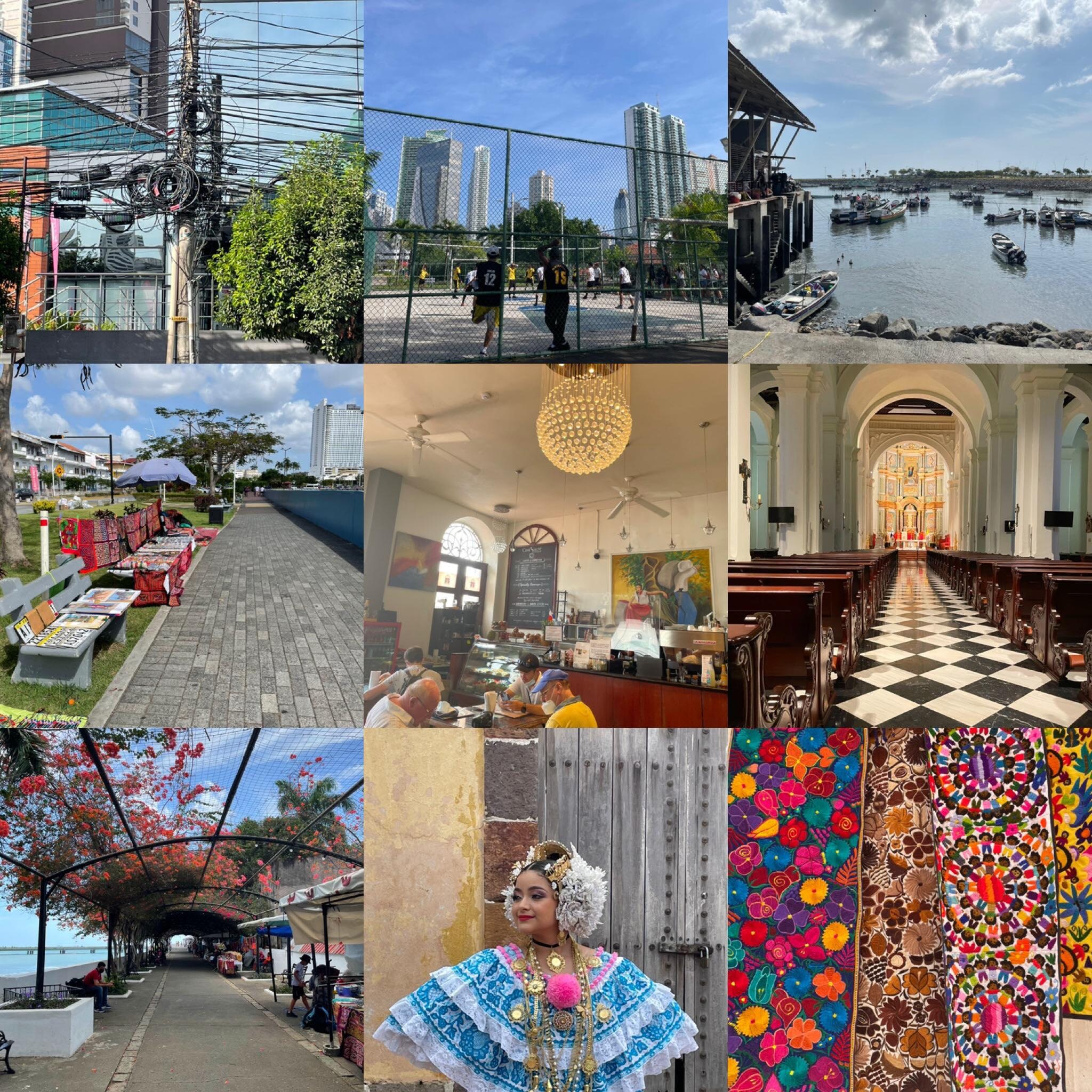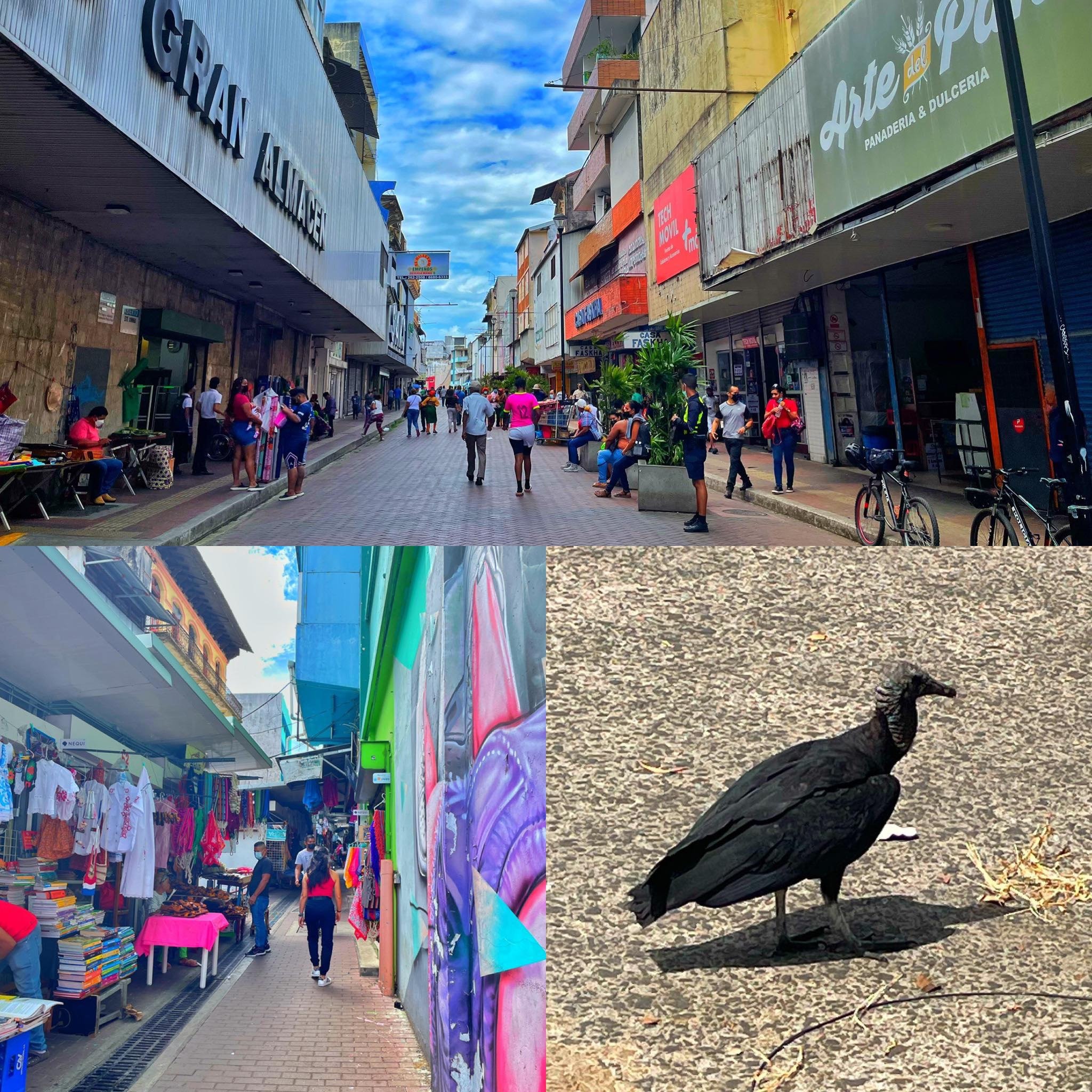 I wake with butterflies in my stomach.  The city has been kind to us and we've enjoyed exploring its arteries.  Time to move on now.
We cross over to another world onto an island.  Marine research centres,  marinas, moored cruise ships, container ships queuing to go through the canal.  
I feel much more at home here. Nearer the water.
Time for coffee. Panama coffee is really good! 
We start walking to meet our hosts and the heavens open.  Us brits obviously brought the weather with us.  
Nice tropical rain!
We are met by a small dingy and make our way out to the yacht.  So great to see Jelle & Skye after so long.  
Our things put away, we settle on deck.  The swell is getting bigger, so we pull up the anchor and make our way onto the other side of the island.  Passing other boats and big ships.
Our first taste of sailing.  It is exhilarating.  We are happy to be here at last.
Off to the market to get supplies for our month onboard.  That'll take some thinking.
Two trolleys and two taxis back.
This should be interesting getting it all back onboard as it is getting dark.  
Looking forward to chilling out and having a cooling beer.
Raccoon trying there best to see what we have as we wait for the dingy to come collect us. 
1st night on the sea. Pacific Ocean! Wow! Full moon wow!  Perfection.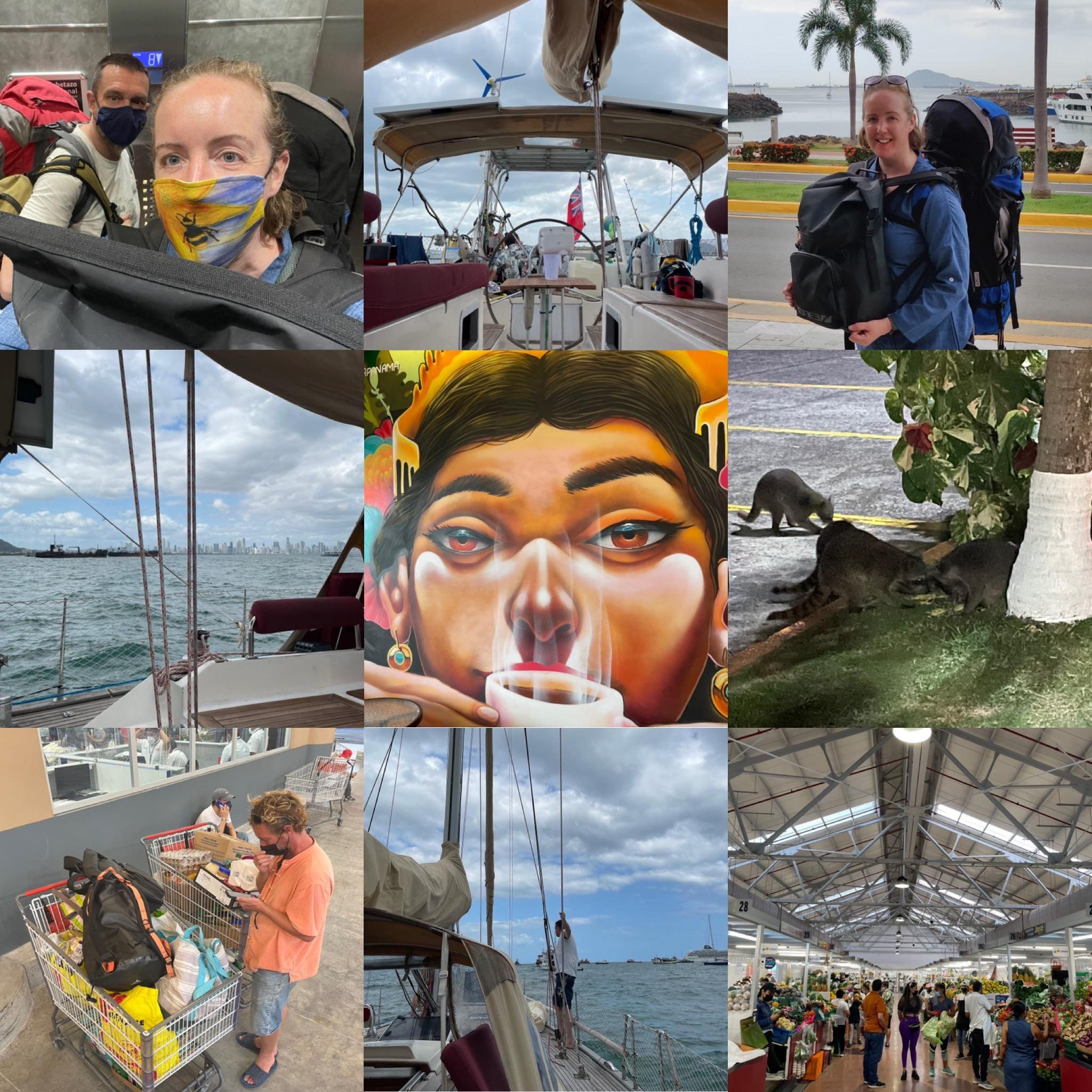 A rocky night onboard, not the best nights sleeps.  Hot, confined,  not built for the tall people we are.
The boat rides the waves and crashes down.  Busy on the sea here even in the night.  
We wake and decide we quite liked the rocking apart from when it crashes down and makes your heart skip.
Off to the fresh market today and then off out of the crazy busy big boats. 
An afternoon swim to cool off.  Lots of pelicans over head. Are there fish?  Not much visibility.
After lunch we set sail for our first island and hopefully some calmer, clearer water. 
Crossing the busiest shipping lane in the world.  Across to the islands on the other side.  
It's choppy here.  We grab a buoy and moor up.  I spot my swimming challenge for today.  A jumping and swing platform in the sea.  
We swim through tiny jelly fish which give us a small sting here and there. 
We assess the platform and haul out.  I feel like a beach whale , but am proud I did it. Not an easy swim in these conditions.  
I jump off the top platform and Skye takes the slide.  Feeling pleased with ourselves we head back to the boat.
Now a quick changed and a dingy ride over to the island for a meal. 
A fantastic day.  Exploring the island tomorrow.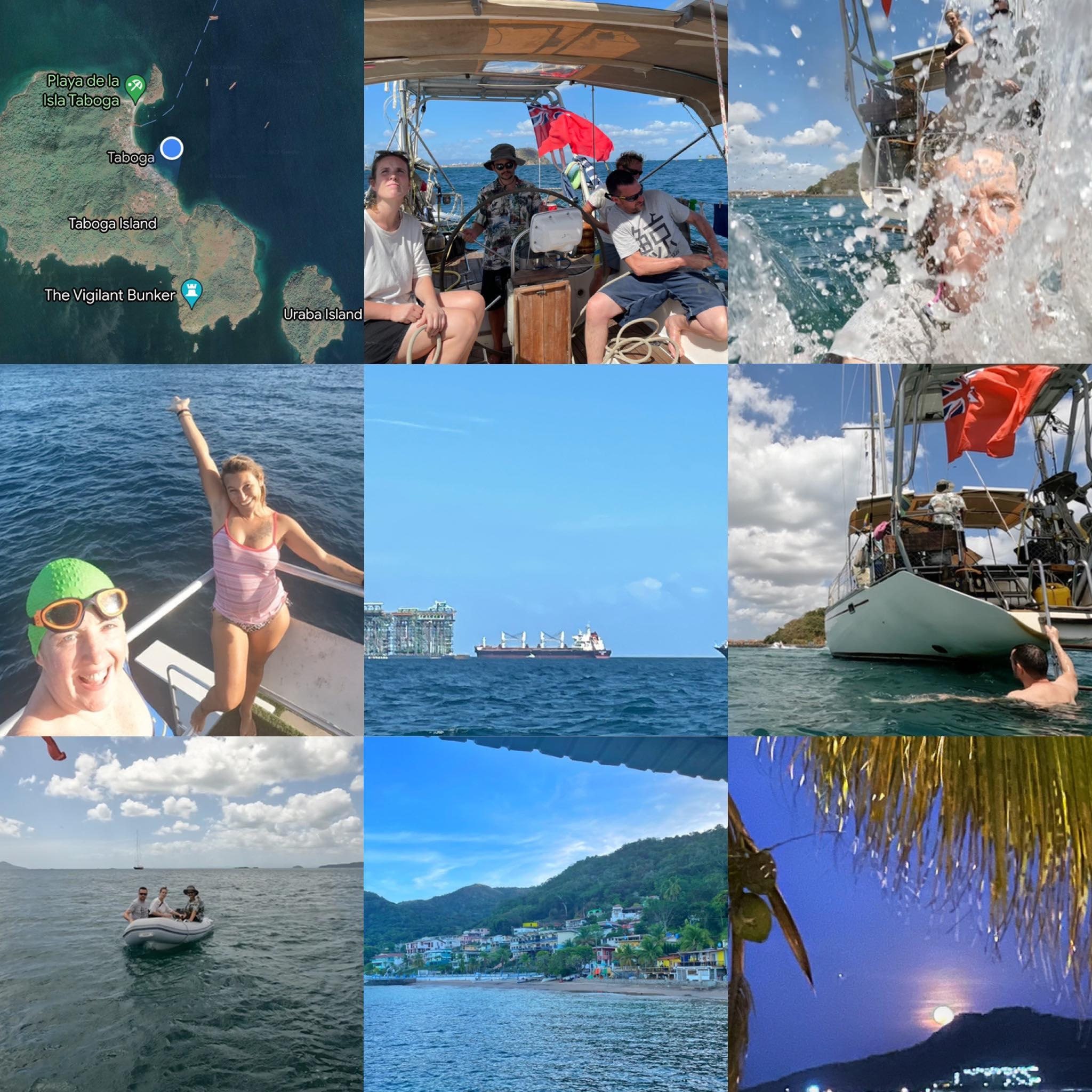 Thankfully a much better nights sleep.  A more gentle rock to sleep.   A morning stretch swim to the buoy and back. Then I had a go at cleaning the hull.  A satisfying and cooling job in the shade of the boat. The rest of the crew are going to the beach, I decide to swim there instead of going on the dingy. As I reach the beach Glenn tells me there are iguanas on the island.  One eating a pineapple and trying to protect it from others.
Some of the crew decide to swim back to the boat with me.  That makes me very happy!  Spotted a few fish.  Some were even jumping. Glenn's longest sea swim ever. 
Time for lunch.. We start to look at the plan for the days ahead.  We make the big crossing over to the pearl islands tomorrow.  Early start and a long day of sailing ahead. Praying for Whale sightings. 
An afternoon walk around the island, up to the church , around to chat to Charlie who was sat in his property.  Here came to the island to escape the tax man and enjoy island life. It does seem pretty good!  He was telling us about the huge amount of sea glass that was on the island when he first arrived.  Hardly any these days as it is harvested to sell.  
Lady's sell their embroidery and jewellery in stalls.  Really beautiful things. 
A choppy ride back to the boat.  The guys are threading lines for fishing.  We settle in for the evening.  Sunset awaits.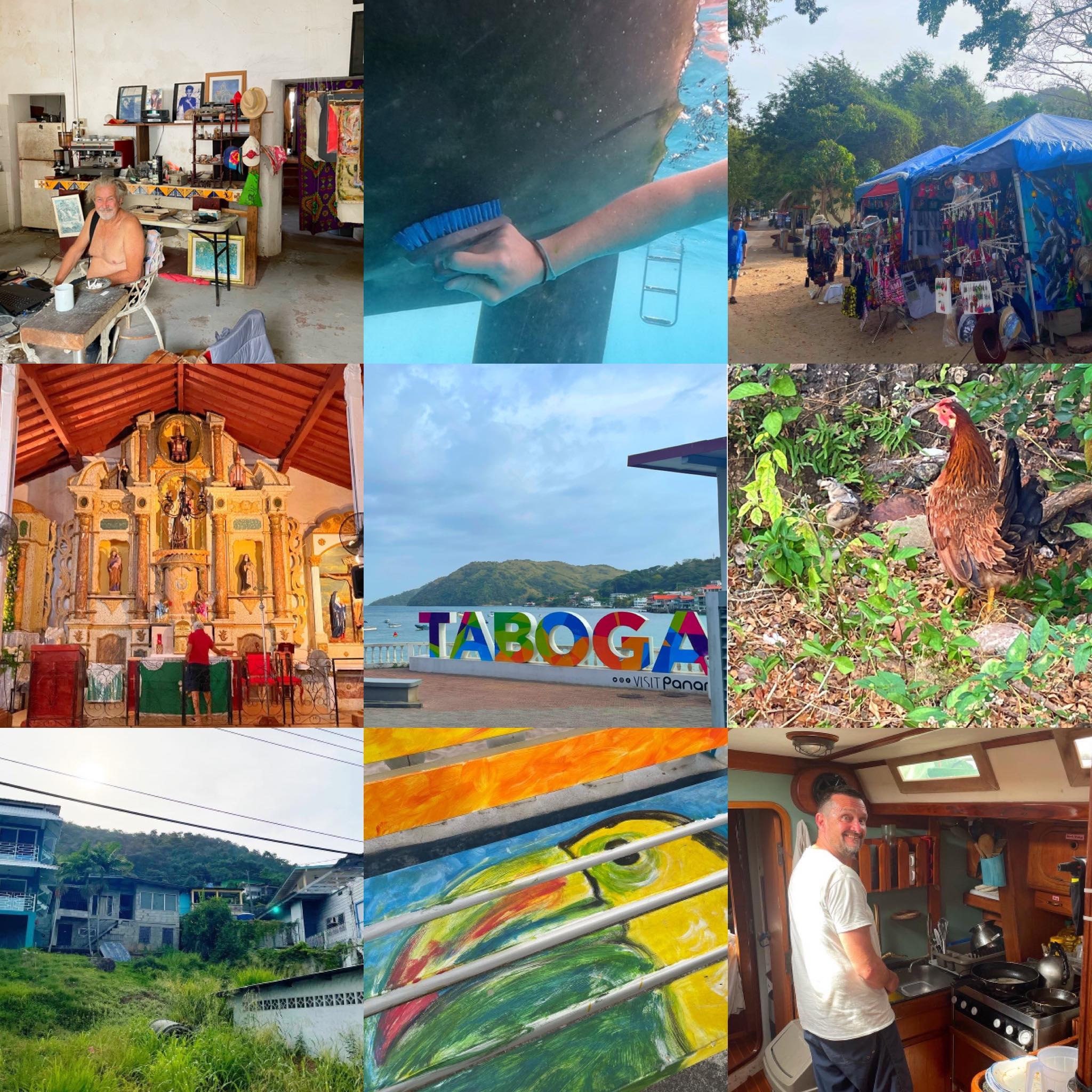 There's a buzz amongst the Crew as we ready for sailing. Conditions are good for plain sailing. 
At 10:15 I spotted our first whale.  I alert the others and it shows itself again.  Gave us a blow out of its blow hole.  I feel very pleased to be the first to spot one. 
With a whole day ahead of sailing.  We are hopeful to see more. 
I spot a fin in the distance, minutes later the dolphins appear briefly by the boat.
American fridge in the water, after this we spotted more dolphins, whales, tuna jumping and a turtle. 
After a few more hours we were out with no land to be seen.  The waves got bigger, the wind picked up and me made good way.  Proper sailing.  Living on an angle. Washing up after lunch was a challenge.  I had to wedge myself into place with my legs, trying not to fall over.  It was fun!
We check the depth and we're at 50+ meters deep! Wow. 
Land ahoy!
We see the first pearl island in the distance.  
The fishing lines start to hum and the crew jump into action.  We have supper.  Tuna. 
We reach our destination of contadora island and pull up a buoy at 4pm. Now to prepare the catch of the day.   My childhood memory of gutted fish with my grandpa in Scotland comes back to me and I know the skill like it was a familiar friend.  
Then to wash off the guts with a jump off the front of the boat.  The current is strong here. Extra caution is required. Fun though.
Our location is just under the island air stripe so we have a great display of the small aircraft/sea planes landing and taking off.  Great entertainment.
We settle in for the evening.  Rum time after a pretty perfect days sailing in big sea. 
6 knots average 6.5 hours 30 miles 57 meters max depth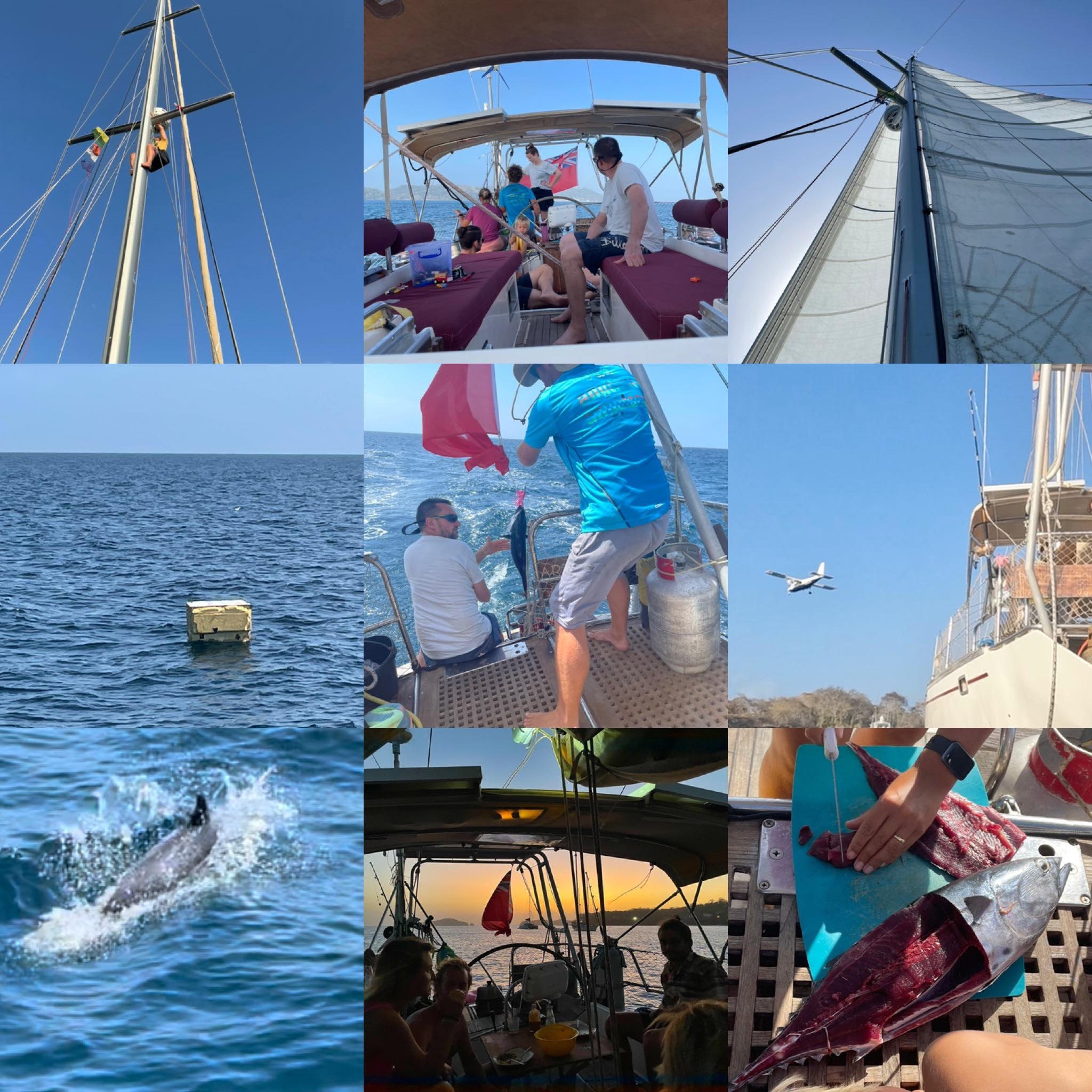 In the following days we explored more islands, fish for food, snorkelling, Speer fishing, swimming amongst the reefs, washing my hair by jumping off the front of the boat.  The jump is big enough to wash the shampoo off in the dive.  Best washing technique ever. We soon settle into hot sweaty nights and non stop heat.  It becomes the new normal.  Jumping into the water to cool off when we can. We are apprehensive of how we will cope when we are in rainforest river.  Definitely no swimming there and our water supply with be even more limited.   More challenges to come.  But the excitement of seeing this place I have dreamt of going to since my geography lessons at school is there.  I feel so happy every time I think about all that we are about to see. 
We leave the busy boating island of contadora, where pleasure boats play loud music, illuminate the water at night and play around of their various toys in the day. Interesting viewing, but I am looking forward to being somewhere more remote. 
We anchor and I'm so excited that I can see the bottom of the sea.  The coral is just a short ride away and we go explore.  Taking the Speer gun in hope of catching dinner. Nothing of size there.  But many many glorious colourful fish, huge starfish and Jelle spot a big turtle. This is my first glimpse of coral in the wild.  What an amazing underwater world.  It is Hypnotic, I don't want to get out. We decided that we should build a big fire on the beach and have sun downers as we enjoyed the last of the light. Glenn and I swam to the beach and met the others, then gathered fire wood and got started. We joked about how perfect it would be if we could see some bioluminescents .  The stars above us were outstanding, we walked to the waters edge to hear the waves and feel theirs power.  Which a burst of excitement I realised I was looking at a disco in the sea.  Bioluminescents.  Absolutely over the moon, I ditch my dress and jumped into it.  The blue specks of light danced all around me as I moved through the water.  As the waves crashed over me I was illuminated.  A truly all senses experience and something I will dream of for many years to come.
When we were coming back in the dingy, the water we moved through was glowing with it.  A trail of shining gems in the water under a perfect night sky.  It was perfect! Before I went to bed,  I beeped over the side to see what I could see and the parts of the boat that were touching the water were glowing with the sea disco as well.  So magical. I will sleep well and happy tonight.
…. 
We set sail and plot a route to Casaya island.  I take the helm and head out with the wind at our tail.  We make good way, spotted a feeding frenzy on the way.  We try and catch up with it, but it moves out of our wind path before we get there.   The wind picks up as we turn down the treacherous channel, hitting 20 knots. Our island awaits,  there are birds diving.  A good sign for fishing. Coconut trees on the beach, hopeful for cocktails tonight. Our days were filled with foraging, fishing, swimming, finding new reefs.  Hoping to find the perfect beach. At night the skies were filled with the most amazing star display and the sea gave us bioluminescents.  The sun would set and the water would look silky and oily.  The natural waves would rock us gently.  Sometimes more that we'd like, but most it was something we all got used to and enjoyed. I think we will miss the life on the ocean. … My morning routine soon became a short stretch swim, wash with the deck shower, then breakfast and coffee.  Life is good.
Some time is spent observing the ocean.  Pelicans, cormorant, white egret fly past in transit formations.  All moving in sync as the wind moves them around.   Every so often we'd see radom bugs flying around the boat.  The odd bee mostly. Nothing for them here, so they move on quickly.  
We are the only boat for miles,  every so often we spot other humans passing by in the distance.  But mostly it's just us here, it's a wonderful feeling to be so cut off the normality.  Something most humans should try and experience at least once in a lifetime.  A chance to totally reset and disconnect with the fast life.
Today was the captains birthday, his wife prepared a special cake from the supplies.  It was also shrove tuesday, so pancakes for breakfast.  We then went out in search of some fish for supper.  Hours spent searching the ocean for a fish tasty and big enough for us.  Sadly no luck this time.  We did find a delicious coconut up a tree though.  We didn't go home empty handed. Coconut cocktails today!  
An evening was one night was filled with a romantic film on deck about a beautiful friendship,  we shared popcorn and drank rum.  Lights of distant sailing boats passed over the horizon as we watched.  The wind howling around us.  The boat rocked gently in the moonlight.  Dazzling stars above us and once again the sea sparkled with bioluminescents. A truly beautiful time.
We look forward to a new destination spot to explore tomorrow.  It seems like a never ending dream like adventure.  
Each island we visit becomes more isolated and more like paradise.   Or so we think.  As we made our way back to the boat after an island explore, the local army lads came over to check us out.  A little intimidating with the belts fully loaded with guns.  Nice guys though,  they were actually asking if we'd seen another boat like theirs.  They had lost them!  Funny.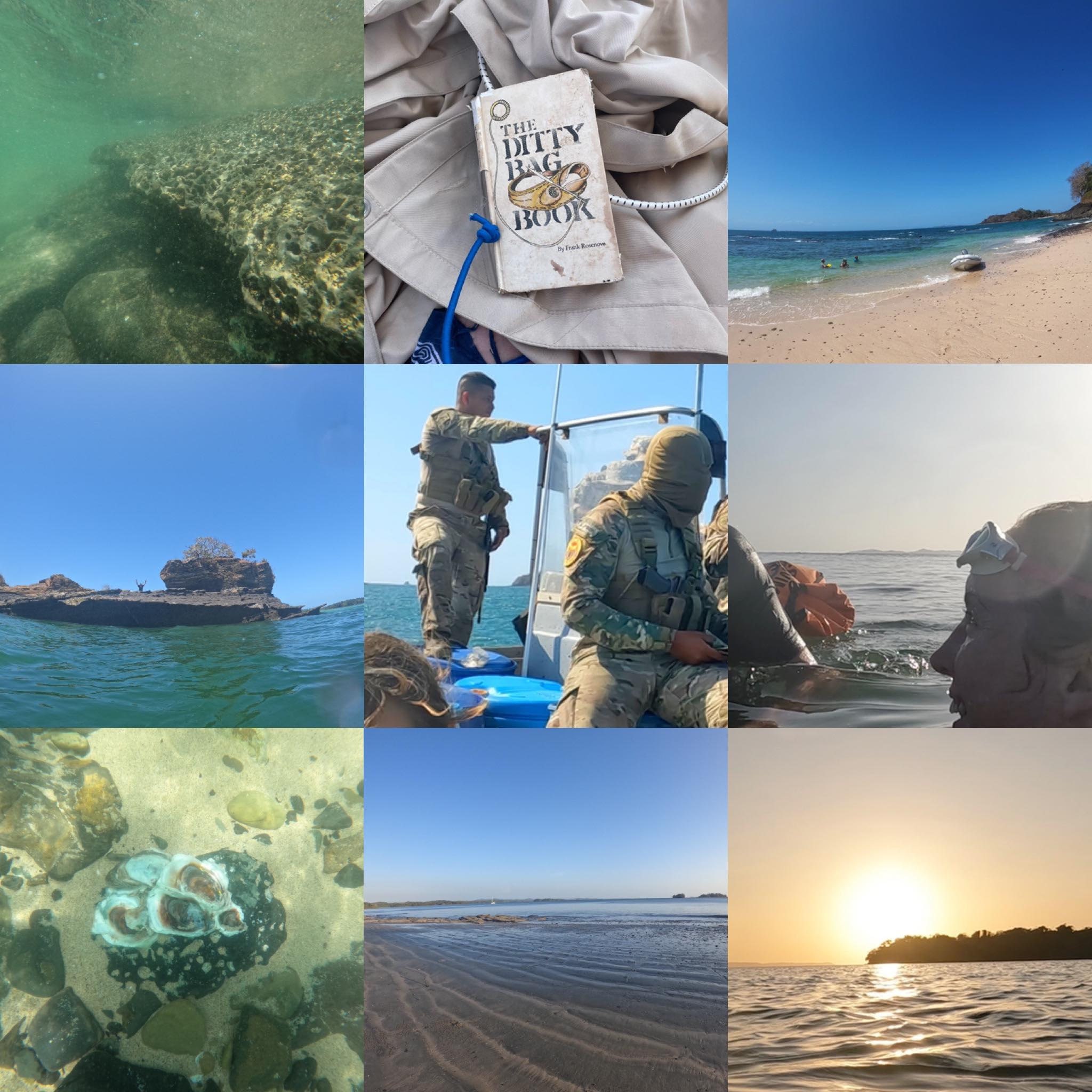 The cormorants seem to be migrating.  I'm observe them landing in a large group on the water and all using the current to take them a little further on their journey.  Safety in numbers I guess.  I wonder how far they will drift.
Having sore feet soon becomes the norm.  The deck is so hot from the sun that the soles of our feet become burnt.  But it is too hot to wear shoes.  
Reaching new islands every day.  We relaxed in the midday sun and explored in the hours before sunset.  Glenn and I would swim to the island and back if the current and wind was in our favour.  It was truly magical. The sun set over the ocean was a wonder to see and swim in.  Liquid gold.
We arrived at our anchorage for the evening.  A day spent exploring an inhabited island ended with a longer swim from the other end of the island back to the boat. A tough swim. 
We sailed for just over two hours.  Me at the helm.  Mostly sailing wing on wing.  Took lots of concentration, but was a great trip. The island we arrived at next (the second biggest pearl island),  San hozez.  We sailed in the centre of it and found the most idiotic place.  I was tired after the sail.  Time to relax, check out the water and enjoy the sunset.  Perfect island.  Just us the Pacific Ocean and this beautiful island.
The sun was setting,  we all had a drink in hand.  I put on the beach soundtrack.  A song I listen to at home and dream of being in a location like this.  Now I am here actually living my dream.
Today was Glenns birthday.  52 times around the sun as he put it. I attempted to bake a cake that I have made many times at home.  Always a challenge using someone else's kitchen and especially so on a small boat kitchen with limited space for the ideal baking tray.  I decided to use cupcake a cupcake tray.  Opening the oven after a short time it looked like an erupting volcano.  I'm sure it'll taste good!??!! 
We make our way out on to the big water, I see some kind of Ray jumping out of the water.  The swell was big,  I sat on the bow straight.  It feels like flying,  as the waves get bigger your feet almost touch the sea beneath us.  It's exhilarating.  
Stopping off at the only village for miles, we dropped the dingy anchor on the beach and made our way into the village searching for fish. Not a lot for sale. A village very much living from hand to mouth.  Catching fish just for them.  I imagine some are sent to the mainland to sell. Very little on offer to the passing travelers.
As we were leaving a gentleman shouted over to us.  Saying that he had some we could buy.  He led us back through the village.  We ofcourse were cautious but hopeful.  We were not disappointed.  A man with some fish came out.  I had a look at them to see how if they were good and we made the deal. Fish for supper tonight.   The villagers were really friendly,  especially the children.  Not at all after us for money.  Just happy to interact and observe us as we did them.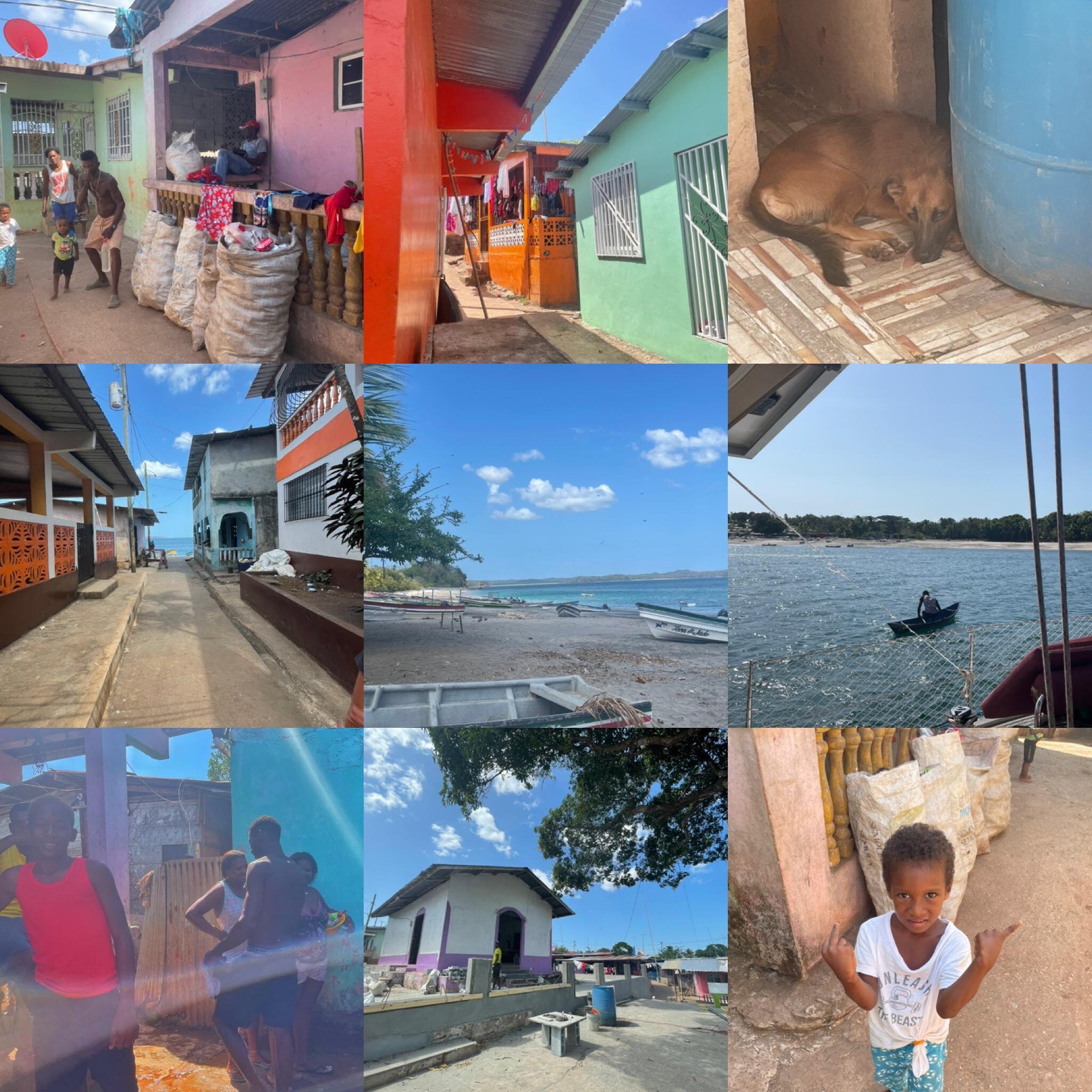 That evening we collected driftwood on the beach, built a big campfire, cooked our fish on the flames.  As the sun was setting some dolphins appeared in the bay,  we drank rum and coconut water straight from the coconut.  Told stories of our travels and had the most amazing light display above and in the water.  Glenn said it was the best birthday ever. It was as a pretty amazing day.
In the bay in the morning the birds were diving.  The water was alive with fish. I jumped in for my daily morning cool off before breakfast.
I decided to face my fear and explore what was beneath the water line.  We knew there were lots of fish down there.  We just didn't know how big they were.  In I went with my flippers and snorkel.  I got up close (not too close) to a gaggle of pelicans (is that the right term)?  Lots of tiny fish,  clear water and the odd larger fishes.  
I saw that Skye and Abel were playing on one of the beaches so swam over to chat. Time was limited as the tide was incoming,  but we had a nice chilled natter, then I swam back to the boat. I feel much more relaxed about what is in the water here now I have had a good explore.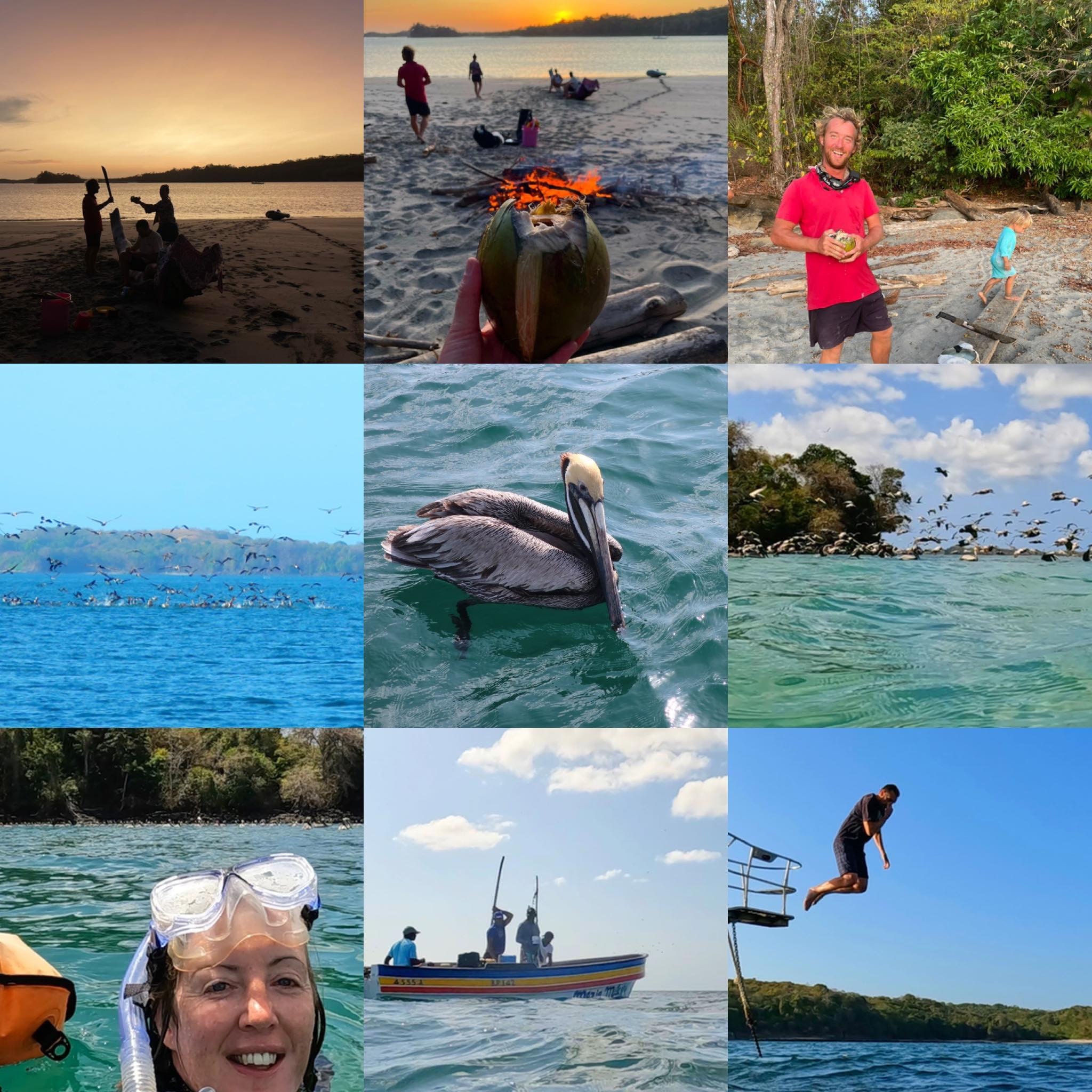 Before we left on day 13 I wanted to explore the island water .  It was clear and full of life.  A little submerged cove with many species of fish and coral.  I spotted my first shark swimming gracefully beneath me.  I struggled to get back into the dingy because I was tired, so decided to swim back.  It was a tough swim against the current and I was concentrating on the swim more than the bigger shark that swam underneath me.  I was surprisingly calm about it.  My heart skipped a beat.  But I wasn't scared.  Noting to myself that I am much better at dealing with stress than I used to be.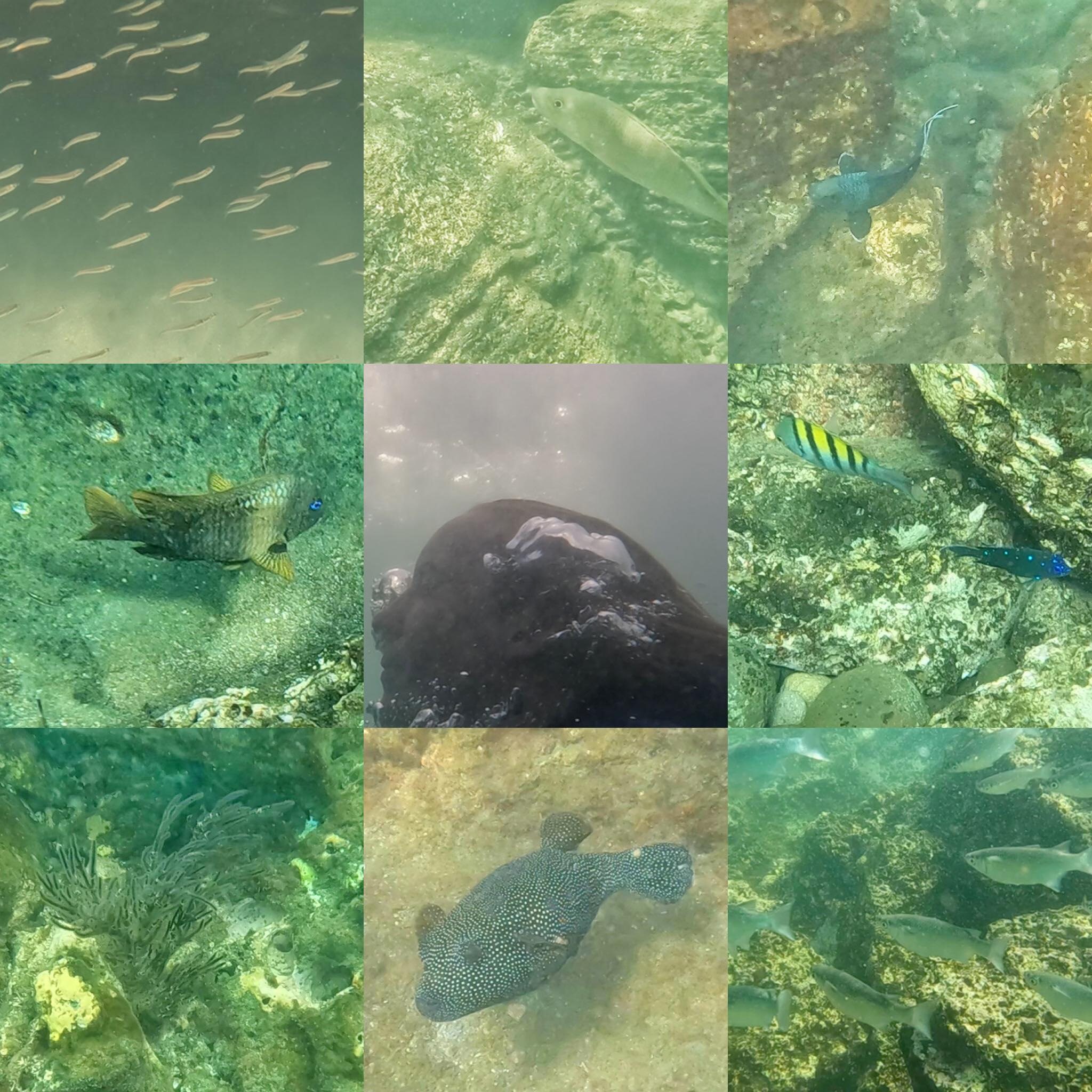 We set sail.  Manta ray spotted, I scan the ocean for differences in the water.  Often a sign of life.
Some young men of the fishing village we visited a few days ago were scouting the islands.  They had a couple of young dogs with them.  After they had asked us for water we realised what they were doing.  Hunting for iguana.  A delicacy in these parts.  The fierce looking critters are hunted but them and one leg is broken so they can't run away.  They are tied to a stake and kept alive until needed.  I guess it keeps them fresher.  No ice available here!  A cruel way to go.  Interesting to see how they do it though. I wonder what it tastes like.  Probably like chicken?!?
Monday 28th February and today we head out across the big water of the pacific for a 6 hour sail.  Our destination is the mouth of the Darien river.  Home of crocodiles,  so this morning I have my last cooling swim for a few days.  I'm excited to be going to the rainforest, but wondering how I'll cope with the heat .
Sailing on a calm day, it is almost hypnotic.  The waves are gently lapping on the side of the boat.  The wind is delicately luffing in the sails.  Only just propelling us forward.  We gaze out over the ocean,  scanning the water for signs of life. I spot a single dolphin launch itself out of the water.
The wind dropped and the captain suggested now would be a good time to jump in for a ocean swoosh.  The thought of it was pretty scary, but I couldn't resist this opportunity.  The water depth was 57 meters!  What a rush!  I took off my clothes, just bikini bottoms remaining and jumped off the front. With a yelp of joy and fear I whizzed back and quickly grabbed the swim ladder! I say to myself, no regrets.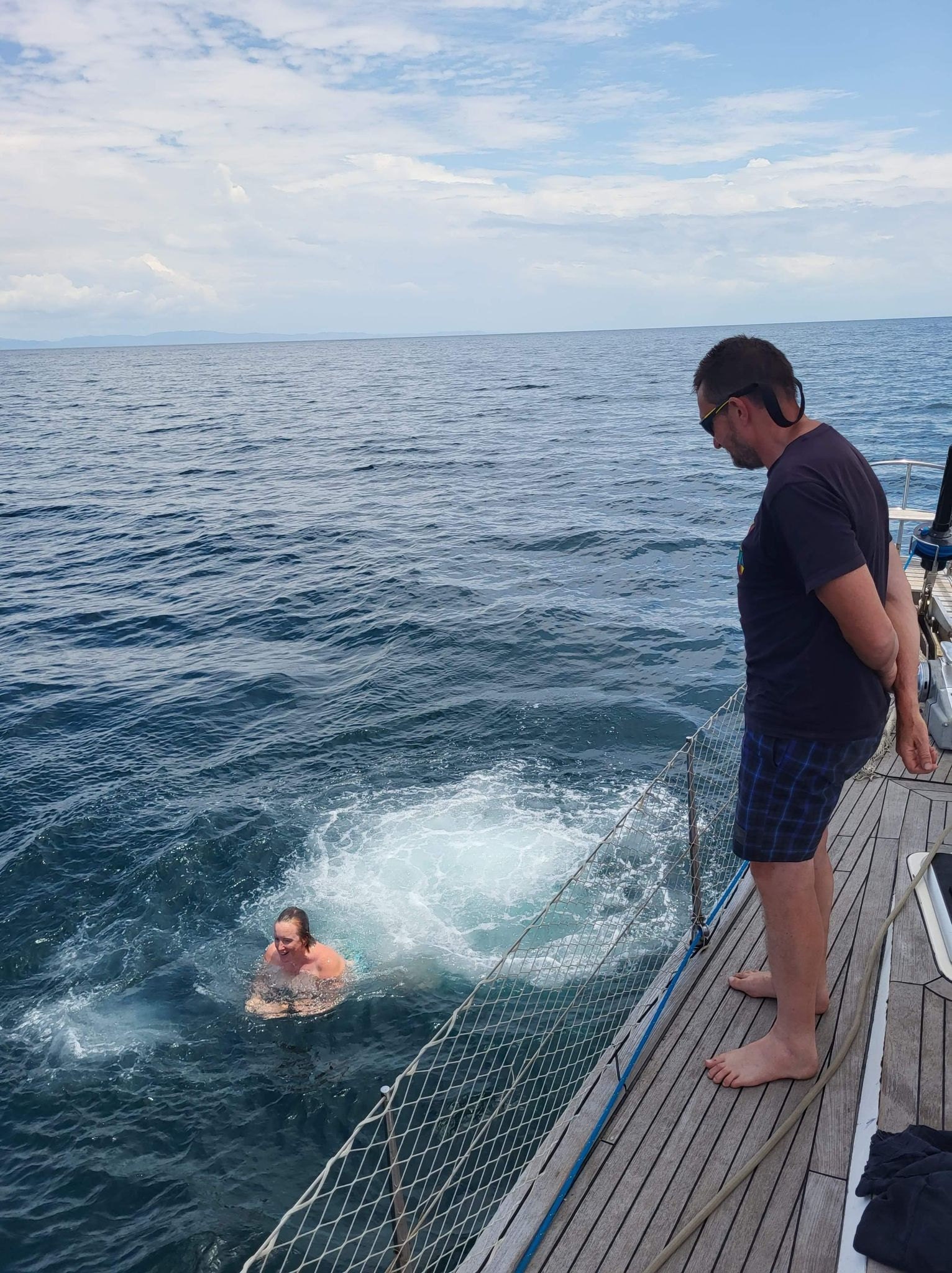 In the afternoon the clouds got thicker and the wind picked up.  We were heading into the middle of a storm.  The rain started to thrash down,  most of the crew dashed for cover.  Glenn and I stayed out in the cockpit and enjoyed the refreshing natural shower. Everyone else thought we were nuts. Can't imagine why??!! With wind gusts of up to 27 knots the sea began to swell.  It was pretty humbling to experience this in the middle of the oven on a sail boat.  The power of mother nature.  The rain hammered down for over an hour and then as we arrived at our anchorage by iguana island the skies clears and the sun gave us a glorious colourful sunset.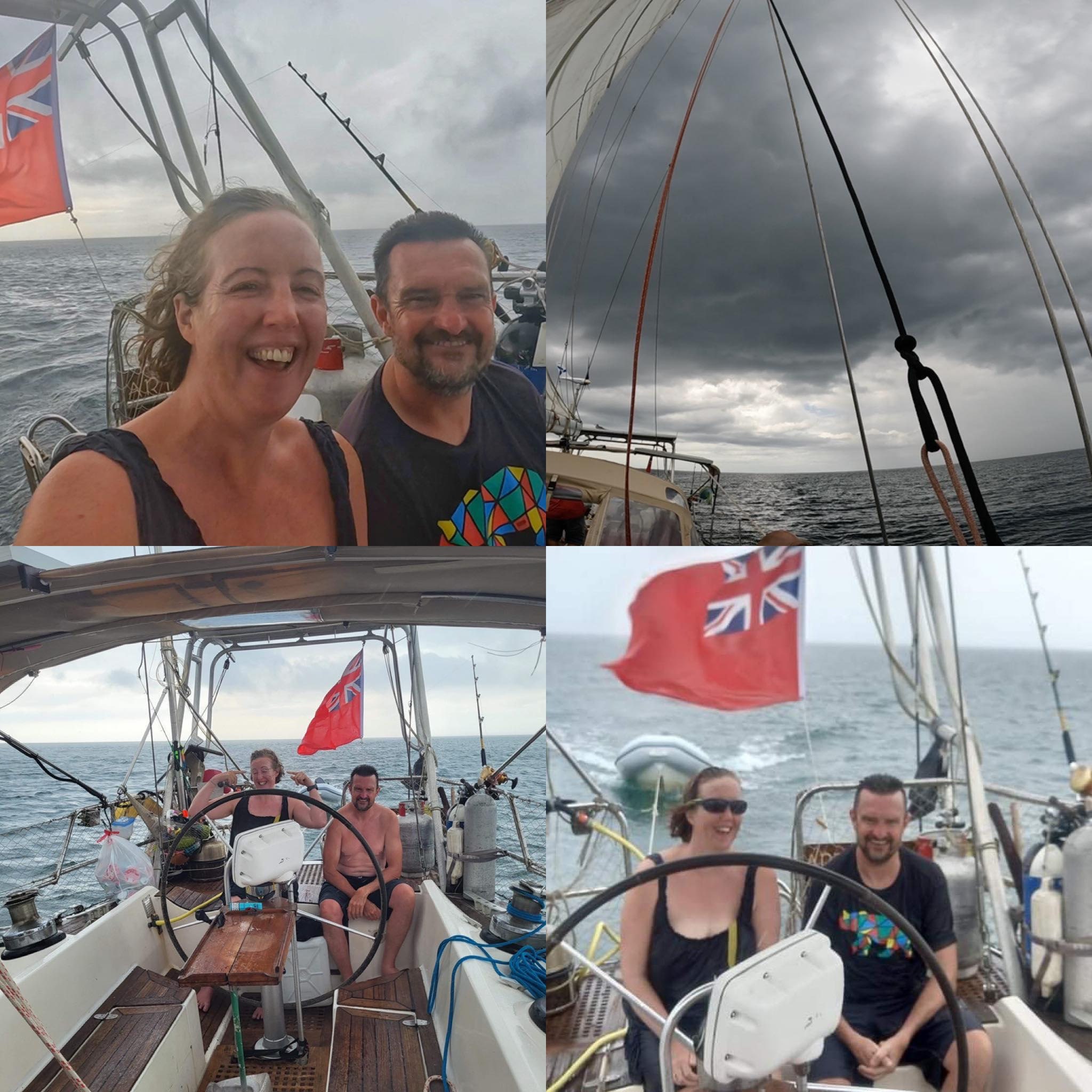 One of the most bizarre things was that when you flush the toilet at night time the bioluminescents would glow and spin around the toilet water. Also when we arrived at the Darian, the shrimp were making a really loud clicking noise on the hull of the boat.  Really weird.
As we entered the river the land was covered with cloud covered mountains.  It was a mysterious world of jungle, rainforest and river that I couldn't wait to explore.  
We anchored as far upstream as the depth would allow and went to explore the mangrove maze.  I could have kept going for hours.  More wildlife to be seen and heard around each bend.  Mangrove crabs clambered the established routes that hovered above the water line in a magnificent statue. River and sea birds.  Some familiar friends who also keep me company on my home river Thames.  Cormorants,  white Egret, and parrots which remind me of the Surrey parakeets of home.
I spot a few unfamiliar but exciting new animals.  A huge prehistoric looking iguana on a branch.  Even more surprisingly is a baby Racoon peering through some branches.  Looking a bit vulnerable and lost.  He scuttled off to find mum. We stop and cut the engine.  Let the current take us where we wanted and steering occasionally with the paddles.  The quiet enabled us to here howling monkeys in the distance and many more animal sounds.   We are so close to the rainforest,  but it is inaccessible from here.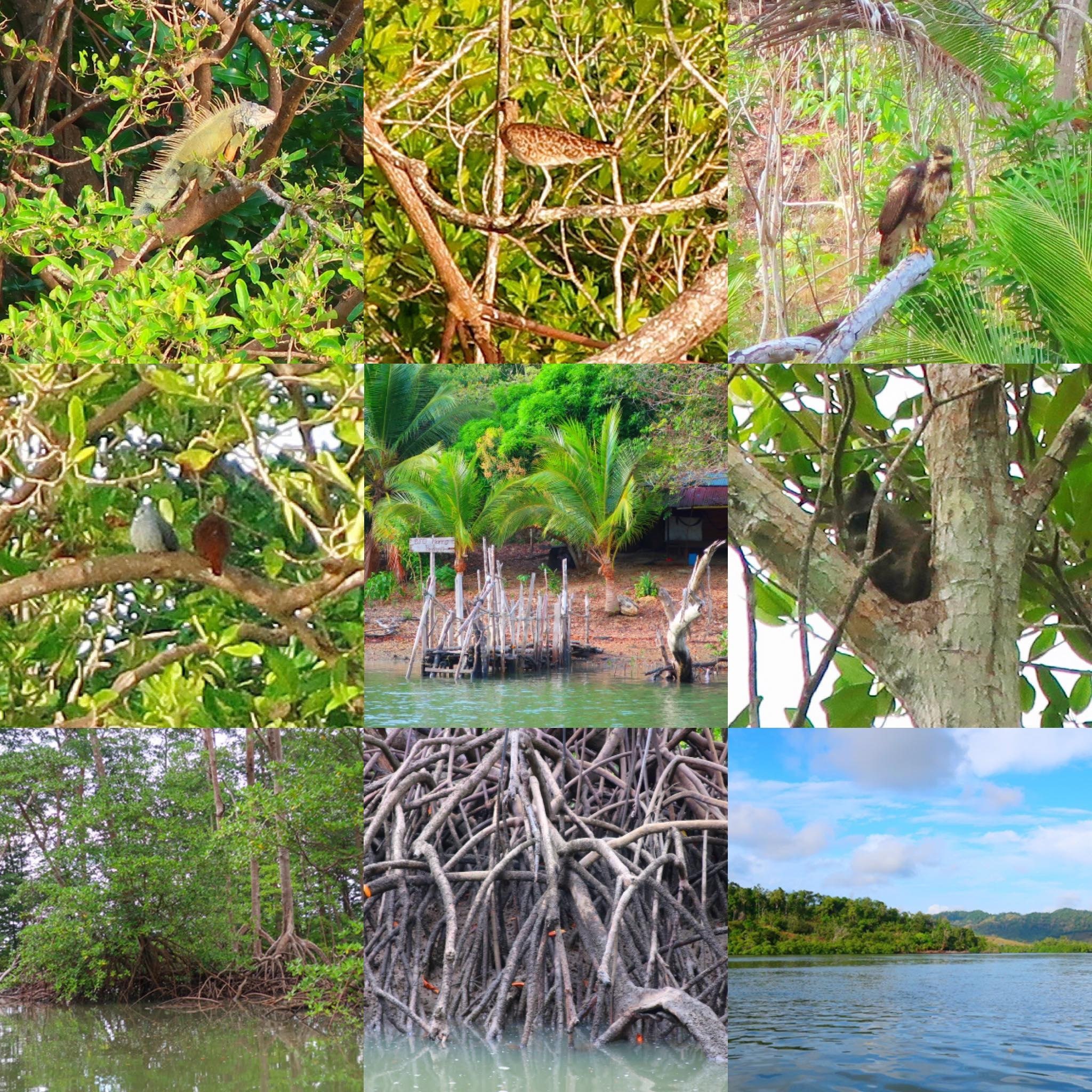 A sunrise explore was on the cards.  Not something I do often due to the side effects of my epilepsy medication.  But it was an opportunity not to be missed.  We jumped into the dingy and went upstream into the forest.  Lots of bizarre sounds to be heard.  Many birds to see and hear. A magical time of day as the wildlife awoke.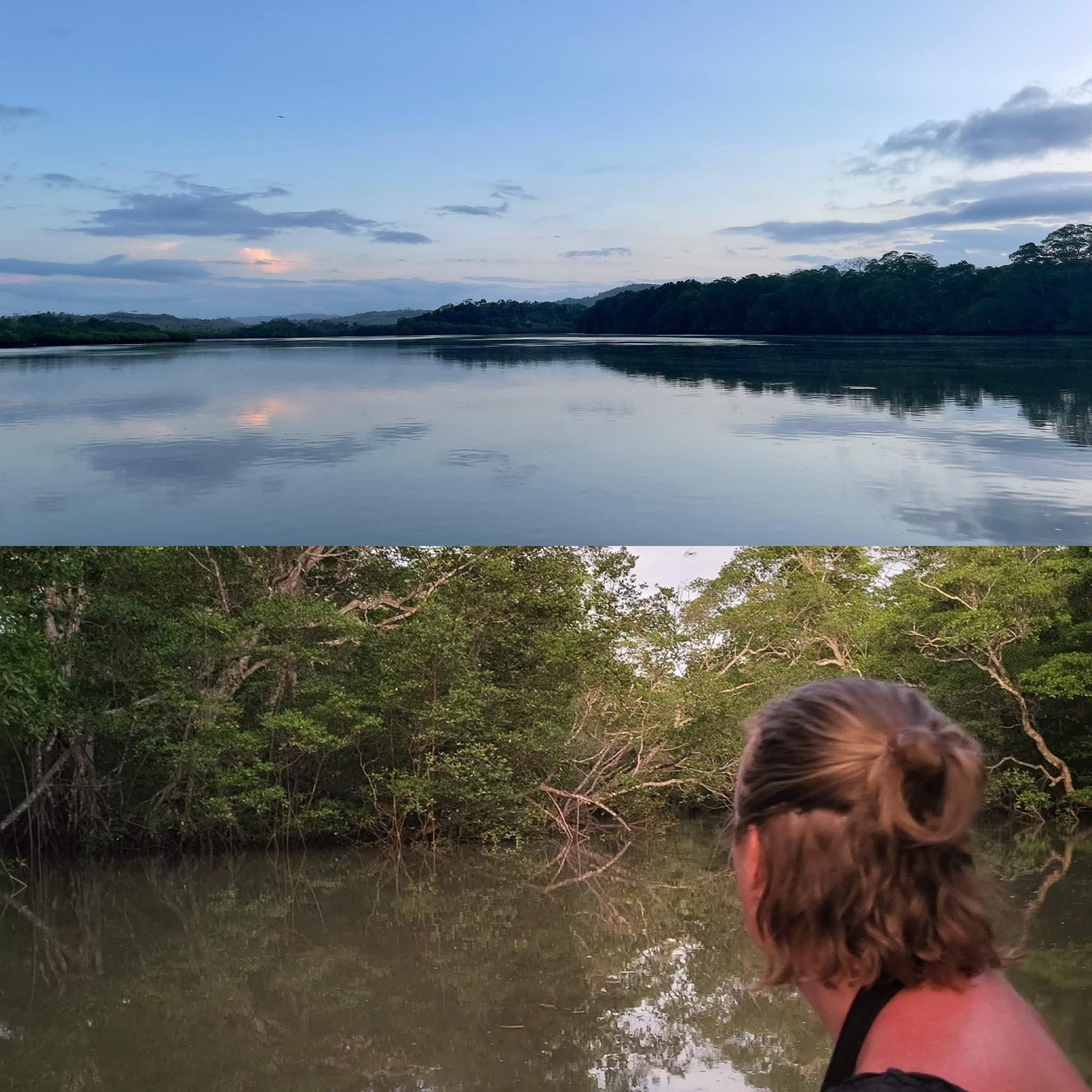 As we set sail out of the river I spotted a monkey taking a drink on the river bank. We headed out into the sea and the rain came down.  The truly authentic rainforest climate experience! All the crew dash to get things in that we don't want to get wet and the hatches are closed. Just the captain and Glenn remain on deck.  It is biblical rain !!
La Palma.  A town on stilts,  a river with crazy fast currents,  lots of shops selling the same things.  The huge bar with the most refreshing beers with a view across to the rainforest.  The loudest music ever. We found the only place to eat on a Wednesday night.  A small river hut on stilts,  colourfully decorated.  Our food was cooked by an entrepreneurial young man (looked 14).  Delicious pork and plantains.  Our first bit of meat in over a week. More to explore tomorrow.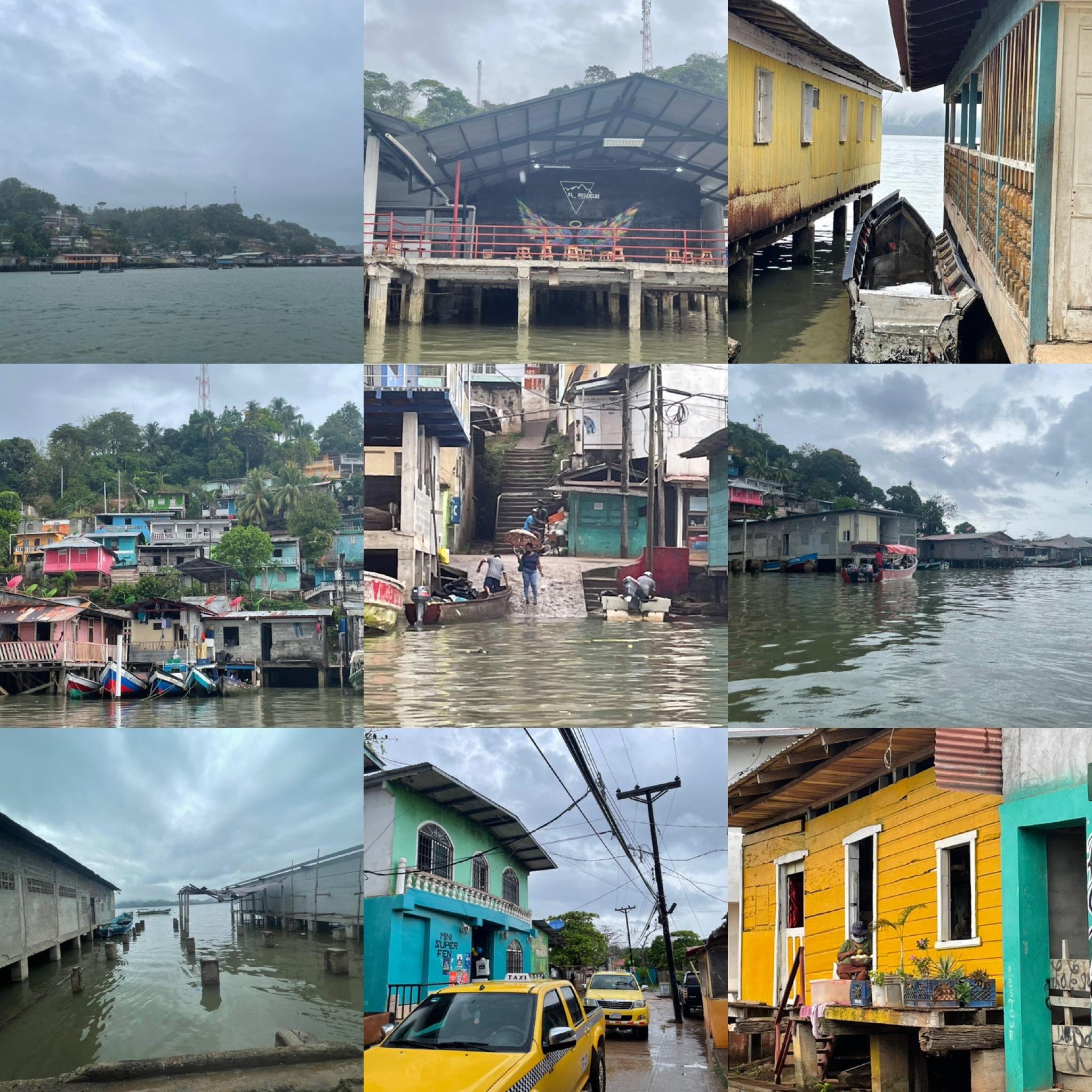 Exploring more of La palma today.  My main observation was that it was a colourful place,  friendly people,  hard working.  The place smelled of mud and concrete.  Lots of properties in development or unfinished.  It looks like a town on the up , hoping for more tourism.   So many vultures there. Sadly lots of new plastic pollution as well.  
We found a spot for lunch.  Chicken strew with rice and a lentil sauce.  Basic and tasty food.  As we ate the rain hammered down on the tin roof.   We walked some more, found a coffee.  As we were leaving I spotted someone selling some crayfish!  Our dinner for sure.  The deal was done.  I cooked for everyone, it was delicious. Tomorrow we are going into the rainforest to visit a village.  Can't wait.  Early night today as we have an early start tomorrow.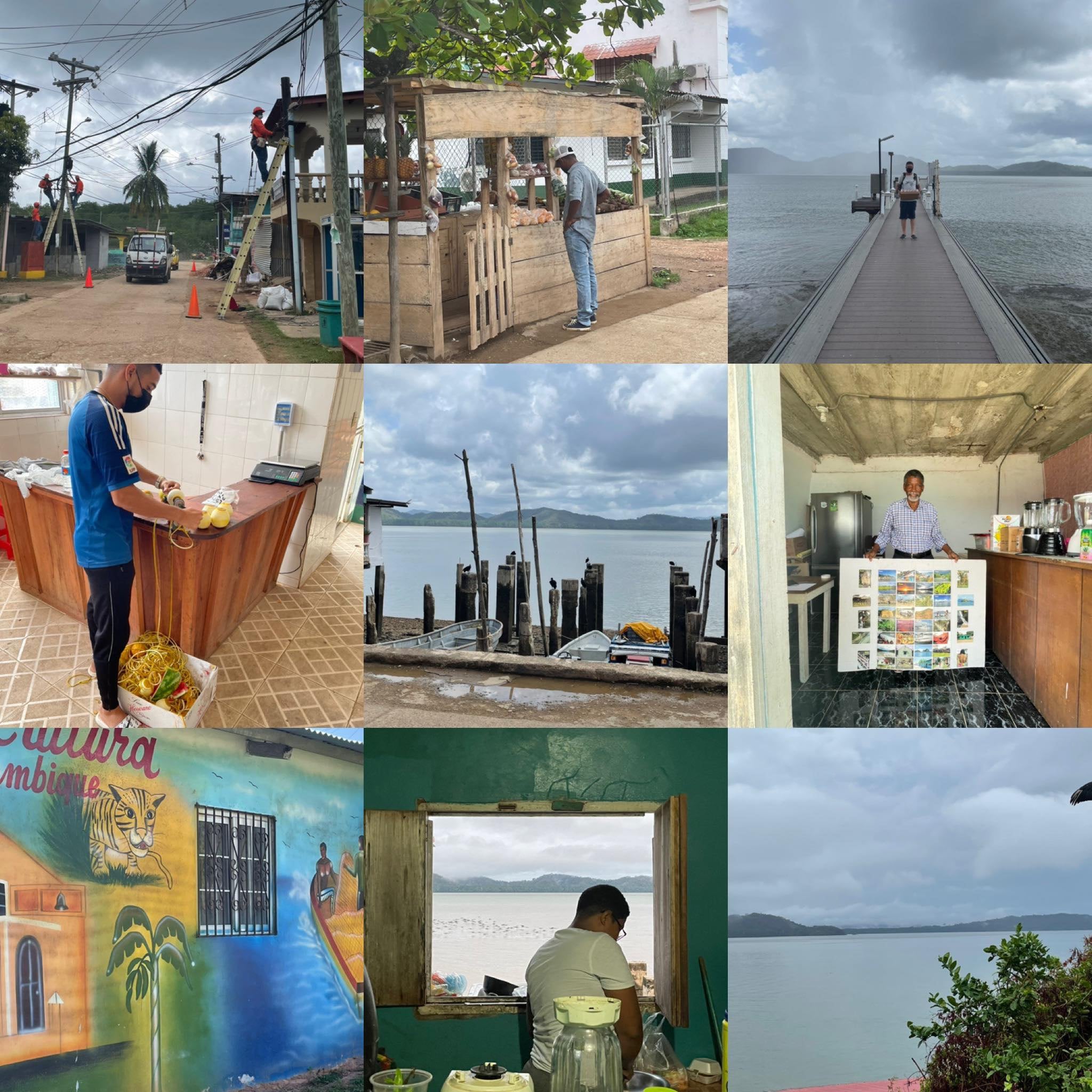 We leave at sunrise.  Drive up through luscious green and farming area.  Then on up the hills. Horses and cows grazing.   The houses are mostly wooden shack structures.  Basic and functional. Just. We soon arrive in a fishing village where our boat awaits.  We whizz down the river for miles and miles.  I realise my childhood dream of going to the rainforest is happening.  The greenery gets thicker and bigger.  The smell is fresh and cleansing.  A tear of joy runs down my face.  I'm like a happy Labrador with the wind in it fur out of the window.  Grinning from ear to ear. The boat turns off into a small contributory river.  Meandering beautifully through the forest.  Lots of birds and even some crocodile bubbles.
My passion for the rainforest started at an early age.  Geography lessons really captured my attention.  I even wrote to the prime minister at the time and Blue Peter.  This was back in the 80s and I was  really concerned about the deforestation.  Nothing much seems to have changed since.  It has just got worse. Although there a a few people who also care and want to make a difference.  Thankfully we did see evidence of re forestation today.
So our boat swooped through the river which was brown like molten chocolate.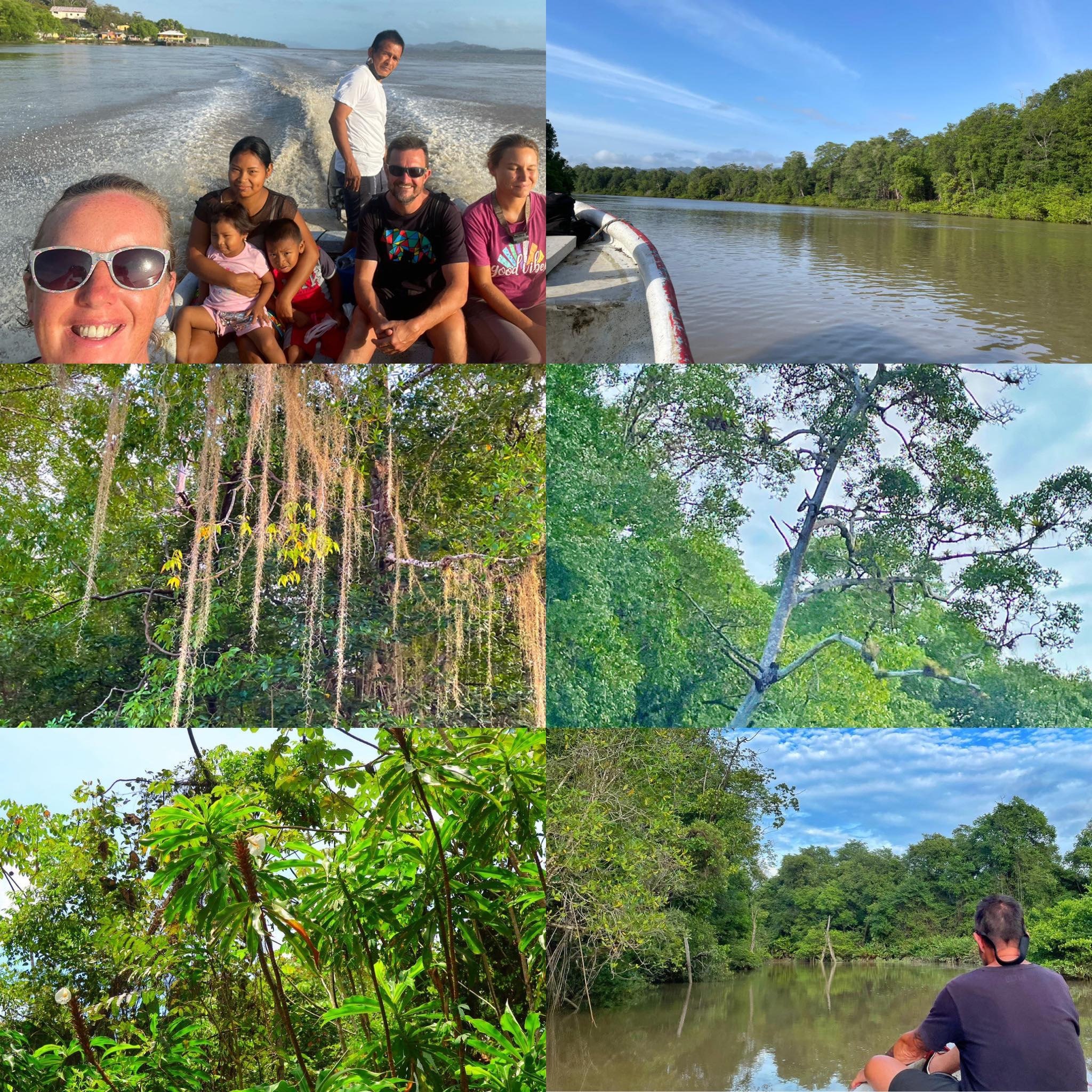 Eventually we arrived at the most idyllic tribal village.  Huts on stilts.  A communal area in the middle.  Really clean and well maintained. They are certainly proud of their home.  We are invited to drink lemongrass tea.  The ladies are gutting fish,  the fire is burning.  The hut is open plan.  Made from approximately 25 palm trees.  Beautifully made and water tight.   After tea the ladies prepare the traditional mix for body painting and our arms are soon decorated and beautiful.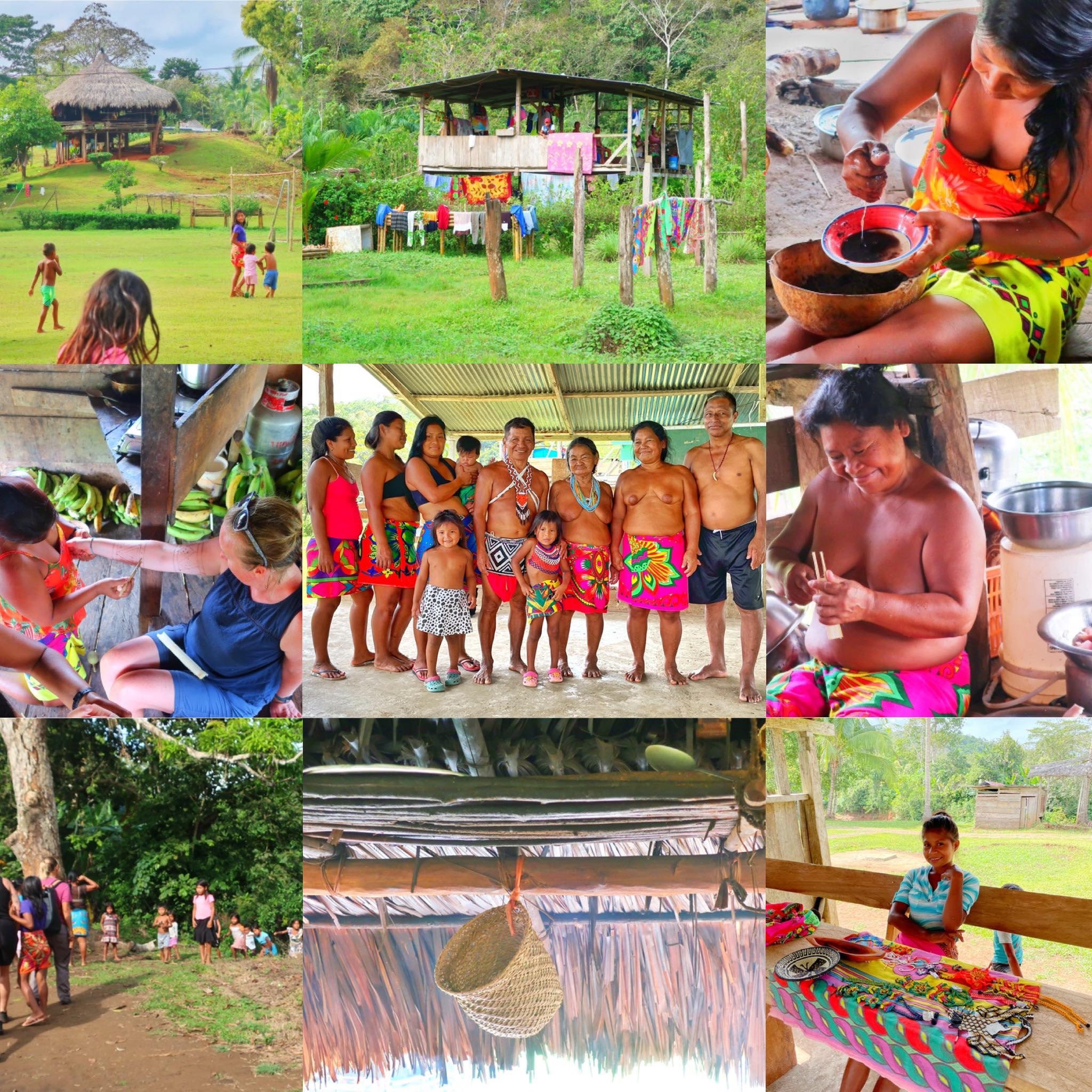 3 hours hiking info the rainforest.  So many species of animals and plants.  Dangling tentacle succulents attached themselves to the trees. All giant size.  Busy ants, many butterflies, moths, lizards, birds.  All dispensing as we disturb their home. We are told by our tracker that Cayman were about.  We spotted one and the girl from the village wanted to keep one.  We tried to tell her that was a bad idea. As we walked we were mesmerised by the gigantic tall trees.  Big flowers, big leaves.  Big everything.  I take a moment to realise where I am.  Yep.  I'm in the rainforest.
Probably the hottest and sweatiest I've ever been.  Soaked through.  The river we arrived at was a sight to beyond.  Deep pools in places,  refreshing mountain water. The leaves were falling from the huge trees which lined the banks.  Some flew away,  they were butterflies.  What a special moment that was, swimming in a rainforest river!
The girl Kasy who was was walking with us picked some cocoa pods from a tree and we chewed on them like candy.
On the way back to the village we spotted Capuchin monkeys  in the tree tops.
The lunch was simple and tasty.  Just what we all needed after a challenging hike.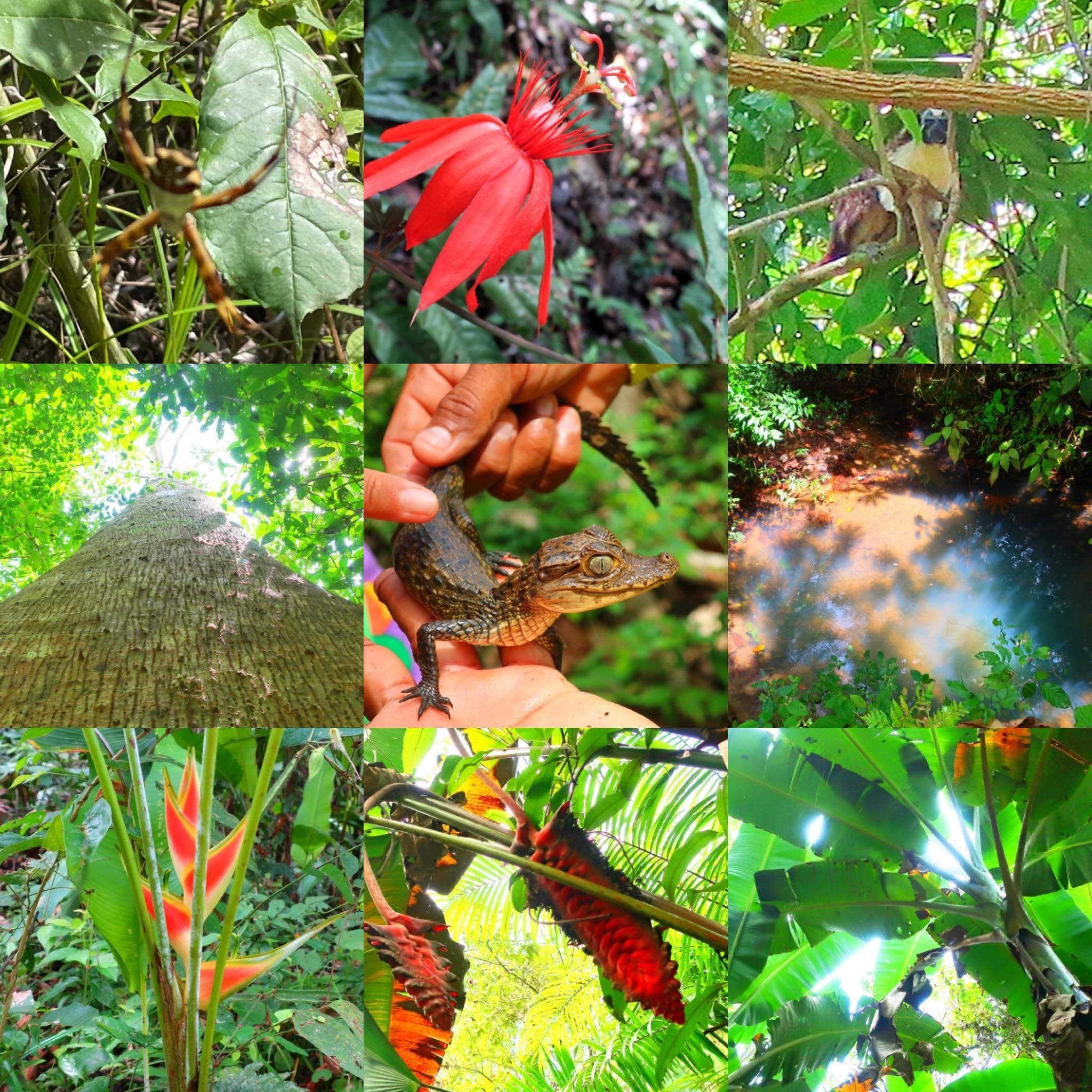 The boat ride hope was eventful.  Delayed first by the outboard which needed fixing. Then the river was so low and full of debris that it was blocked.  Not to be defeated by logs, we hopped our and moved it all.  Boob high in water and fully dressed.  Myself and that boys moved it so that our onward journey was possible without having to wait for the tide to be in our favour.
The river level was low and we spotted the biggest Kingfisher I've ever seen.  Loads of lizards.
A bumpy boat ride back to the fishing village where the local kids where launching themselves into the river.  Great to see!
An hours wait for our taxi which had not waited.  We drank cold drinks in the square.  Amused the local youngsters with our presence.  We make it  home at about 8:45.  That was a long day.  Making dreams come true.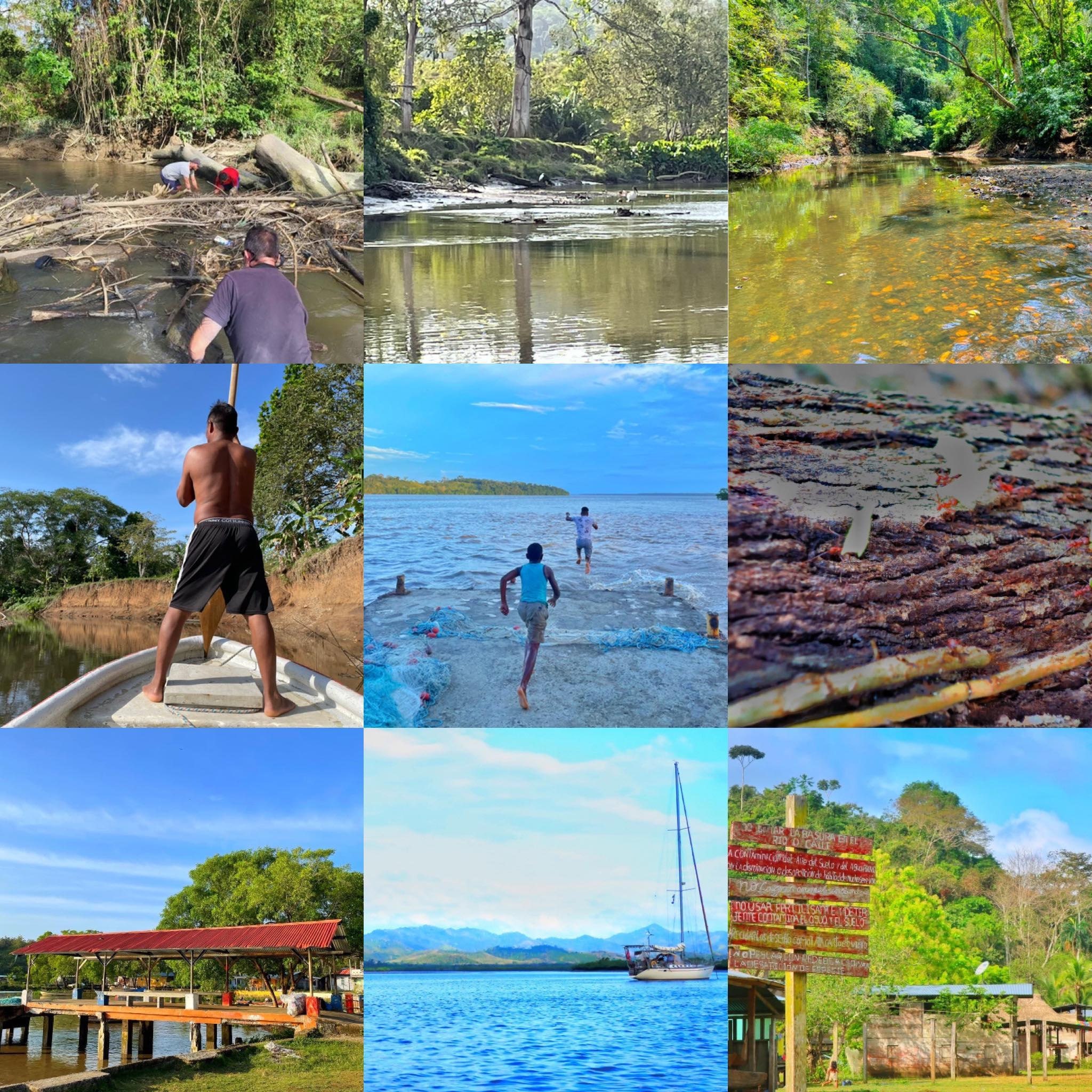 Swimming in the rainforest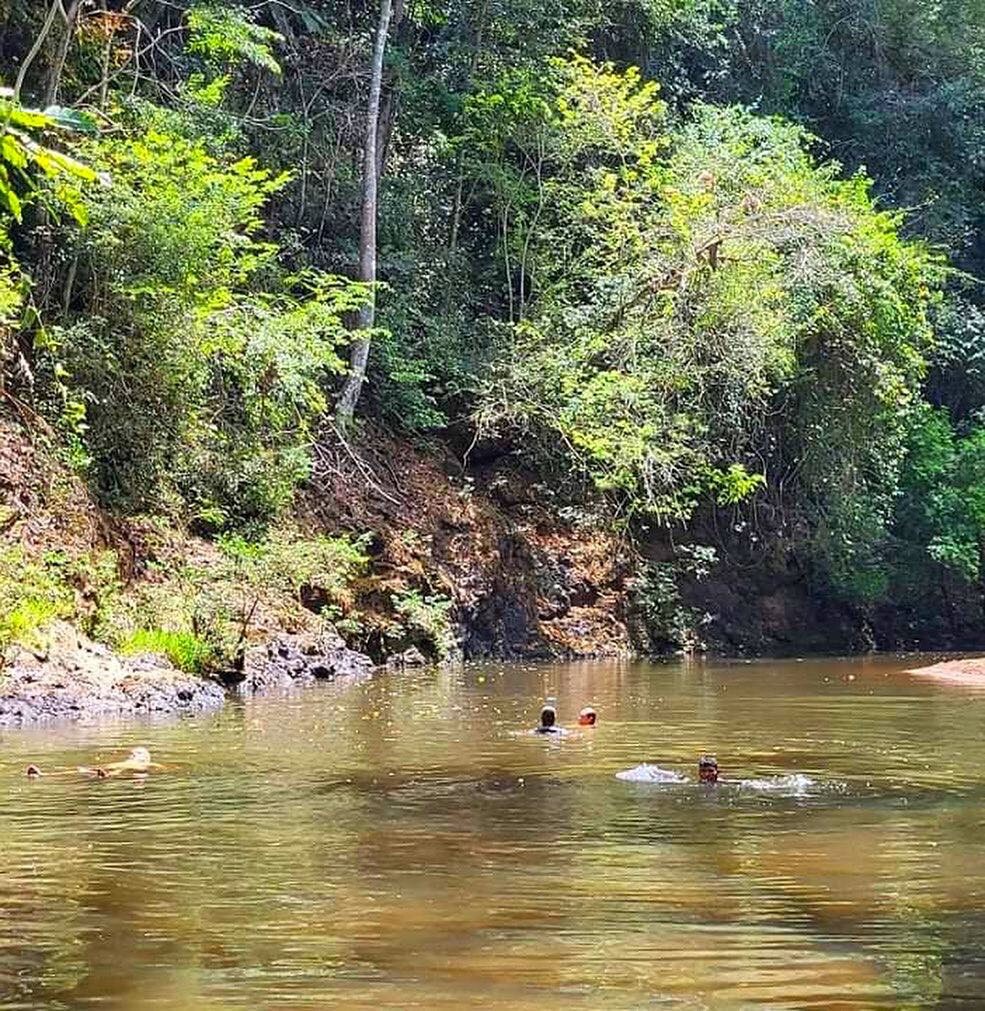 The morning was spent getting fresh water as our tank is getting low.  Normally the sea water is used to process it into fresh water .  But as we have been in the muddy river we were unable to make water using the onboard water maker.  Supplies were getting low, so Jelle and Kasper went to fill the spare water containers on the mainland.
We then left La Palma for quieter and less ferocious water.  Dolphins jumping not far away from us. The river became much narrower and shallow.  I was at the helm,  the satellite map wasn't much use as not many sailors come on these waters.  It was down to our eyes and river reading skills.  I find myself thinking back to my Thames swimming.  River reading is definitely something I have used a lot for that as well as living on our barge. 
In parts the river was so shallow that the boat was brushing against the bottom of the river.  It was literally touch and go!! Thankfully we were on a rising tide.
We found a good anchorage and dropped a bow and stern anchor.  Just to make sure we didn't end up across the river.  
The water looks a lot more inviting here and I am soon in the water.
Men are throwing their nets for fish.  A very atmospheric sight to see.
The bird song is loud and closer than ever.  A wonderful spot to spend the night.
Later we cook, fish, eat, then explore the river by dingy as the sun sets. 
Howler monkeys,  Crimson-crested woodpecker, jelly fish, cormorant, parrots, funny looking fish, white Ibis, frogs, so many more. 
This river is luscious and full of life in every direction.  Lined by a mix of mangrove and jungle.  Many shades of green reflect on the water as the water calms in the late afternoon sun.  As we decide to return because it is getting so dark, we see a beautiful sunset with the moon also shining through the tree silhouettes.  Absolutely stunning.  I could have stayed there all night listening to the jungle sounds.  
The river and us settle down for the evening. Just the sounds of the water and jungle around us.  Every so often a boat would pass.  I think they must be quite surprised to see this big sailing boat this far up river.  We are adventurers!! Bioluminescents in the water, bright galaxies above us, crickets chirping and monkeys communicating in the distance. A pretty perfect location.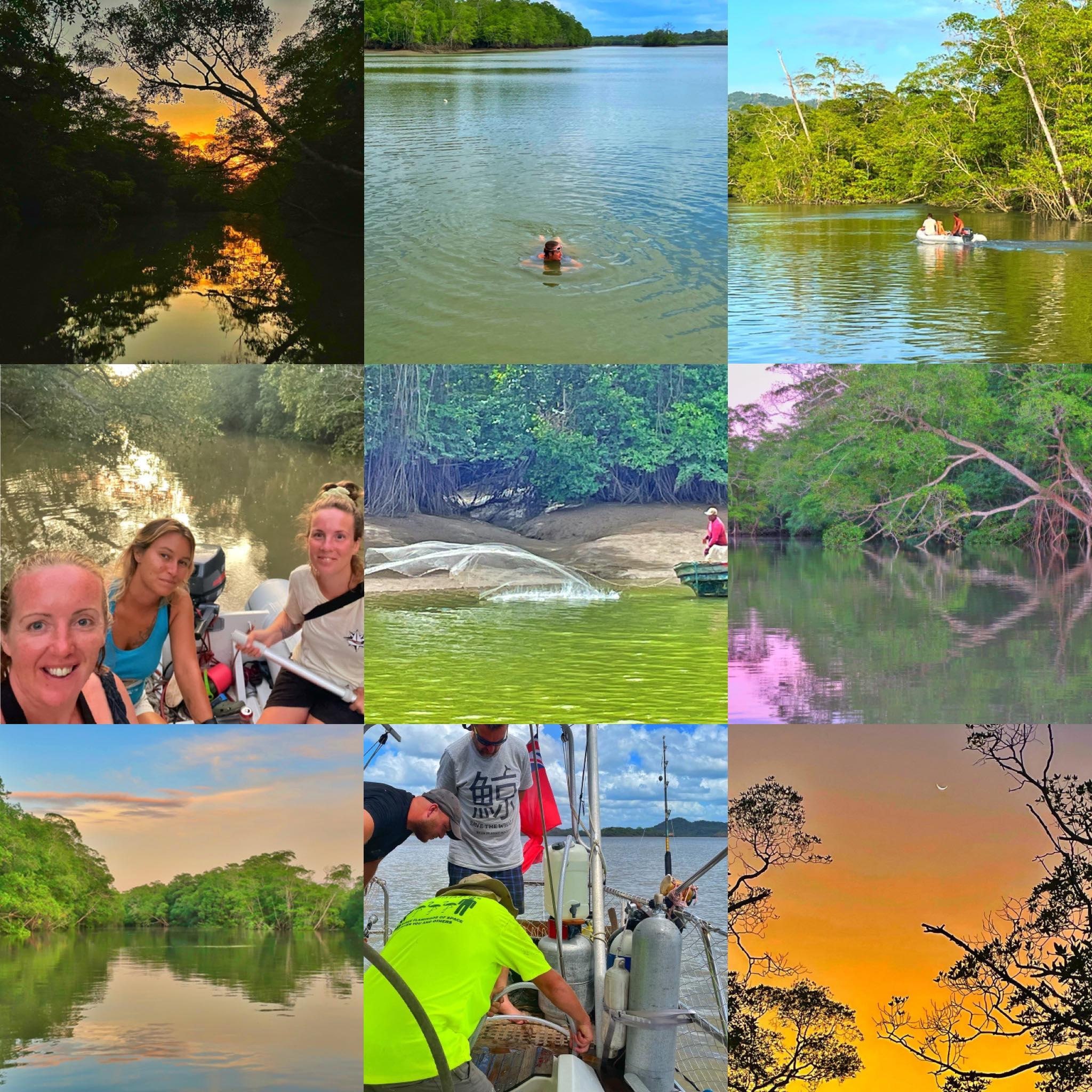 Girls adventure day.  Skye and I head for shore and find a bus to take us in land.  To both our surprise their was an English guys and two German girls on the bus.  They're backpacking.  Bizarre to see them here.  They are brave to be out here.  We swap stories of our travels. Our bus stops and we switch to another.  Heading deeper into the countryside and mountain area.  
We are both feeling adventurous!  
We arrive in Yaviza have a walk around.  It is a busy port with lots of wooden carved boats filled with produce.  The town is buzzing and we are definitely looking out of place.  We see some ladies wearing traditional clothing and feel a connection.  Like a safety blanket.
This place is the last on the Pan American highway.  It feels significant to us both. We cross the foot bridge which marks the end.
We chat to some local ladies and we eventually find a guy who's going by boat to El Real .  A place where we can see more rainforest and possibly spot Harpy Eagles.  Fingers crossed.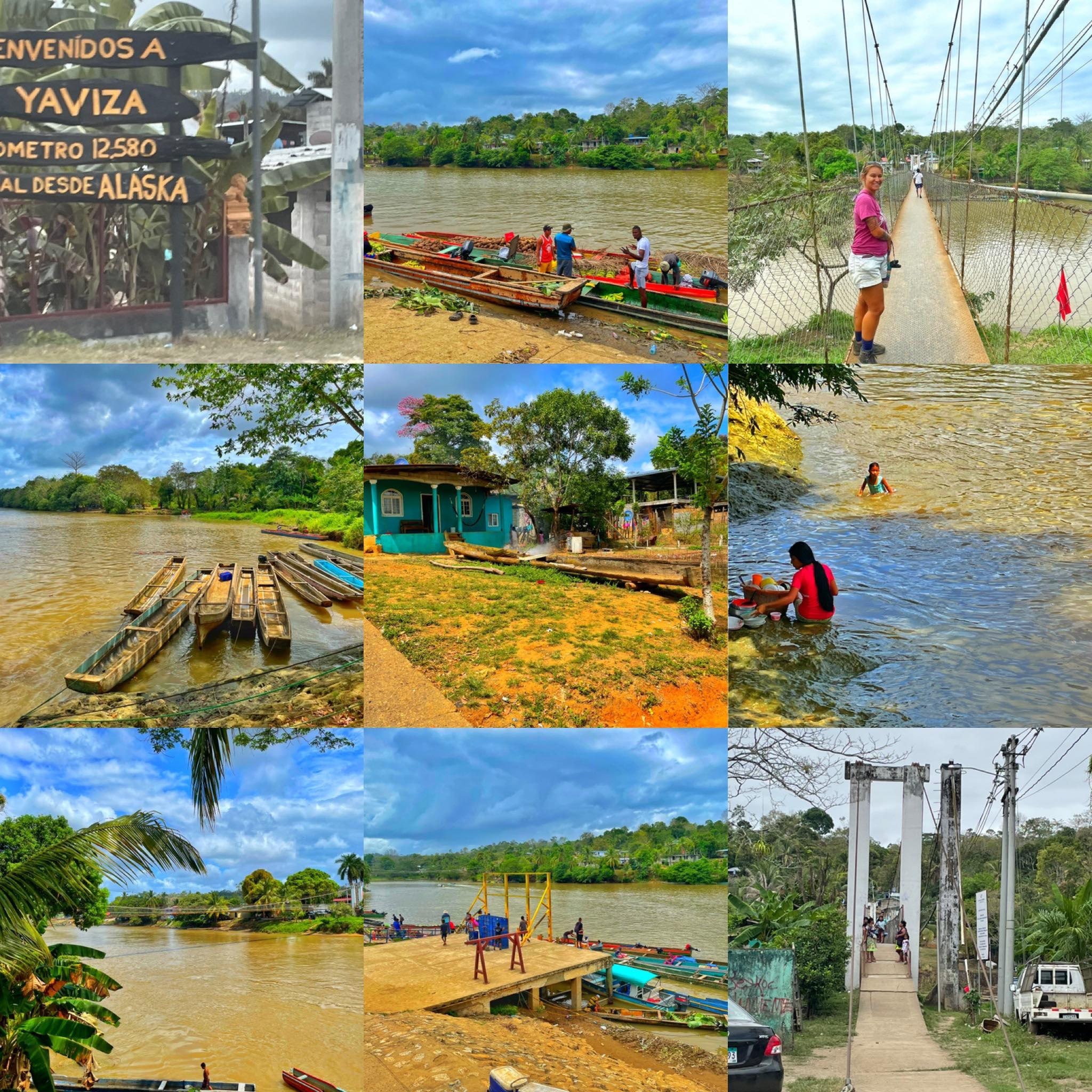 As we get on the boat the local army come and question us about identification.  Luckily we had photos of our passports on our phones.  But we had to get off the boat and go and sort that out.  Both keeping calm and not feeling intimidated by the three men.  Using Google translate and Skye using her languagey skills.  We talked our way through it.  Our adventure had taken a different direction.   Eventually we turn the situation into a positive.  The military were apologetic and helped us find another boat for our onward journey.  We were soon on our way to El Real.  Once again whizzing down rainforest river.  This time in a family boat full of supplies, children and the dad.   It started to rain!  Real heavy rain.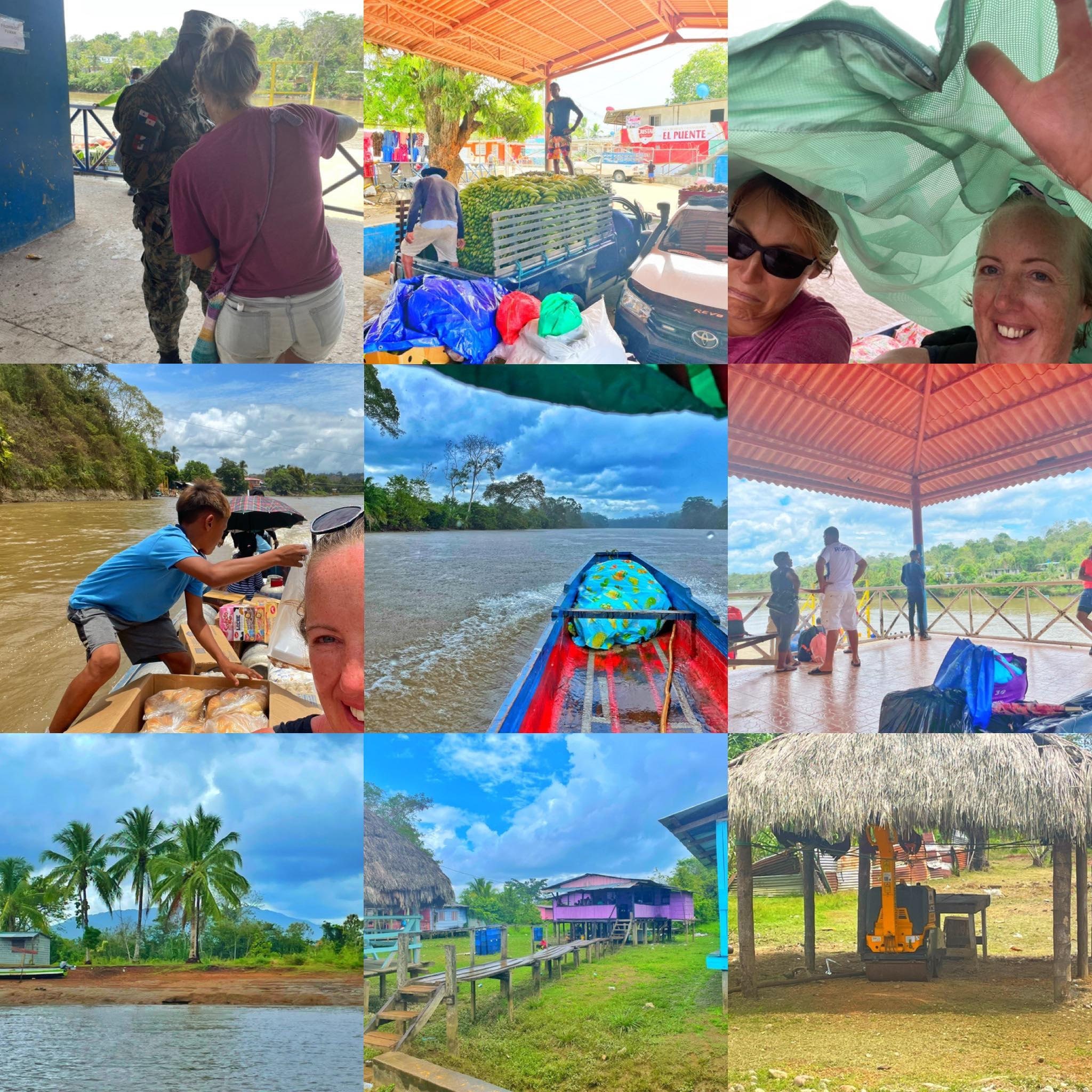 We pass small settlements, people washing in the river.  Arriving in the town we see a bar playing music.  Lots of locals. We explore but are sure we won't have time to get to the mountain.  Anyway,  the military told us we weren't allowed to go on the mountain. We walk and find some backpackers.  Walk more.  I like seeing a glimpse into these villages.  Lots going on.
We grab a beer for the boat ride home. Spotting massive crocodiles and tortoise on the way.
Yaviza awaited.  We checked in with the army to tell them we had returned.  Then a bus back to Makita and another back to the port. Unfortunately we had missed the final bus.  We had hope when a man was waiting to go to the same place.  We chatted for a while.  A taxi showed up and he got it and went!  Very disappointing indeed.  He just left us.   A few minutes later I spotted a taxi and we were away.  Satisfied that we were going to be home before dark,  we enjoyed the easy ride. Back to the boat in time for dinner.  The tide turning, the monkeys howling and the stars started to shine.
What an adventure we had!!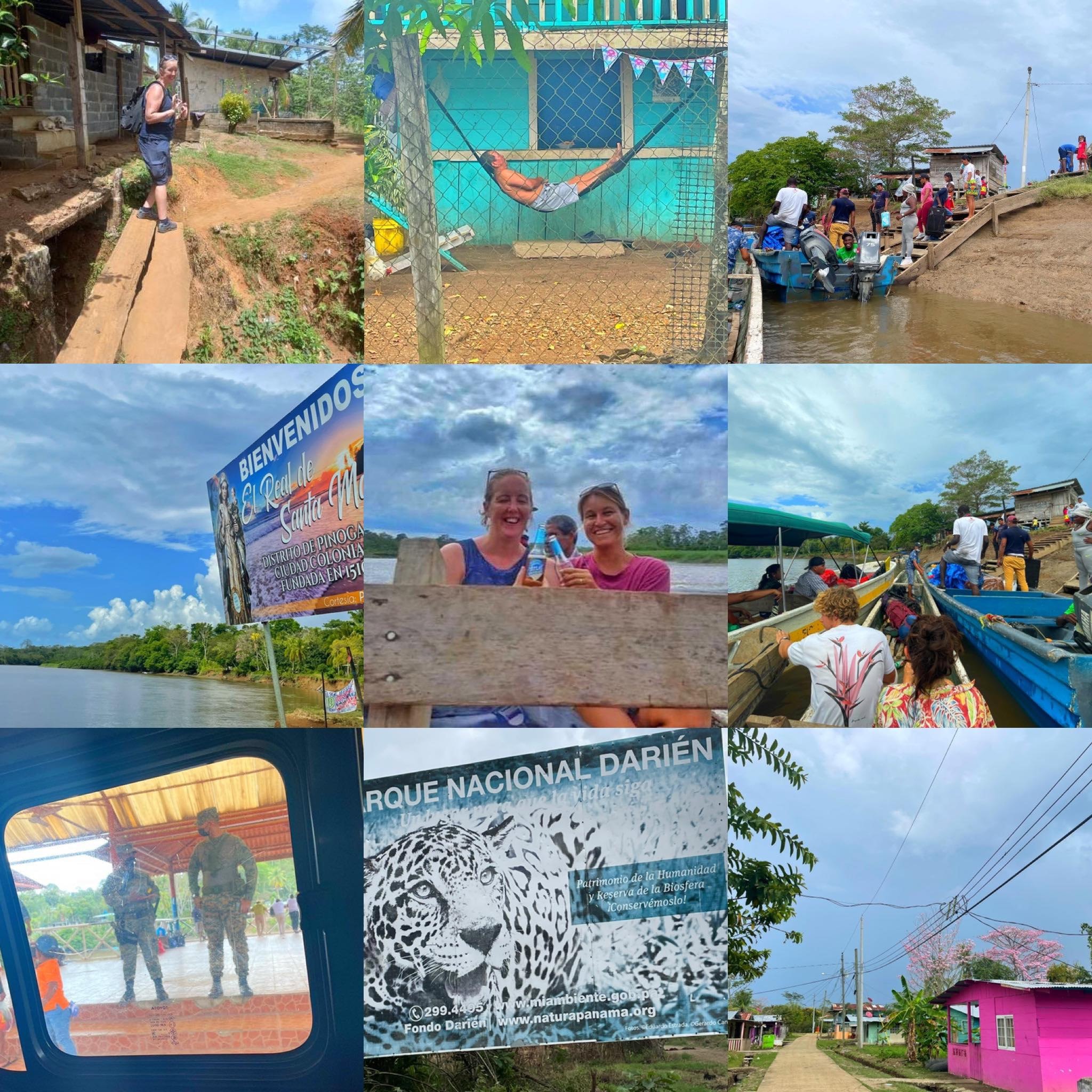 Woken by the sound of monkeys .  The best alarm !We leave the river for the sea once again.  It flushes us out as we cross through a narrow channel.  Crazy cross currents pushing the boat around.  Time to put the fishing lines out!All looking forward to a good swim and wash!As I pass the coffee around the deck I realise how much my balance and manoeuvrability has improved.  I am adapting to life on a sail boat.  Lots to navigate in such a small space.  I'm surprised how well I've coped with it. After a few hours we notice a dramatic change in water colour.  I put my feet in.  It gets warmer as it changes.  Clearer and nicer.  It became deeper and deeper.  I spotted a whale jumping out and twisting in the air, the around 50 dolphins headed our way.  Looked like they were hunting.  An amazing sight to see.I see a group of sharks skimming the surface.  Possibly Whale sharks.  I need to check the fin shape for confirmation.Follow this we saw many more dolphins, flying fish, more whales.What followed was a wow moment.  The Rays were heading our way. Jelle said we could jump in and see them from the water.  Skye and I both equally nervous.  I said 'once in a lifetime' to her and we grabbed our snorkels and jumped.  75 meters of clear blue water beneath us!  I could see them on the surface.  Skye saw some swim right by her!  Strong women in the water together making amazing experiences!  Yes!! Water so clear we could see the many Rays, Jellyfish glide gracefully by the boat.  We are amazed at how many there are. The boat is surrounded by jumping Rays!We dropped the sail and anchor after a 8 hour trip .  Jumped in the water, had some grub and drinks.  A lovely chilled out evening ahead.Days of swimming, spear fishing, looking for crayfish.  More swimming, cooking, planning the next sail. The sun was shining bright now that we were out of the rainforest and life on the sea was good! I even spotted a shark sleeping on the bottom of the sea. After lunch more snorkelling.  I saw a red spotted eel snake, a sting ray, lots of other fish.  Unfortunately on the swim home a jellyfish stung me on my face.  Thankfully the pain subsided within an hour.A rocky night sleep.  The windy direction and currents were working against each other meaning the boat rocked more than usual.  It made sleeping and getting around the boat a bit more challenging.Onto new water today.  The sails are up!  There are a huge amount of larger jellyfish here.  Jellyfish highway !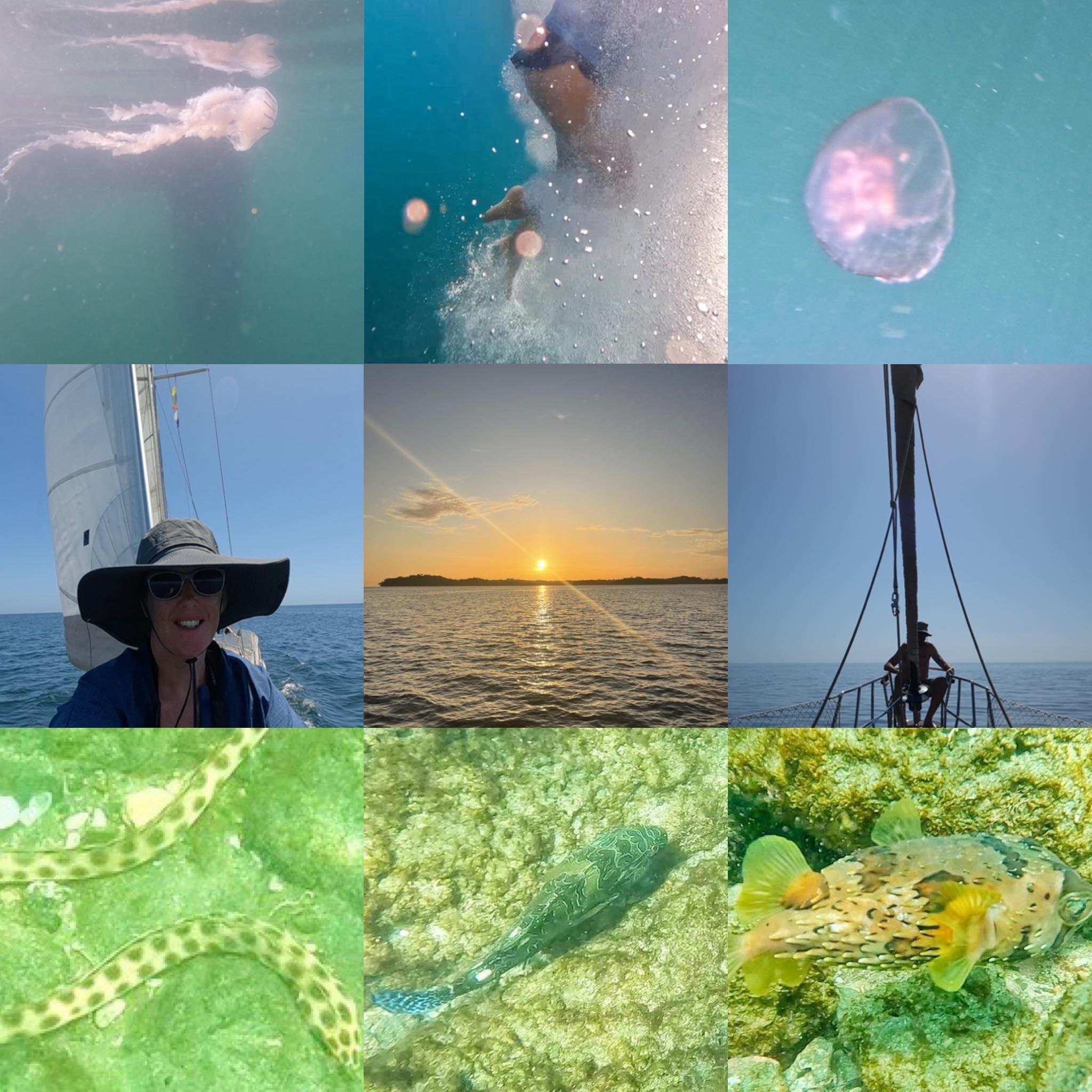 to be continued.  See next blog post on www.juliet-turnbull.com