A 6 hour sail today. Averaging 3 knots with around 8 knots of wind.  Steady, calm and meditative.   No fish caught unfortunately.  We saw only jellyfish and the odd fish.  But nothing on the hooks. As the sun was setting and the crew were enjoying sundowners, some Manta Rays stopped by to say hi.  Their fins just showing above the waters surface.  The water looked like silk and the Rays were here.  A special moment.   On a bay opposite there were some posh boats,  they are the Oyster fleet.  All sailing together.  We spotted them at some of the more popular pearl islands a few weeks back.  I like it here.  Thinking of new designs for my fabrics when I get home.  Definitely a spotted puffer fish print.  They are quite comical and have character.Enter
A quick stop off at an island to find some shells.  There are a few,  I am more interested in the tracks in the sand.  Turtle prints going into the sea and a two legged animal of some description.  Not sure what.    We then set sail for contadora with the promise of cold drinks and a meal out.  A treat for all.  The sea is calm so it's likely the water will be clearer than last time we were here. Good snorkelling!    An afternoon of the most amazing coral snorkelling.  Huge shoals of fish, Moray Eel, tropical fish.  A yellow/orange puffer fish.  Then onto the island for burgers.  Cocktails afterwards in a sea view hotel.  Looks like something out of Agatha Cristie.  Palm trees and parachutes.  There is a parachuting event on the island. Over 100 skydivers throwing themselves out of aircraft above us all afternoon. We chat to some of them in the bar afterwards.  Looks amazing.  I'm tempted to do another.    Back to the boat after drinks to chill out and chat.  Great day!!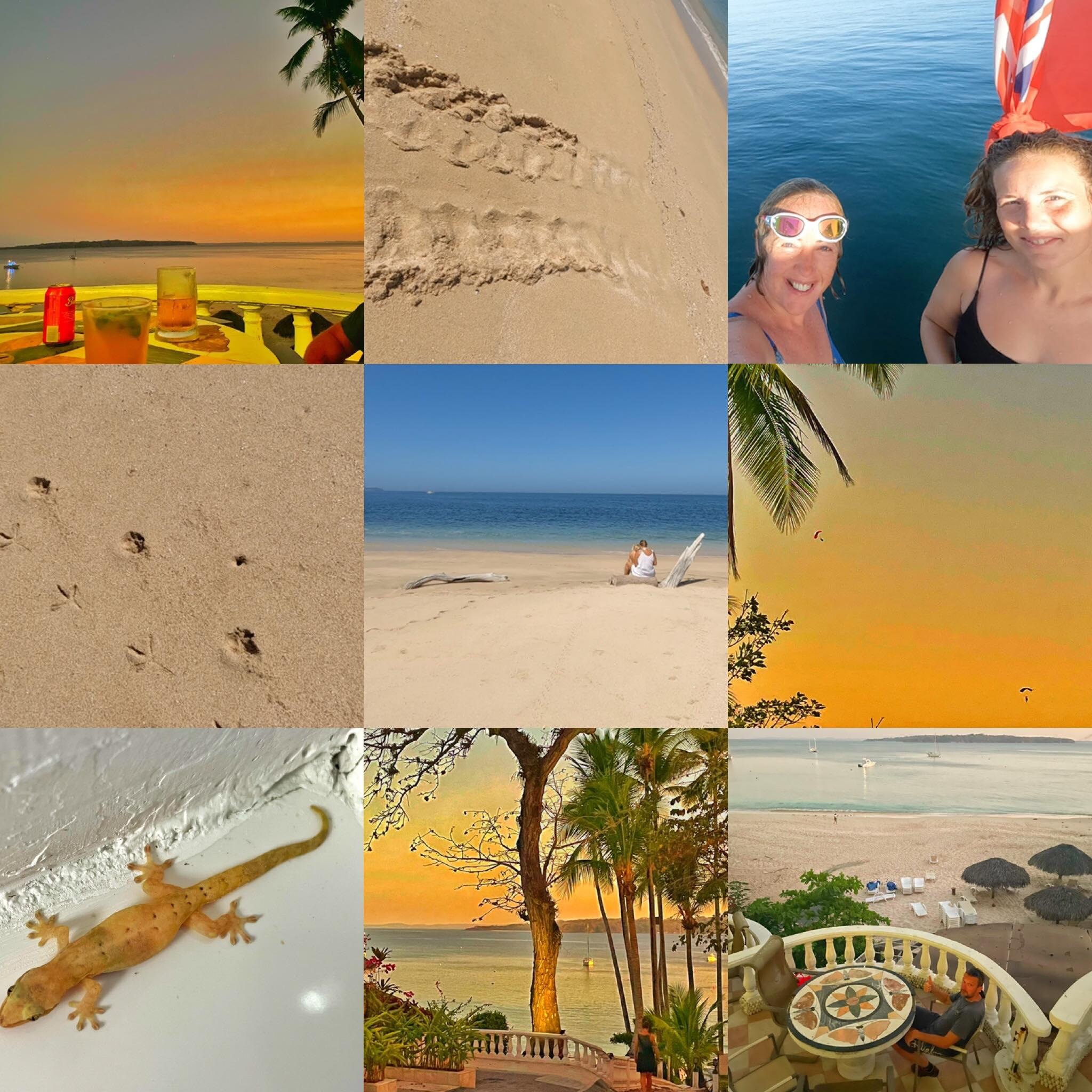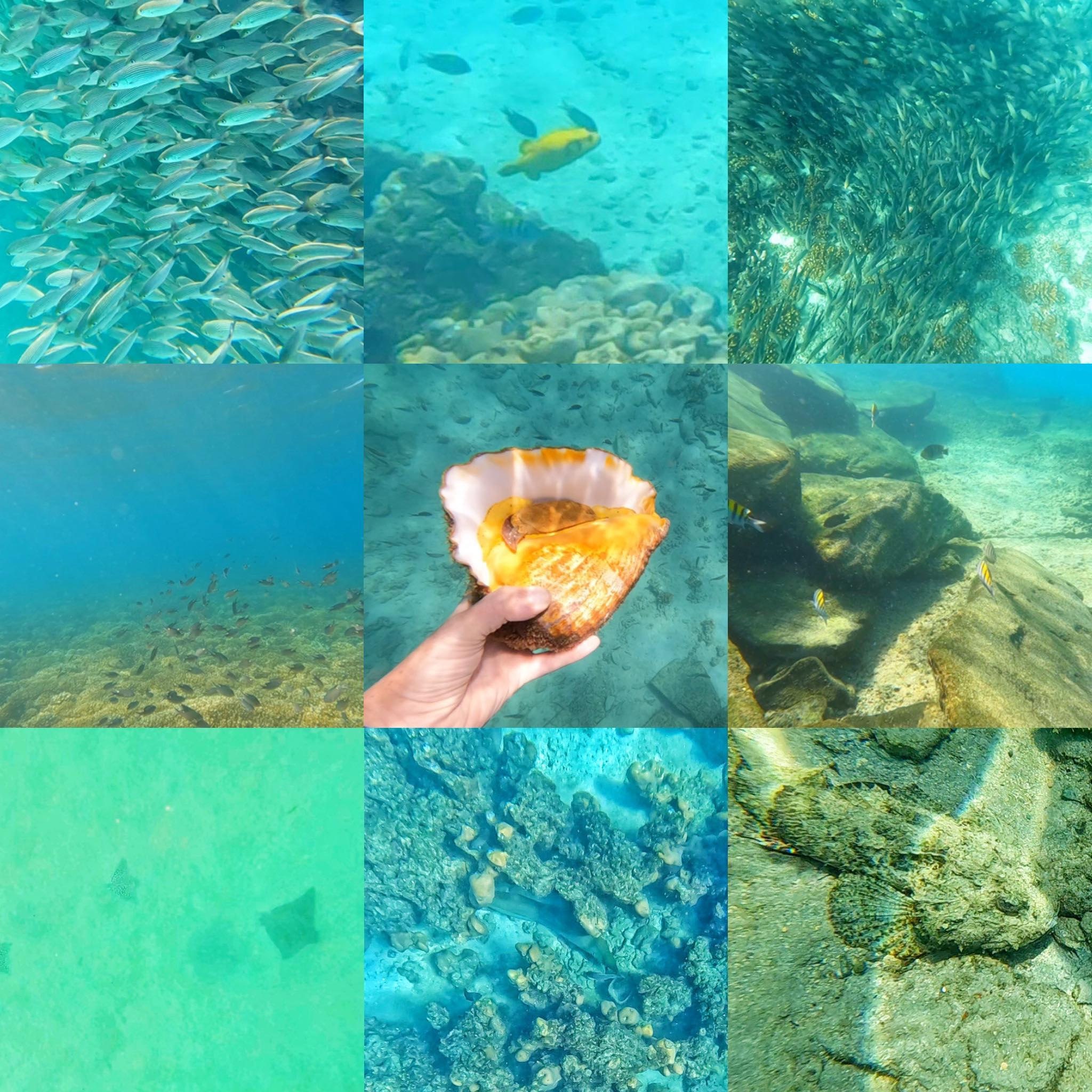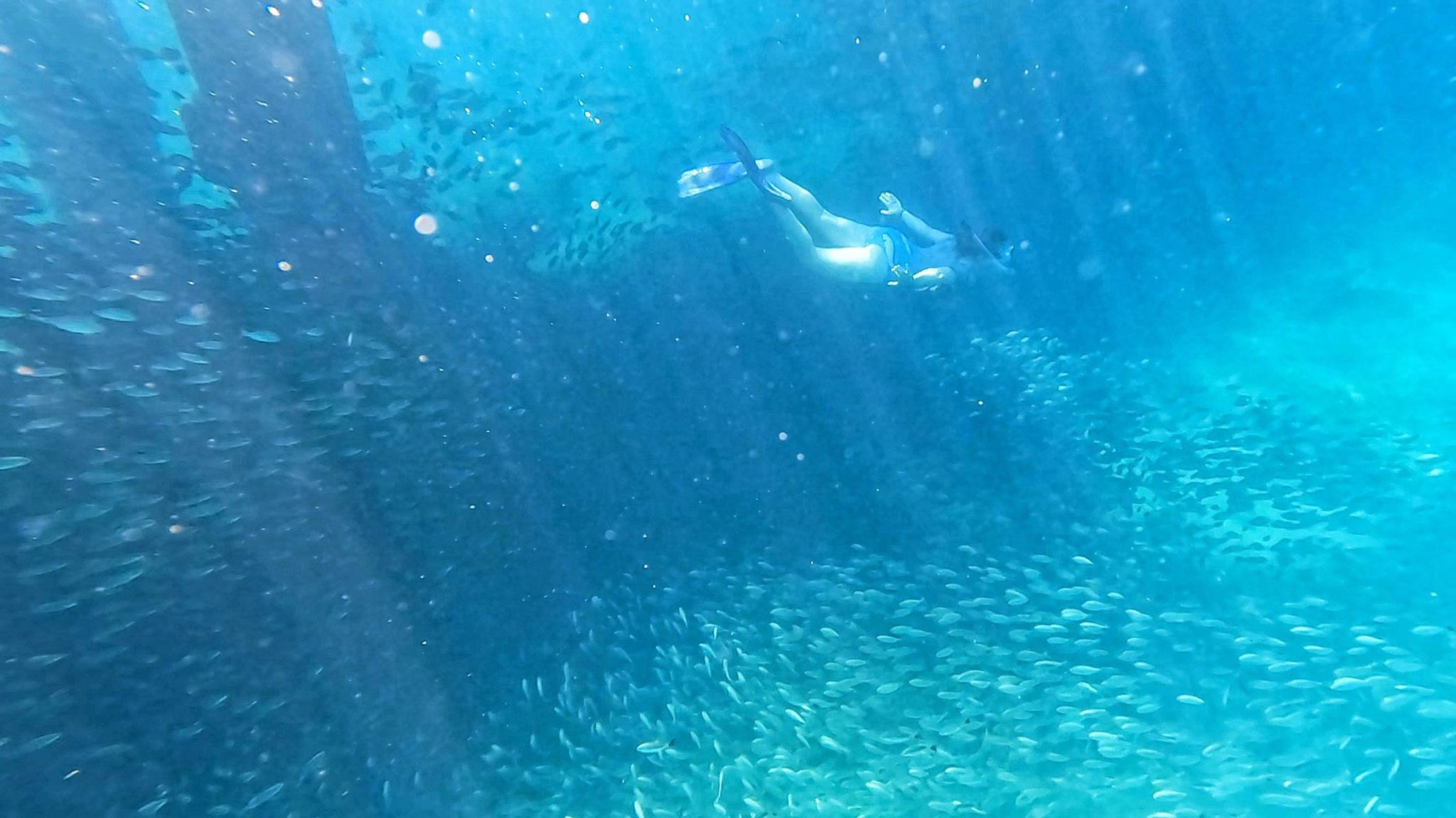 Morning explore by the boat.  We're moored just by Condadora air strip and get a fly by regularly.  Great to watch, especially from the water. Spotted Eagle Ray family also swimming underneath us.  Visibility is fantastic.  We can see the bottom of the sea from the boat! 10 meters. Also in the water I see Trumpet fish, puffer fish, angel fish, chub, parrotfish, Blue tang.  After lunch we went speer fishing,  lots of fish.  They were too fast though.   I spotted two octopus,  could never eat them after watching 'my octopus teacher'. Nearby was a very grumpy looking stone fish.  Nearly two hours snorkelling for fish.  It was great just to see whats down there.  Lots of interesting rock formations,  coral, various items discarded by humans.  Stunning large shells, all inhabited.  Well camouflaged on the sea bed.  But I could see the shape and dived down to see what they were.  Really beautiful.  Ofcourse I put them back.   Bbq and watching the boats arrive for the weekend.  Busy time on contadora island.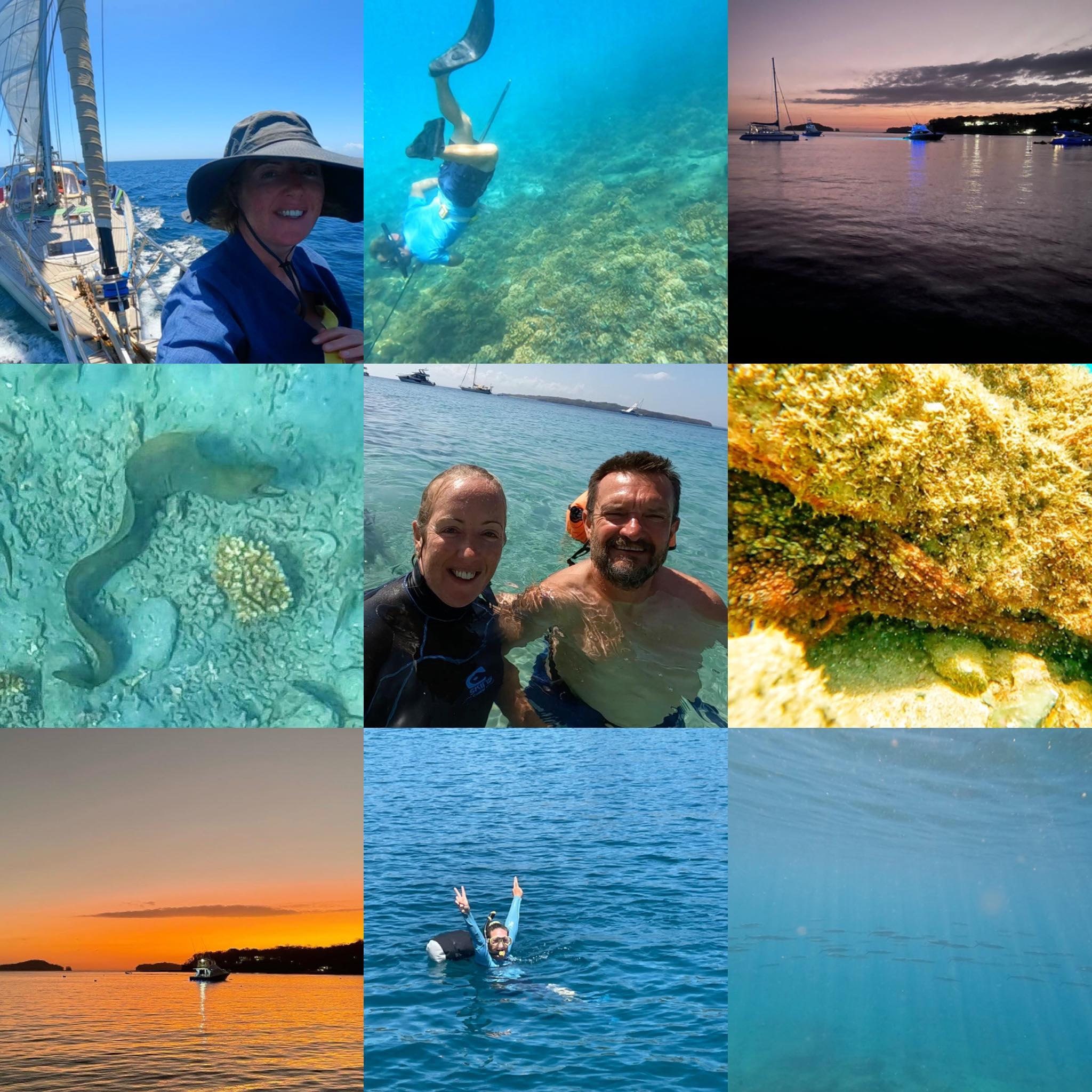 our last day in the pearl islands.  Lots of swimming, snorkelling and chilling before our night sail to Panama City.   One of the things we see in these clear waters in blue dots.  They are tiny shiny specks of sapphire like blue in the water.  Twinkling in the sunshine like little gems.  Really beautiful.  I've never seen them or heard of them before.   Ian the Australian was on the boat when I returned from a swim.  He'd popped over to seek help with his SIM card.  He told us he'd only recently succumbed to the mobile phone.  Mainly to keep in touch with his wife.  He was sailing alone (with the dog) taking the boat back to Australia.  He'd built this boat back in the 70s and by the sounds of it has probably sailed the world multiple times.  Interesting guy.    Last day in paradise.  We've made some great memories this month.  It's going to be a shock going back to UK winter swimming, but I'm intrigued to see how I adapt to it again.   Water temperature here 25°c Water temperature at home 8°c   One last snorkel with the Skye and Mia .  Shark, Eel and Ray spotted.  Now to prepare the boat for the night sail.  Three shifts.  Glenn and I have the midnight till 3am slot.  Fingers crossed!Enter
Trying to sleep in a moving yacht in the middle of the ocean is an interesting experience.  You feel every wave that the boat rides through your body.  You can feel how it is moving the boat around with every rolling waves.  I try and focus on getting some sleep so that I am able to contribute on my shift at 12 midnight. Not an easy task. Then once we cleared land the sales go up and you are sleeping on an angle.  I awoke just before 12, ready for action. The early crew went to bed. In the following hours the wind dropped and steering became quite challenging.  At one point the wind was changing dramatically and I even managed to accidentally jive.    Eventually the wind picked up and controlling the boat became more enjoyable.  Then the three o'clock crew arrived. Off to bed.  At 6 am I was woken by the shout 'whales'.  I jumped up (as much as you can jump up from a cabin bed).   There were at least two whales which had been around the boat in the last hour.  I caught a glimpse of one as it showed it back to me.  Also we saw a few air bursts as they swam away.  A beautiful thing to wake up to. After that a large pod of dolphins entertained us as well as thousands of Cormorant flying through.  Swimming and flying across to us then around us from afar.    The container ships from the canal start to surround us again and the view of Panama City gets bigger.  Hot city awaits.  Now we start to clean the boat and getting ready to head home.    We have an interesting mooring spot.  Queuing ships to the left, mountain and rainforest in the distance where you can see the rain clouds overhead.   Then the mouth of the Panama Canal, marina and Panama City skyscrapers in the background.  Lots to observe.   The water even cleared in the afternoon and we could cool off in the sea.  Air temperature is around 35°c today.  I'm happy to have the sea air around me.    As the clouds came the temperature dropped.  Most of the crew were sleeping so I spent time watching the boats.  Lots of huge boats coming out of the canal.  One was apparently a Panamax container ship.  One of (if not the biggest) that can go through the locks.  It was huge as you can see from the 50ft yacht which passed in front of it.    In the evening we ate out and had cocktails to celebrate the end of sail.  Traditional food,  such interesting flavour combinations over here.    The island was absolutely buzzing with people.  Sunday night here is definitely a thing.  Bars, street food, shave ice, lots of different bikes to rent and ride.   It will be like a ghost town again tomorrow.    Final night on the boat tonight.  I will miss the rolling motion to rock me to sleep.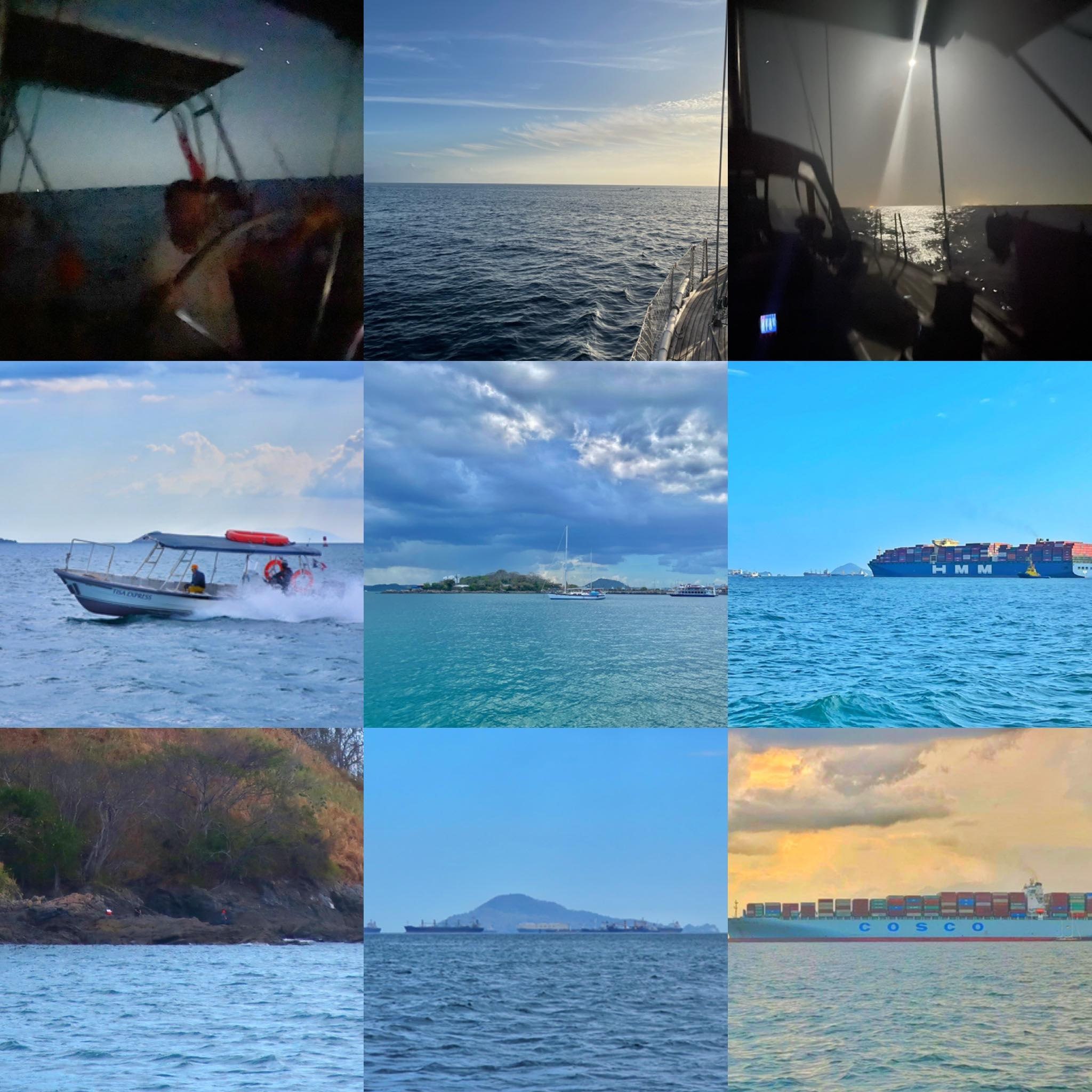 Cleaning the boat in 32°c heat is not a particularly enjoyable experience.  But our voyage on the sea is coming to an end and the jobs needed to be done.   Reward for my efforts was a jump into the refreshing sea.  I was so hot and sweaty that I just jumped in fully clothed.  Also enabling a quick clothes rinse before we head into the city later.    Jobs done and I reflect on our trip.  So many fantastic new memories.  A few things ticked off my bucket list.  I'm really pleased I wrote my travel logs and took photos.  Looking back,  we have done so much and travelled so far.    We leave the boat in the afternoon.  Just before, Mia dedicated a jump into the sea for me.  I liked that a lot!  I think we have some new friends for life.  A great crew!  Bags onto the dingy after we say so long to our fellow travellers.  They all have some great adventures ahead of them as well.   If you would like to follow Jelle, Skye and Abel's onward journey then check out their Facebook page They are just about to cross the Pacific Ocean!! Epic trip!   I feel a little sad that this adventure is drawing to a close, but we have plans and I can't wait to get home and start on them.  We step into civilisation looking and feeling pretty sea worthy rather than land worthy.  Big backpacks,  no clean clothes, wet hair, only just dry clothing.  Looking forward to the hotel and king size bed tonight.  Oh and the shower!  First proper shower since we left Panama about four weeks ago.   Air conditioning!  Sweeeet! A $5 Uber and we are back in the city, like being catapulted back into the real world.  Very bizarre.  We got to our room and it was ajar.  There were paint pots and all sorts.  Surely not more decorating.  We've done enough. Back to reception, new room.  Cold showers, wash clothes, to the bar!  Got my tribe village earrings on.  I smile with the memories we remember.  We have done it Glenn    I get overwhelmed and shed a tear.  What a journey. G takes my hand.  Bar / reminisce/ drink/ feel happy/ feel blessed   Ready for that king size now!  Time 8pm!!   But we see a karaoke bar and decide to investigate.  We have it to ourselves.  Good cocktails and three friendly guys to entertain us. Ofcourse they just play songs that they think we like.  I am pleased that I can say I was at that Robbie Williams concert. They are entertained by us also.  I manage to tell them (in Spanish) that we have been sailing.  I'm pleased I finally managed a sentence in Spanish!    We are used to early nights now so we head for bed.  Big bed!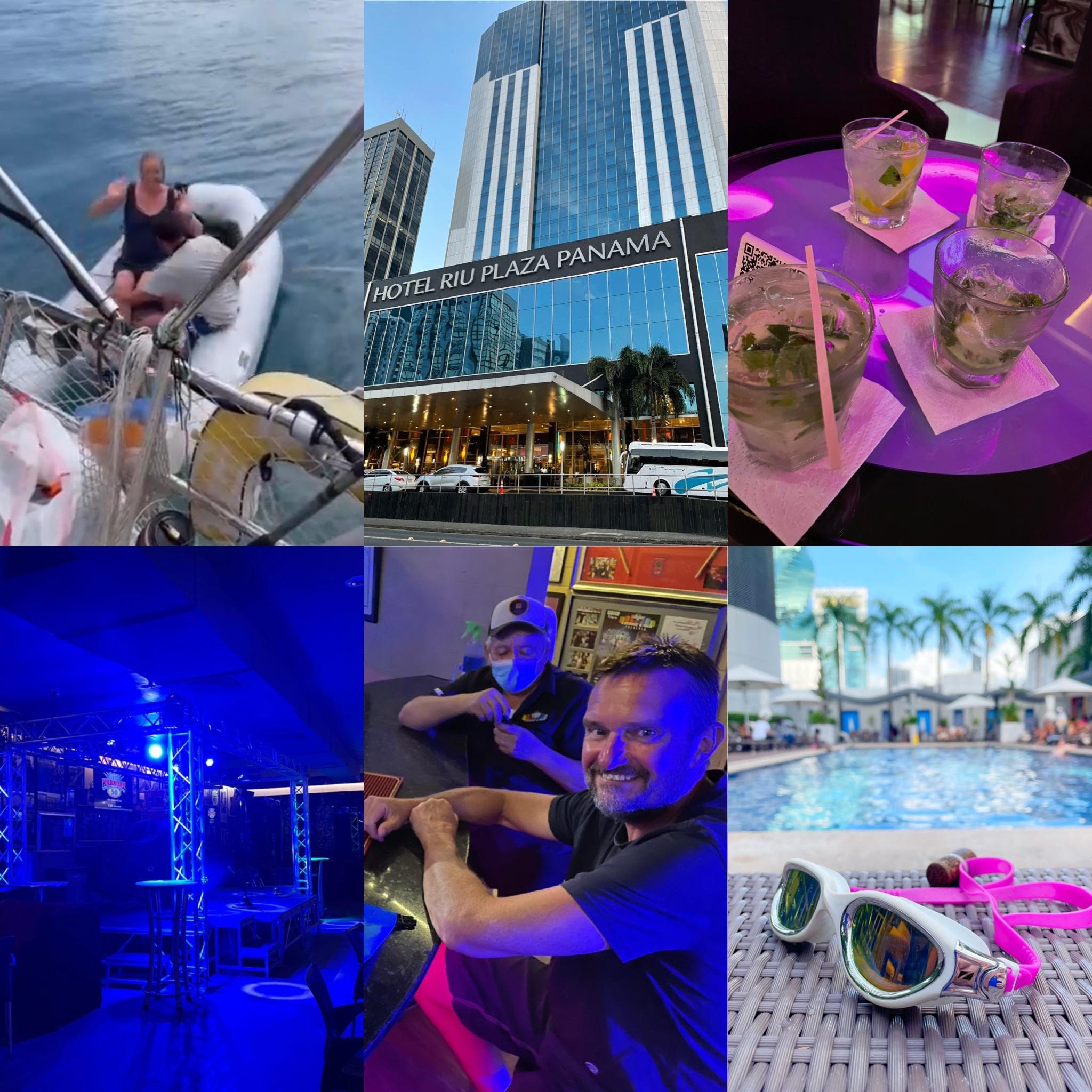 Breakfast after a great nights sleep was strange.  Solid ground,  lots of people.  No sea to escape to.  But I think how lucky we are to have these choices and be so free.  The news is devastating and I wish I could do more to help the people of Ukrain.  After breakfast I feel so tired.  The events of the last month catching me up.  But as always I remind myself that life is for living and there's things to see and do.   
135 meters above sea level, known as the lungs of Panama.  The metropolitan natural park is a beautiful 232 hectares of forest. We enjoyed the 4 mile hike, spotting black-headed spider monkeys, rare trees, lizards, tortoise and more.  At the top was a great view of the city and beyond. It is a biological corridor and an essential part of the watershed of the Panama Canal. At 33°c and very humid my heart was working overtime.    Time to head back to the hotel to chill out and rest while the temperature rises.  
Glenn found a street food restaurant, so we went to investigate.  Great mojitos and interesting flavours.  The hot sauce we have enjoyed throughout the region is here and we are reminded of our crew.   Turns out that they came here a month ago.  Even the exact same table.  Birds of a feather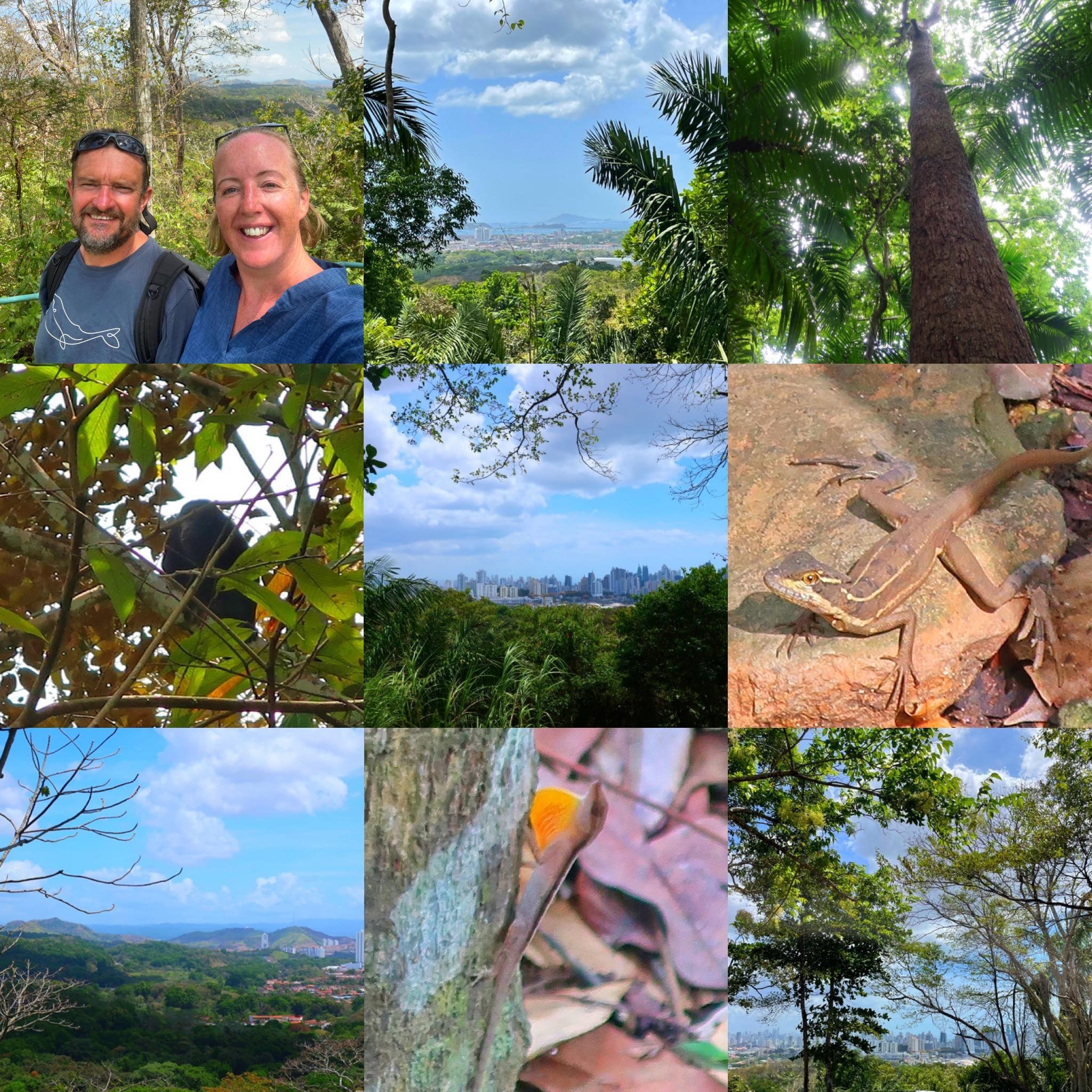 A morning trying to sort out flight documents on my phone.  Not an easy task,  but I got there in the end.  Thankfully the UK status changes on Friday and we don't need to fill in passenger location forms.  Hooray!    
Overcast in Panama today.  Even a bit of rain.  Actually a bit of a relief after yesterday. Our skin needs a break from the intense heat.  Off to Miraflores Visitor's Center.  A fascinating place to observe the ships passing through the Miraflores lock section of the Panama Canal.  From massive container ships, cruise ships and small yachts like the one we've been sailing one.  Sandwiched between the yachts and ship I spotted a crocodile.  He was in the wrong place at the wrong time.  Or maybe just fancied a day trip to the other side of America.  50 miles of canal separates (and joins) the two oceans.  Pacific and Atlantic.    The captain of one of the ships was having a celebration photo and ofcourse I had to photobomb them.  We exchanged a wave after.  Nice to connect.  Back to our favourite rum bar for some tasting and purchasing.    Then onto the restaurant next door to the previous nights place.  Steak is on the menu.  We've had a close to meat free diet for the last few weeks.  Both looking forward to some dirty food to fill us up.  Last night in Panama!!  The best steak in Panama. What a winner.  We thought we'd get an early night, but I spot an acoustic band playing Latin American tunes.  I want to hear it. Let's go. We can sleep tomorrow.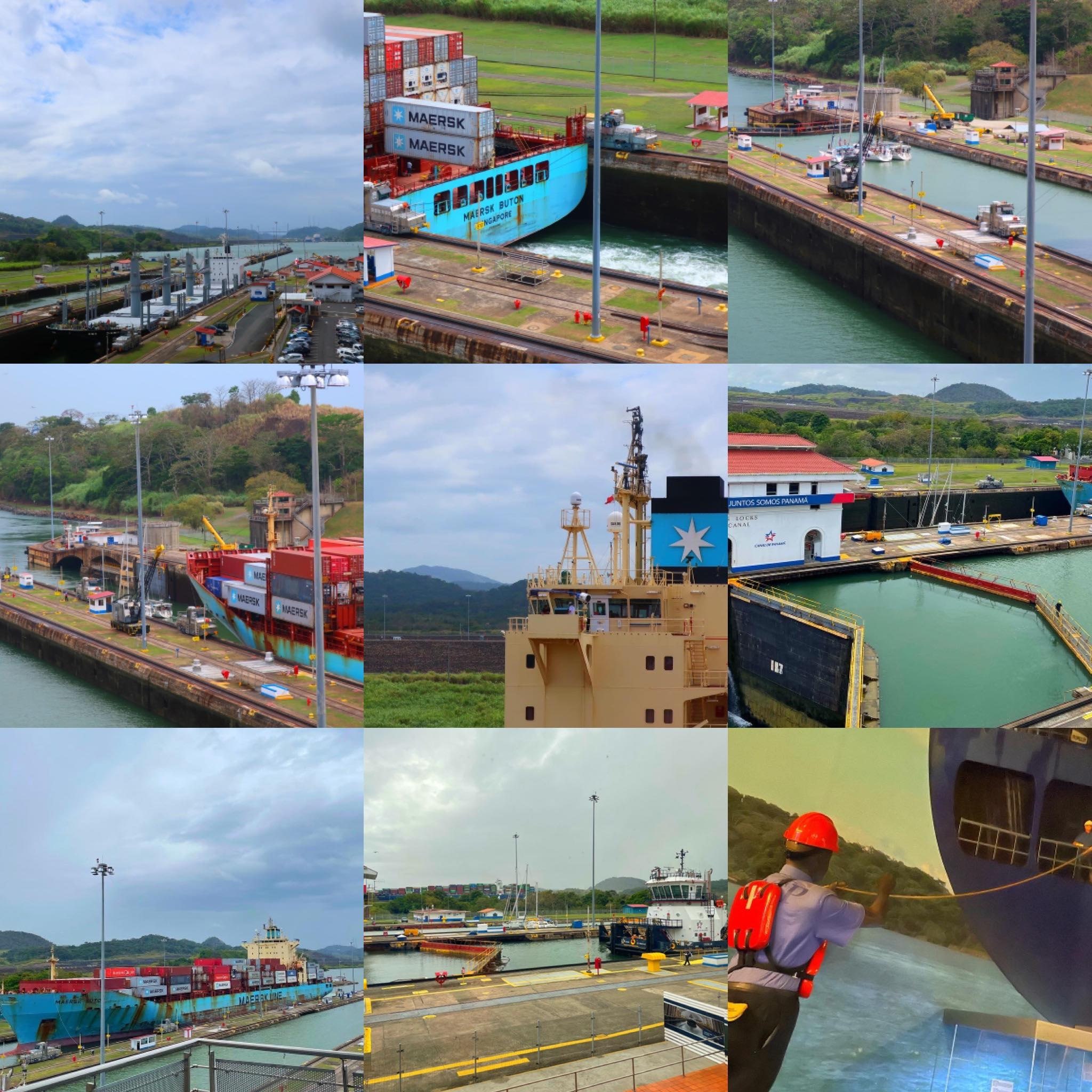 Feeling a lot more like myself today.  Surprising considering the amount of alcohol we consumed yesterday. I am looking forward to getting home and not drinking so much again.  A good nights sleep is needed!    My swim friends tell me that the water there has gone up to 10°c.  I inform them that I found the pool here cold yesterday (it's around 20°c)!  They are going to get some good entertainment from my screeching when I get into the Thames again.    A tough last day by the pool trying not to sleep before the night flight.  After many hours of people watching, trying to absorb the words I am reading, and imagining the stories behind the people around the pool.  It starts to rain, not just a few drops.  It really hammers down.  I am immediately excited at the prospect of some different water and jump in.  It is all mine ofcourse.  Everyone else is sheltering from the rain! I smile and feel right at home.  Finally this dull straight line of water is more interesting. My mind bounces back to my earliest swim memory.  Me aged 3 (?) in Malaysia (Mum?) taking my first few strokes in a pool.  The rain is also thrashing down around us.  There is a dog barking near by.  That is all.  That's where it all began I believe.  My love of outdoor swimming and being in the elements.  The smell of the rain, the new water falling on me, the ripples on top and below the waterline.    As I watch the other swimmers I remember how lucky I am not to have to think about my swimming.  I just swim. For a lot of people it is a struggle and something they have to really concentrate on.   Then a little girl jumps in. Care free and playful.  I'm reminded of my swimming group and look forward to returning to my tribe.    Now to the airport!  Homeward bound.  See you on the other side.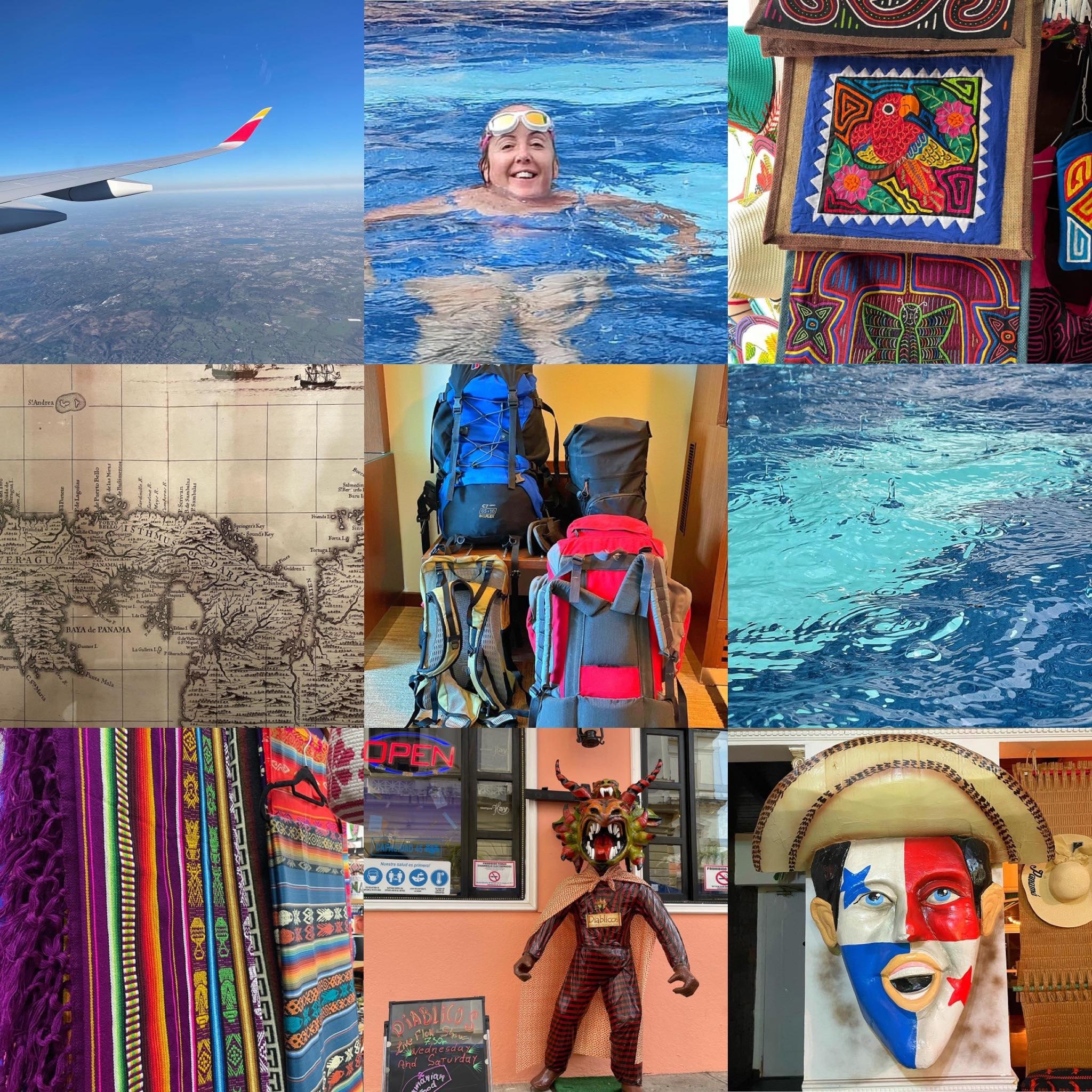 Some of my favourite memories from the trip.  Sitting in the dingy with Mia and Skye in a river in the middle of the Darien jungle listening to howler monkeys, watching mangrove crabs clambering, beautiful birds all around, frogs croaking, crickets chirping.  All with a can in hand and all in silence enjoying the moments as the sun sets and the moon rises.  
A fire on the beach, grilling fish , drinking beer and I go for a paddle.  Soon realising that I'm looking at bioluminescents.  It was a bucket list tick moment.  I played in it, the others thought I was crazy.  Me playing like a child in the sea.  Absolutely loved it!   Then seeing it in the water every night after that.  It was even in the toilet water.  Amazing stuff!!  
The moment when I spotted a Whale jumping out in the distance.  No one else saw it, just a show for me. Another whale moment, being woken after a night sail and being told there were whales outside by the boat.  I thought I'd missed them, but then one came up and showed itself to me!  Bloody brilliant!!   
Some evenings we'd all watch a film up in the cockpit.  A really special thing to do together.  Popcorn, friends, open air film and rum. Happy times!!   
Seeing the Spotted angel Rays swimming underneath the boat.  So grateful and the water was so clear and deep (75meters)!   Skye and I took a leap of faith off the back of the boat and swam with them.  
My first sight of wild coral was mesmerising!  So many colourful fish, the sound of the coral is bizarre, the sharks,  the clear water, the unknown, the warm water.  I especially loved the puffer fish.  I saw three different types on the trip.  Cool little fish!!  
Speeding into the rainforest on a boat was so good.  It was like entering a lifetimes dream.  At last I was going to experience this wonderland.  It just got better and big! Giant trees, plants, bugs, animals.  Dream come true.  
As the sunset on Glenns birthday and our beach fire burned, a pod of Dolphins silhouetted by the sun.  Gracefully hopping along the water line so we could all see them.  Magical moment!    
The stars!  Looking up at the stars beyond the mast every night was mesmerising.  The boat would gently move (sometimes not gently) on the waves and the stars were so bright and clear in the skies.  
One of my only regrets from the trip is that I didn't sleep on deck.  But I console myself with the fact that I live on a boat and can do that at home.   
There are so many memories, but too many to mention again.    
Now time to put the inspiration to use and get designing.