Continued from part one (  Swimming The length of the non tidal river Thames in 2 years PART ONE (juliet-turnbull.com) )  ....
27 August 2021, 7,090m, 2 hrs 46 minutes. You've got to question your sanity when you drive 2 hours in the rain, walk in the rain and then change to go swimming in the rain! The swim had it all. Thunder, lightning, rain, sunshine, nature, wildflowers, campsite by the river, beautiful bridges. It was wonderful we swam over 4 miles from Kelmscott Manor to Radcot lock. In the water for about 2.5 hours. We walked in the rain from the car park at the old Swan pub (also has a fantastic campsite, hopefully I can revisit at a later date). Water quality was not so good today because of the rainfall in the last week. The water temperature has dropped considerably and we all felt the cold today. Quite a challenging swim for us all.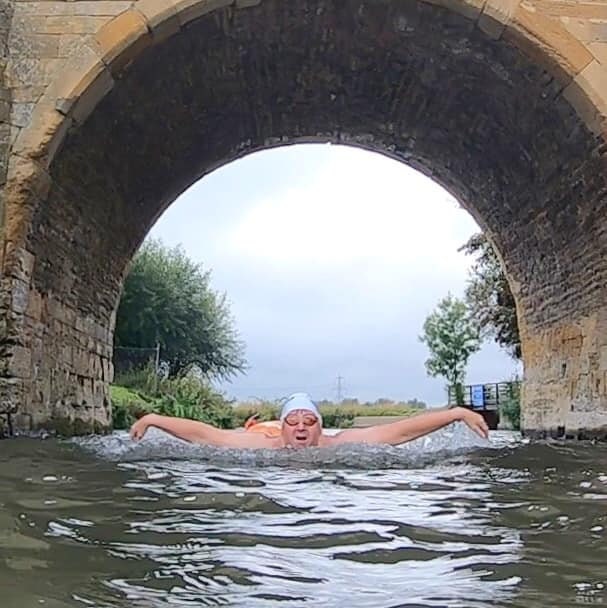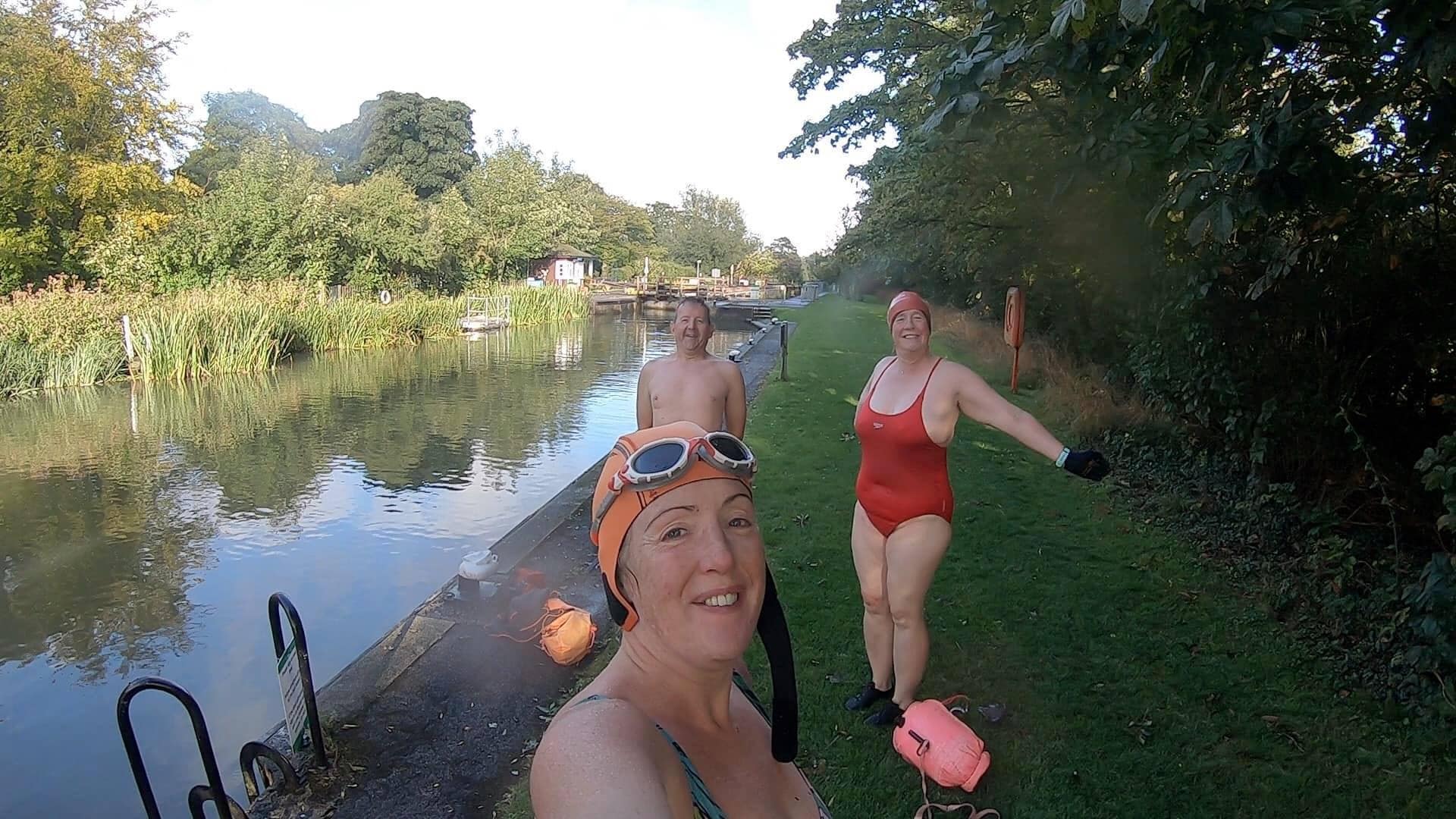 18 August 2020, 8,117m, 3 hrs 31 minutes. Another fantastic stretch of the river Thames completed. After a restful (ish) nights camping we made our way to Lechlade riverside park and launched ourselves into the cool calm water. Totally different from the previous day. More Thames like, with lots of boats on the water. Lots of people enjoying the Thames path. We saw lots of beautiful wildflowers and many dragonflies. Coot babies hiding in the giant reeds. Swans and their cygnets. So much along this windy meandering section of the river. Today we swam about 4.7 miles and then walked back. Lots of exercise and totally ready for a good nights sleep. I'm absolutely loving this Thames adventure!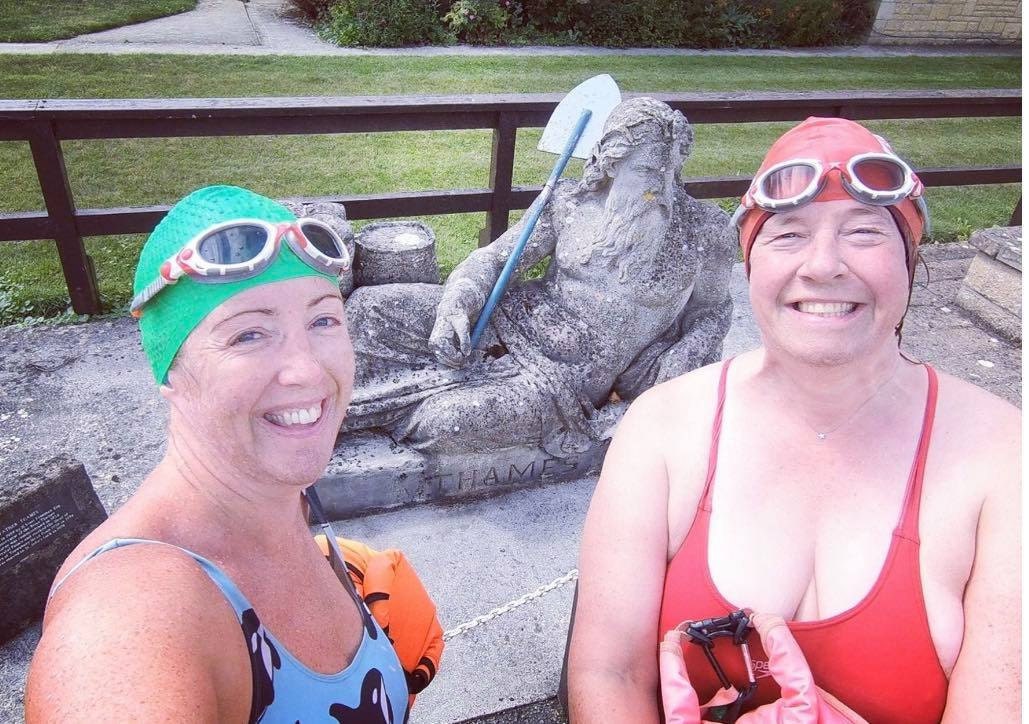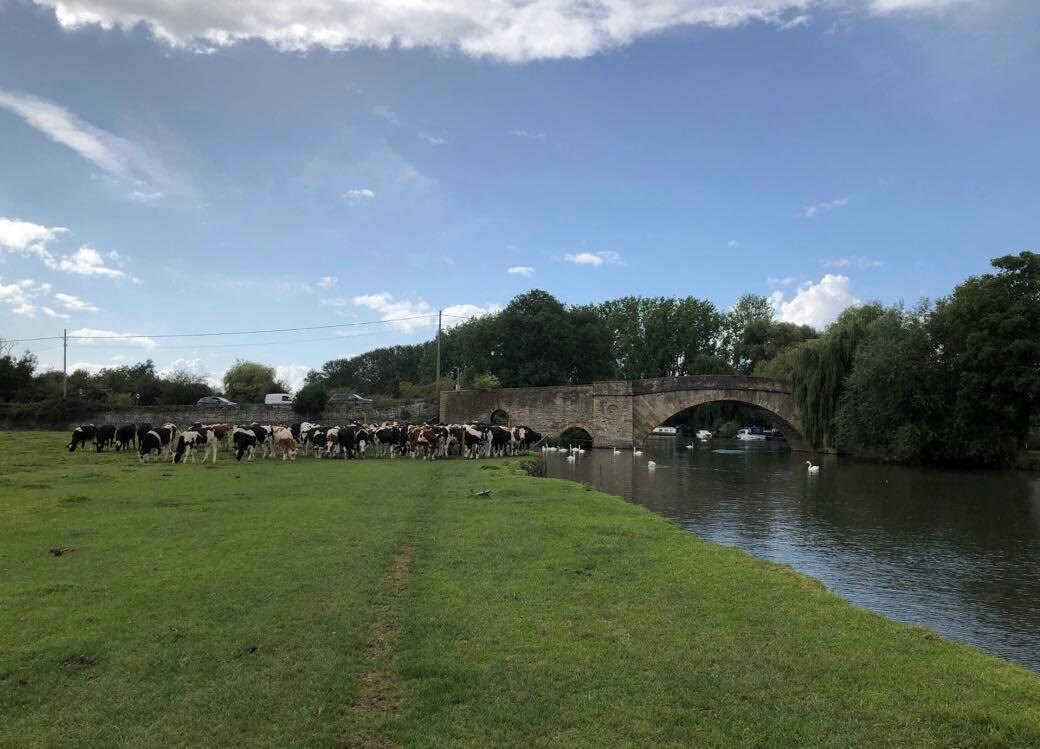 17 August 2020, 6,553m, 2 hrs 57 minutes. The river Thames just keeps giving. Always so different at every stretch of it. Today we swam from hannington bridge. Just 12 miles from the source of the river. It was very shallow and there was a lot of swimming through gorgeous reeds. Tall banks full of dragonflies, kingfisher. We encountered a cautious swan family and a fearsome looking dog at the end. Oh and lots of curious cow. For most of it we were the only humans in sight. Just perfect. What an absolute pleasure.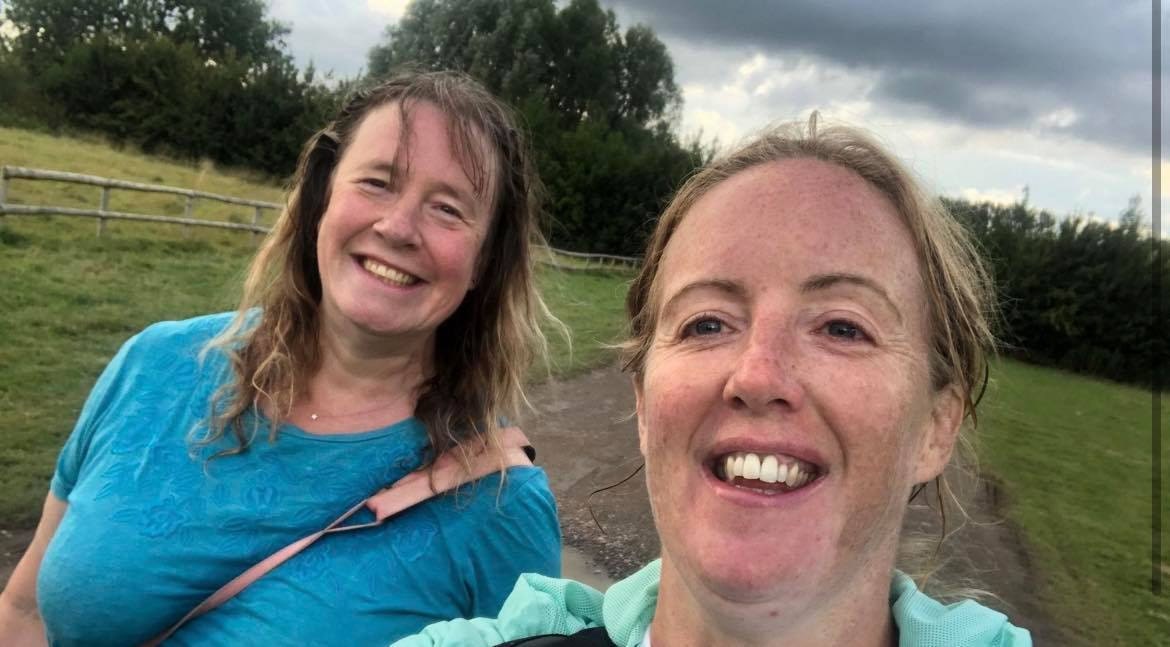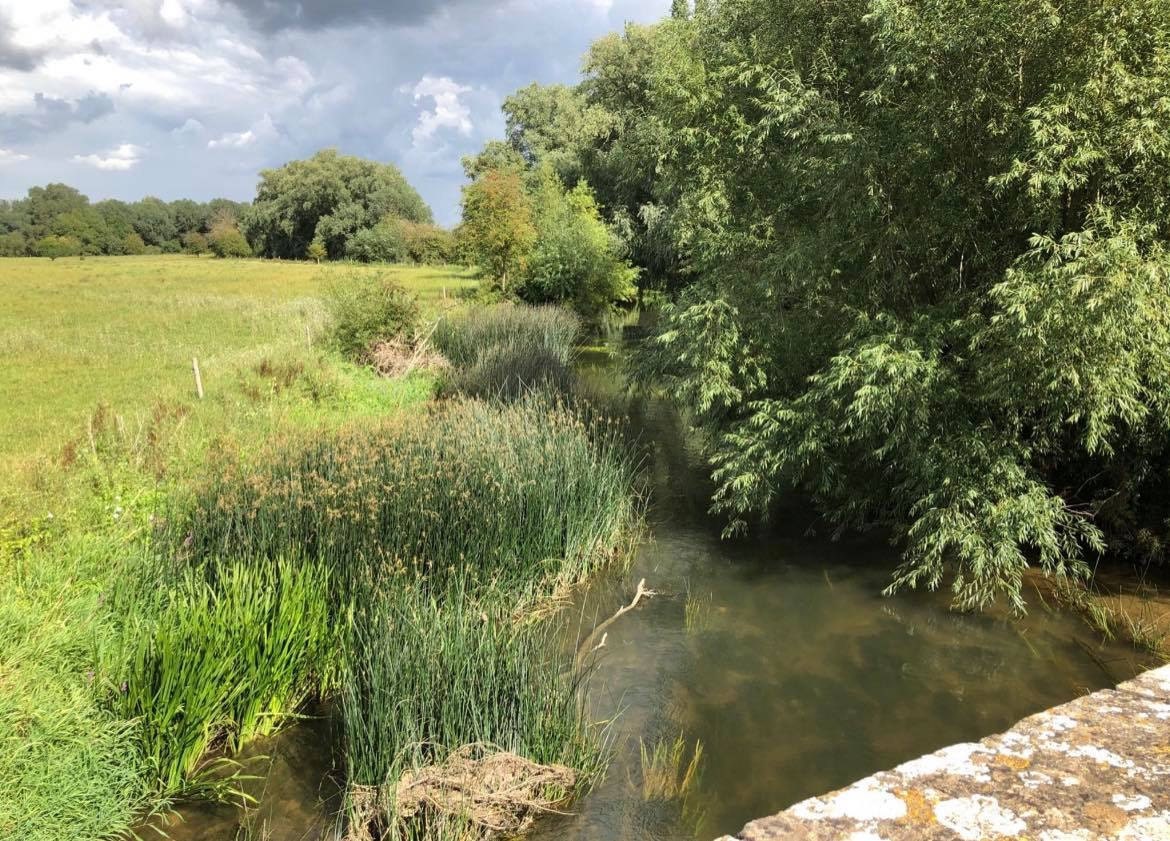 31 August 2021, 4,421m, 2 hrs. Wow what a swim or today was more, 'belly gliding'! Such a healthy looking part of the River Thames. It just goes to show what affects humans have on the rest of it downstream! The upper Thames is clear, flowing with beautiful green clean weeds and full of fish. We decided to wear our wetsuits to protect us from getting scratches from the weeds and because it was shallow we thought you might get colder on such a grey day. That was a great decision because not only was it very very shallow but actually quite cold when we weren't immersed in the water. Because this section of the Thames is so narrow and it was fast flowing. Great fun until we met some Swans. They eventually decided to swim /fly back upstream past us and we could all be calm again. Such a beautiful swim, so peaceful and full of green hues. Loved it all! We were very careful not to disturb the river bed too much. Something I was worried about particularly, but it was fine in the end.  
Lesson for today… embrace the neoprene!!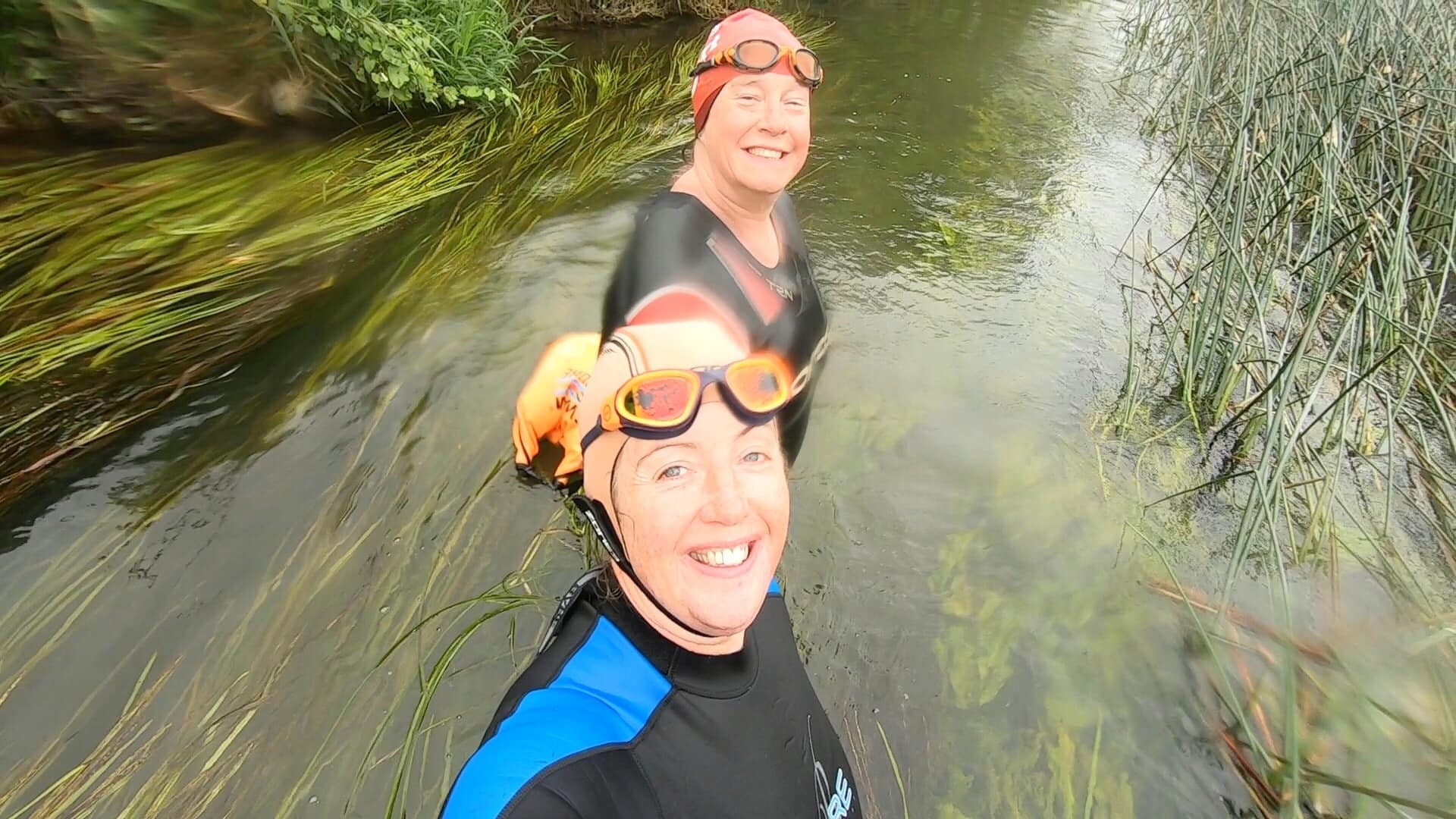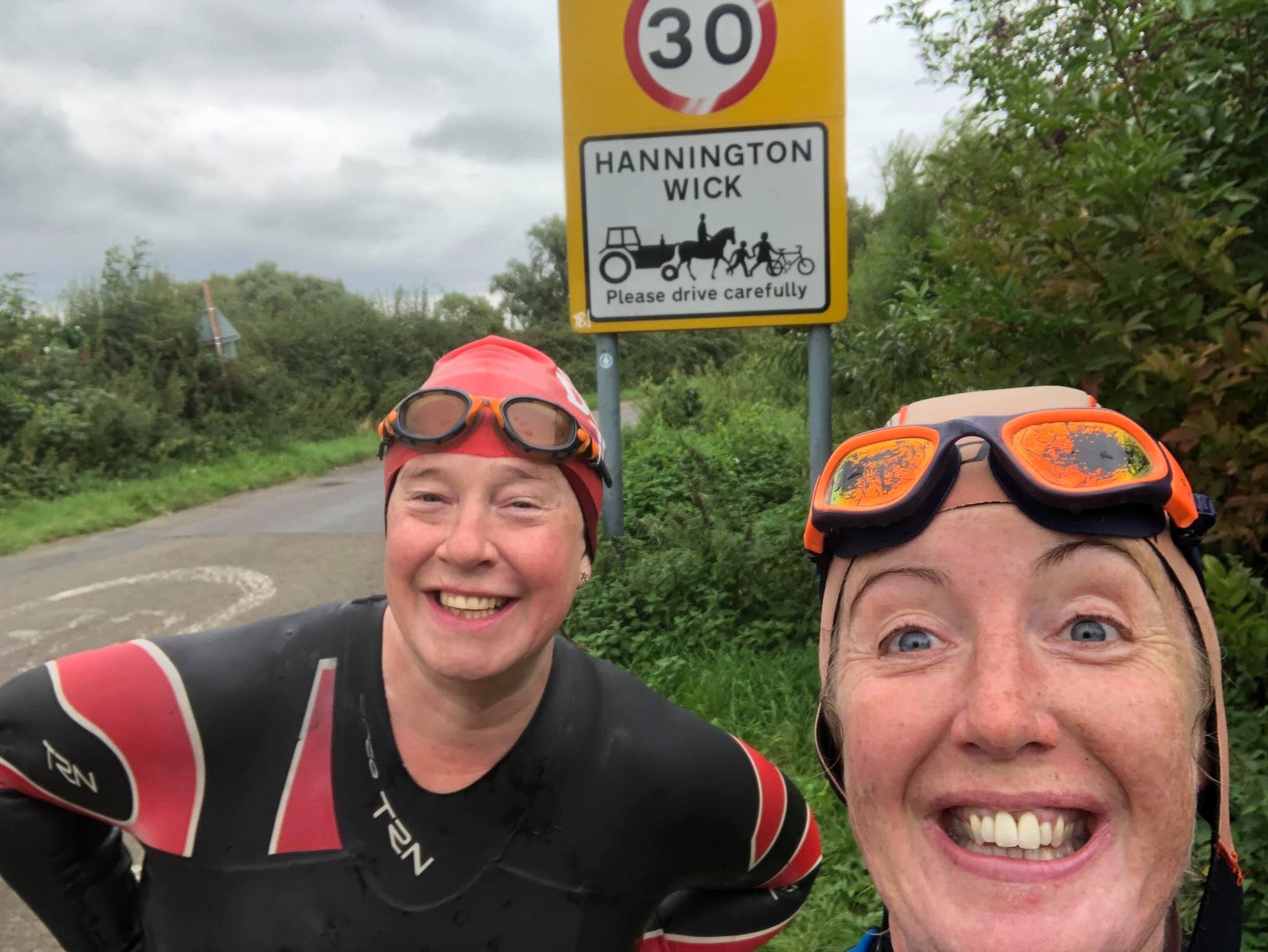 . 
7 September 2021, 6,569m, 3 hrs 39 minutes. Cricklade to Castle Eaton 6.5km swim/scramble today. Gorgeous sunshine for the whole swim lots of fish. Crayfish on the river bed as we enter the water 🦞 Tiny fish swishing past us as we whizzed down through the reeds passing at least four different families of swans. Crossing their boundaries and trying to pass them with distress to them or us!! 🦢 🦢🦢🦢🦢🦢🦢🦢🦢 We had our wet suits on again today and it was well worth it because we had to climb trees and wade through shallow parts of the river. All of which were inundated with filtering luscious green river bed plants. All in all a really good fun swim. Really enjoyed doing super man stretches over the reeds and watching the fish as we passed by.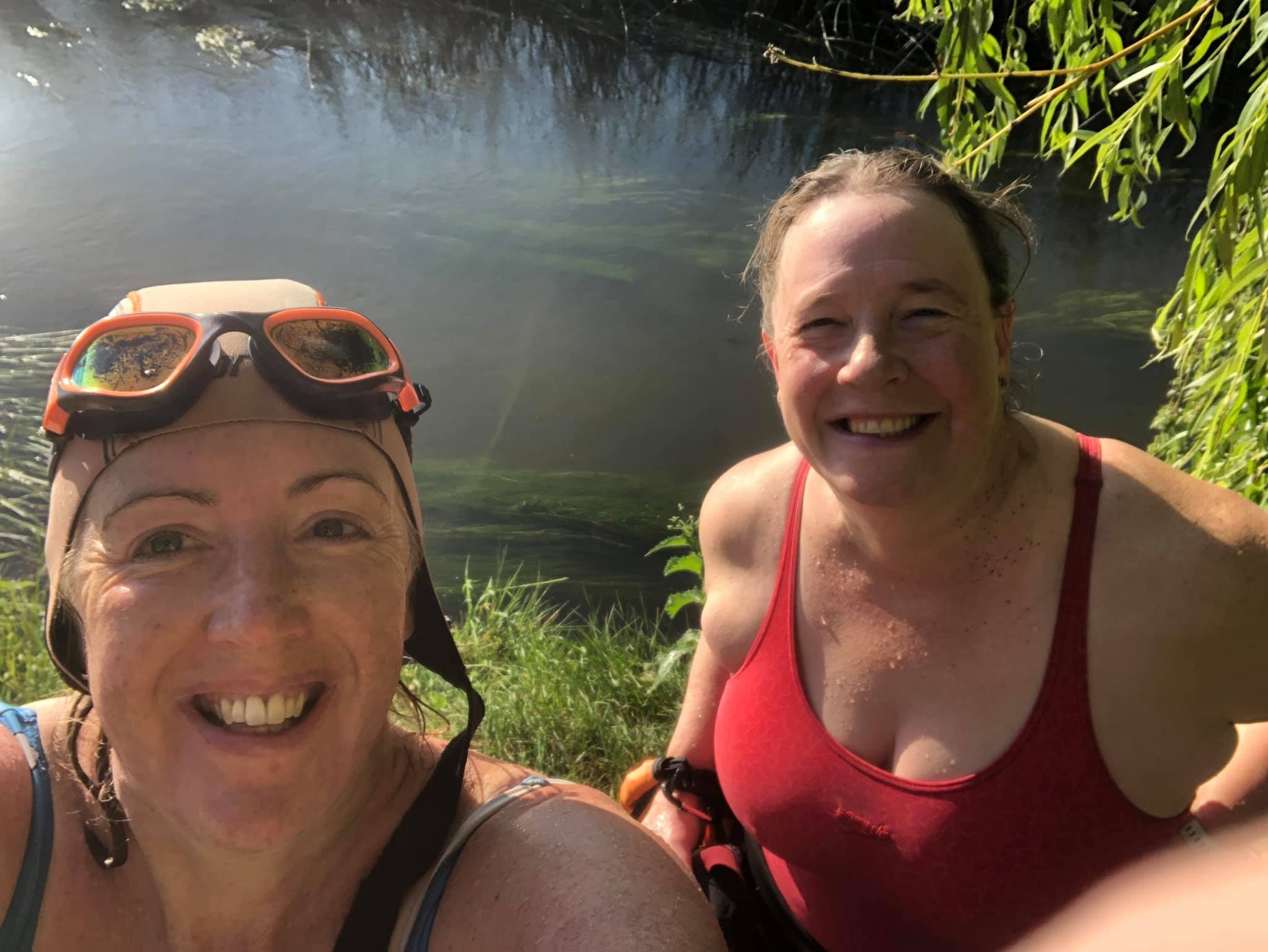 A true adventure today from start to finish. Starting at Waterhey car park by the River Thames we tried to enter the water and it soon became apparent that this part of the river was inaccessible for humans! We decided that we would have to use The Thames footpath instead. So we struggled back up the muddy bank and joined the path. The path went around some lakes. We couldn't resist a small dip in them ofcourse! We swam across a small section and then got out to get back on the path. We chatted to two ladies dressed in pink who were just starting their adventures of the river. Always nice to chat to some fellow Thames admirers. As soon as we could, we got back into the river and made our way to Cricklade. Through weeds, clambering over trees and spotting fish, kingfishers and crayfish. I even managed to catch one. You can see all this in the video. 
Just one more day to go and we have completed the Thames. I can't quite believe we've done it all!   We're very close to reaching our fundraising target, please do help us on our way if you can. Thank you to everyone who has already. Your support is much appreciated by us and The Rivers Trust.  https://www.justgiving.com/fundraising/thamesmermaidjuliet #thethamesmermaid #togetherforrivers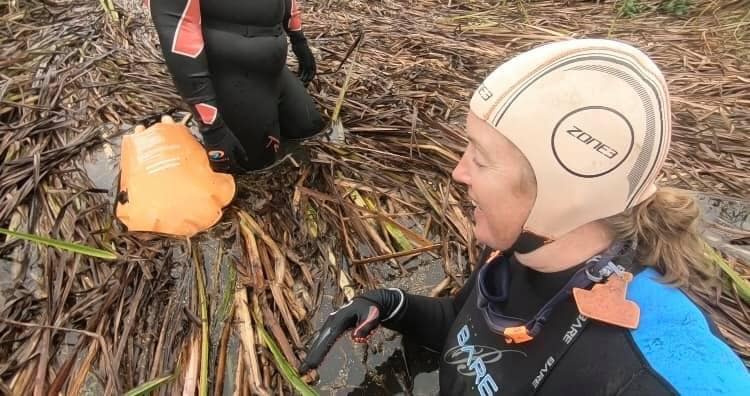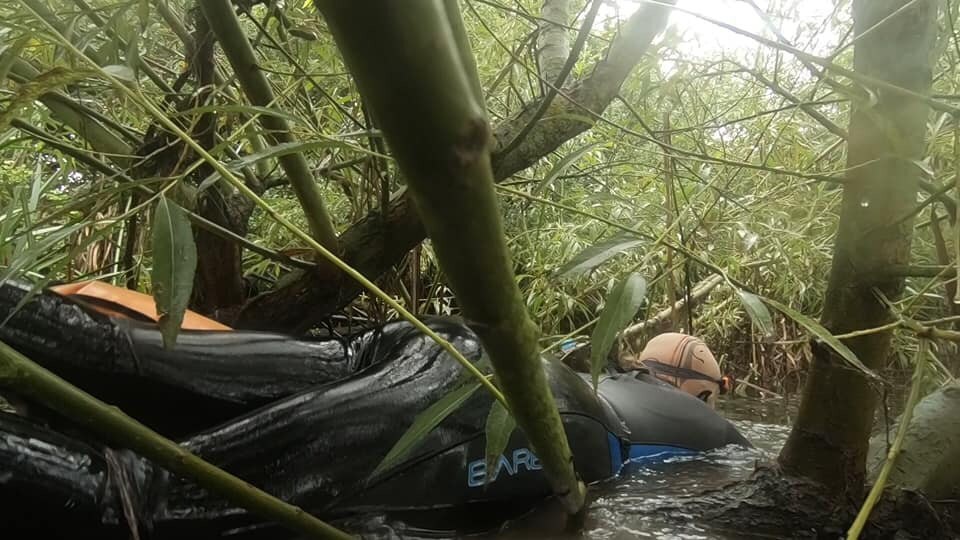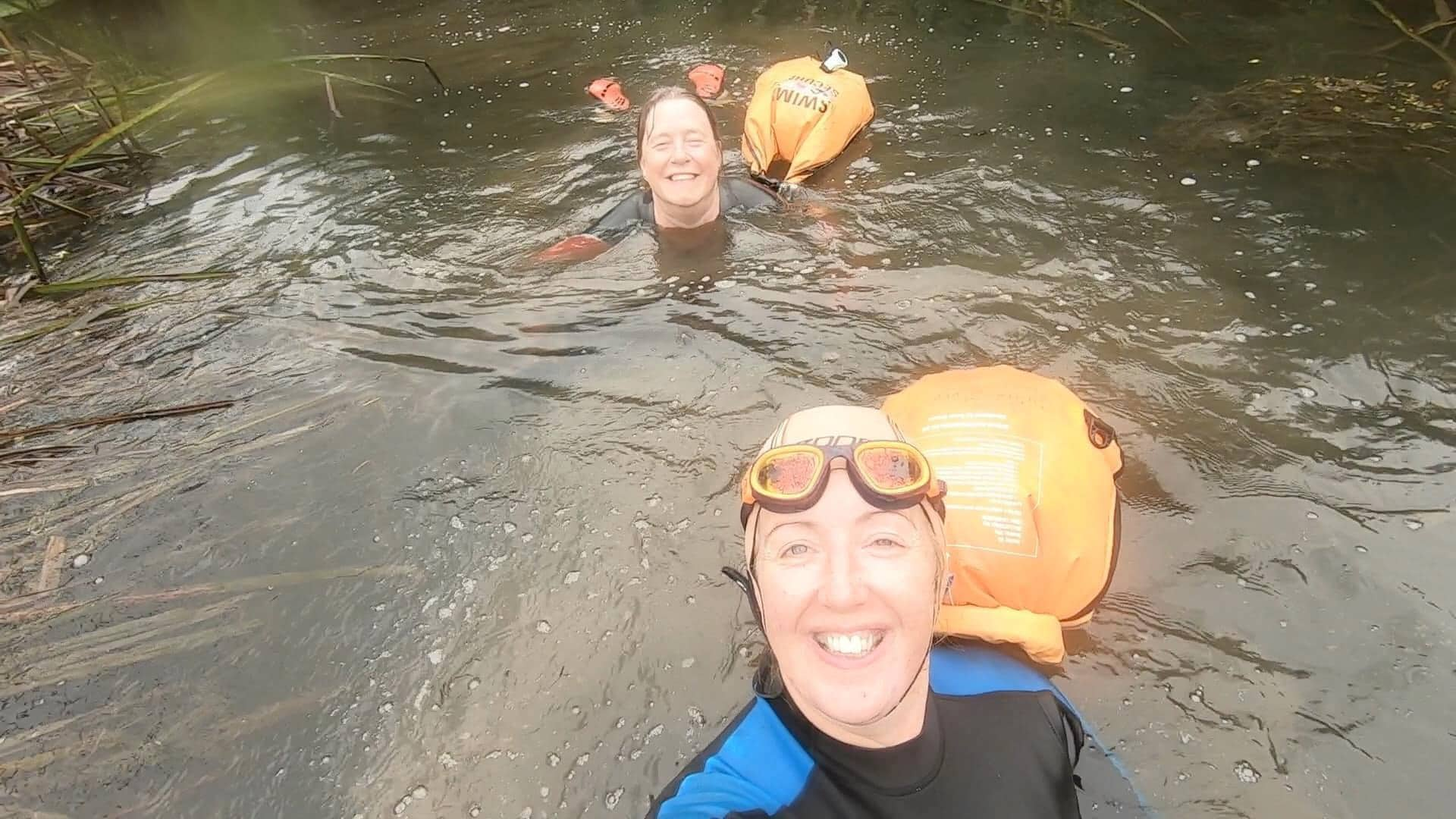 So there you have it!  We have had some great fun along the way and only have one more section to complete.  From the source to Waterhay and then we're done.  But before we can do that we both need to heal our wounds!
..... We did it!
On Tuesday 12th October 2021 we walked the last section.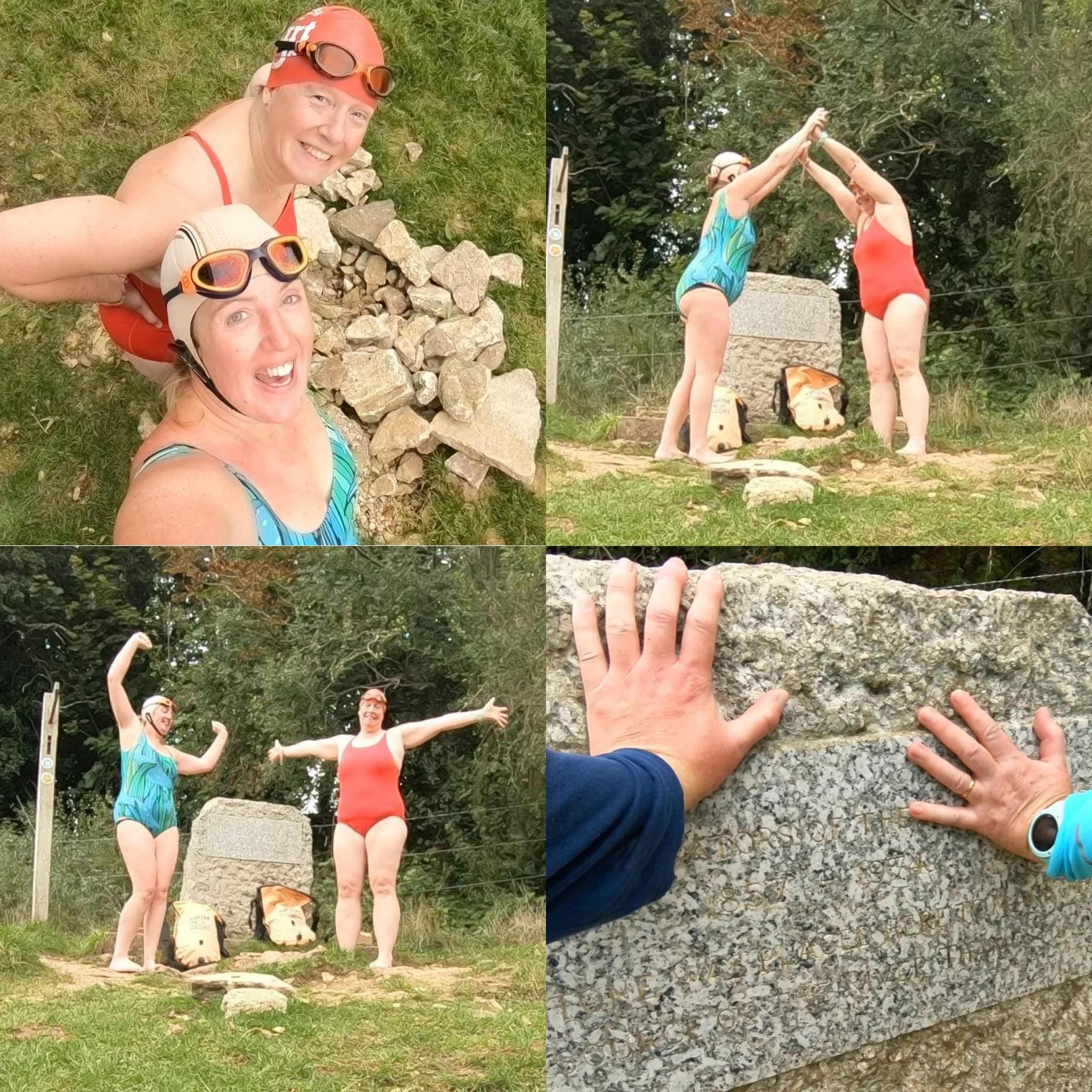 On route to my parents house after completing our epic adventure of swimming the nontidal River Thames and feeling very pleased with myself after completing our mission. Today's stretch was all walking because at this point there is no water. It was really strange near the source because the ditch was there for the water to be, but there was no water. I wonder if anyone reading this could explain if this is a man-made flood risk management or it is part of something else?? We saw some gorgeous cows as we walked through the fields, horses, sheep and a beautiful white Egret flying through gracefully. As we reached the source I felt quite emotional.  I think this was part due to exhaustion and relief that we had finally completed it. A huge thanks to the man who sponsored us at the source that made it even more special. Especially as they were approaching we were frantically trying to get our clothes back on as we had been running around in our swimming costumes as a celebration. Thank you River Thames.  You have given us some amazing adventures over the last two years.  It feels very strange now that we have finished.  I'm going to have to come up with a new challenge. But for now we can relax and be satisfied that we have done this incredible thing. 45 days, 218km.   All of it from Richmond bridge to the Source!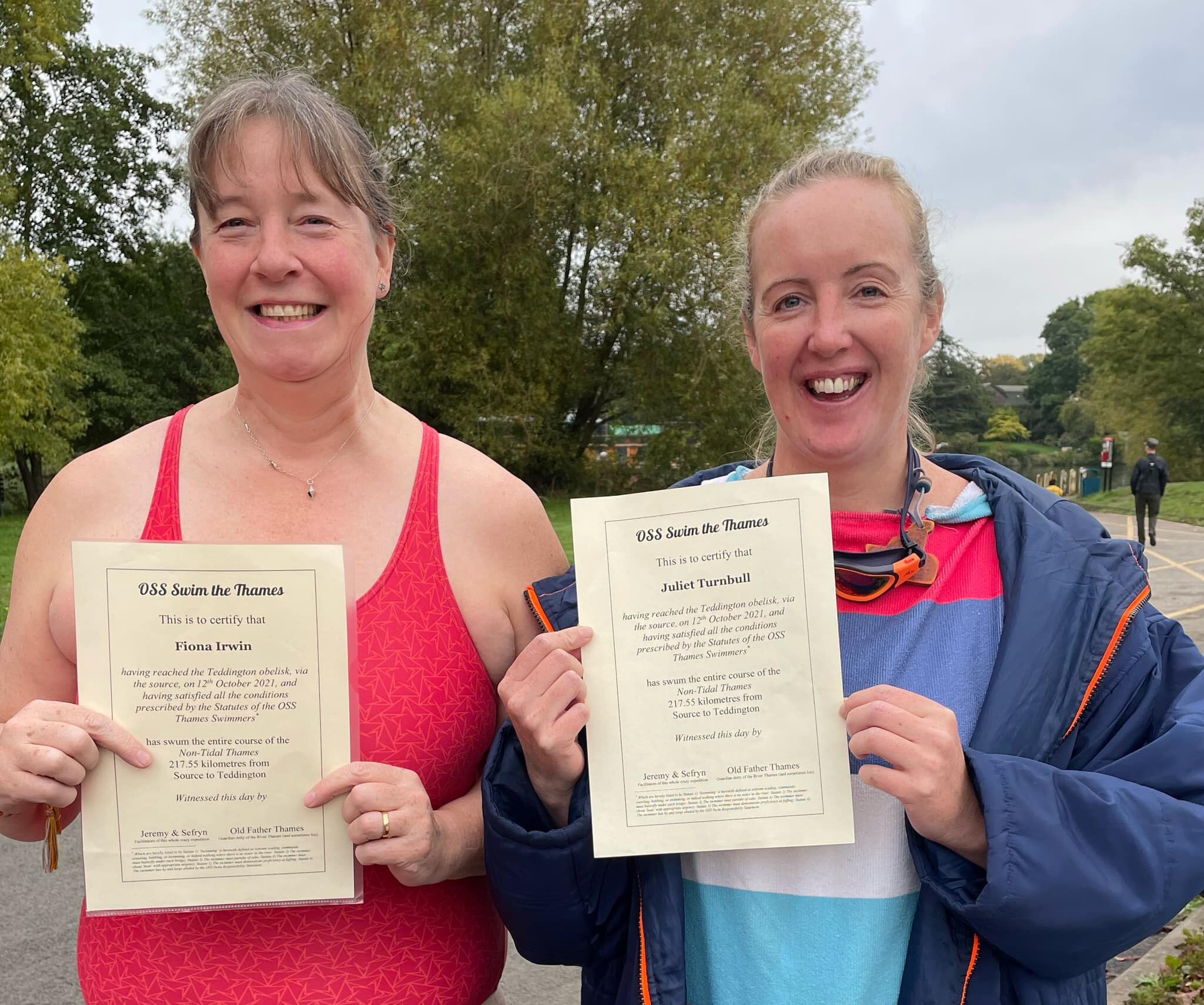 Please donate if you can and thank you to those who have already. 
https://www.justgiving.com/fundraising/thamesmermaidjuliet
#thethamesmermaid #togetherforrivers
Watch this space.  What will we do next ??!!