With one more stretch of the Thames to complete, I am sitting here unable to move because of a infection caused by our last swim.  It involved walking alot in our swim kit because there was very little water to swim in near the source.  We waded, swooshed, climbed trees, got thigh deep in river bed and had a great time.  But this time both came away with substanial injuries that need to heal properly.  So I have decided to use my time to document our journey so far.
We both started our Thames journey at the opposite end to most people who swim the Thames.  Basically becuase that is where we live nearer.
Inspired by joining Lindsey Cole for a stretch of her Thames swim and another time swimming with another group at the end of their swim journey from Teddington to Richmond in 2019.  I decided that this was a challange I had to complete in my lifetime.  The planning started!
Fired up by the enthusiasm of the river gods of OSS Thames, I started asking the relevant questions and then we began.
I first started doing it on my own and joining others who were still doing their swim.  But then through our swimming group, Surrey outdoor swimmers I met my future Thames swim buddy Fiona.  It was the start of a beautiful friendship and journey of discovery and adventure. One that would sustain us through some very difficult times and give us focus every week for the next two years!!
What an awesome adventure we have had!!
I have put them in order from Teddington to the source. And the writting is what I wrote at the time.
Juliet Turnbull is fundraising for The Rivers Trust (justgiving.com) 
The first swim... .
27 th July 2019
4,290m 2 hrs 11 minutes
This is the swim that started it all.   Little did I know how inspired I would be by the other swimmers.  Their sence of pride and accomplishment was brilliant!
Lots of Thames swimmers, some of which have swum the length of the Thames (now something I'd like to do)!
We ate cake half way and sung under the bridge.
Awesome swim with awesome people. 4.3 km swimming and walking, plus an opportunity to chat over lunch.
All in all a fab day. Thank you Hywel Davies for organising it.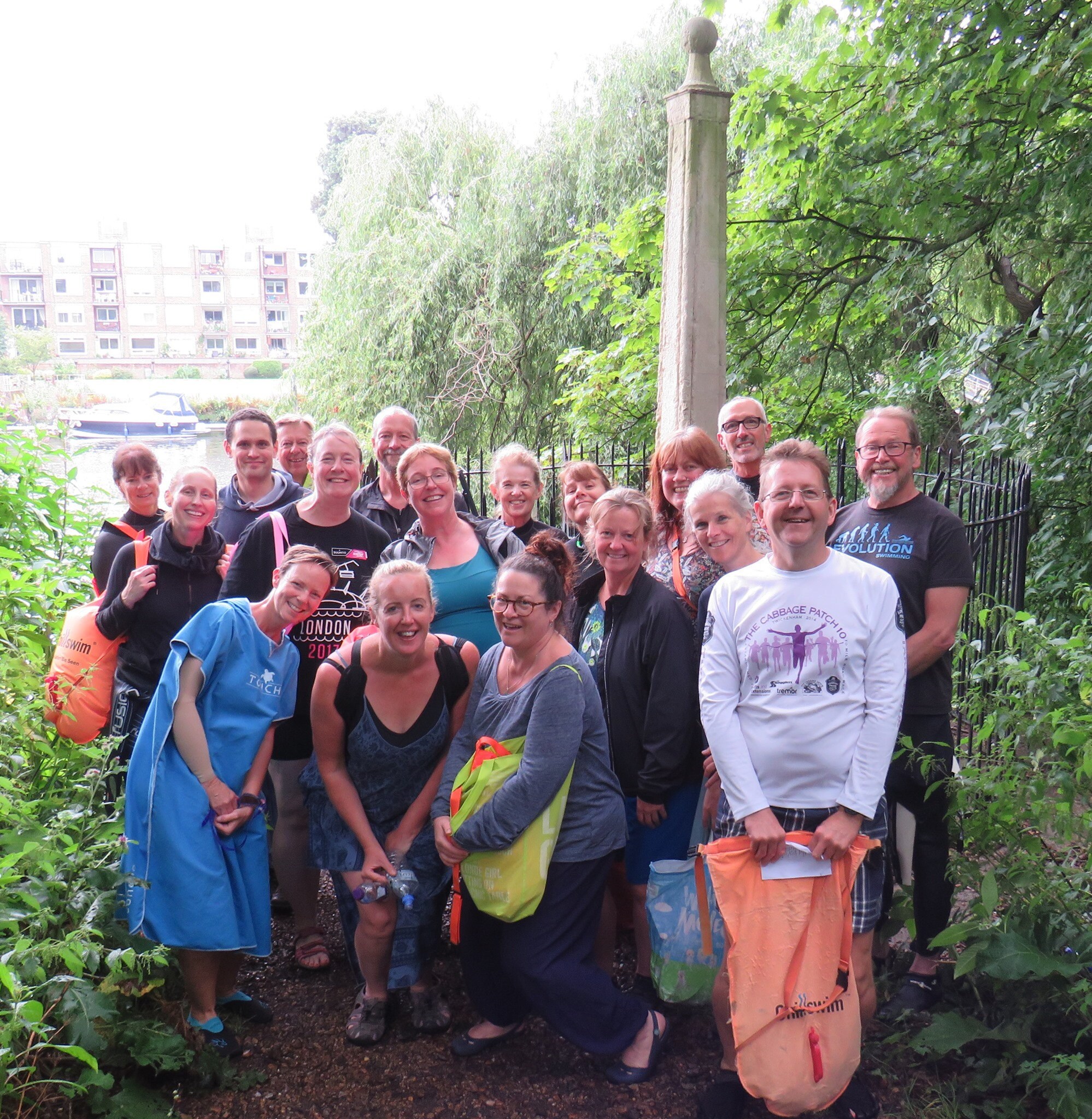 May 28th 2020.  6,575m, 2hrs 51 minutes
Awesome swim adventure with Sally Frisby.  Swimming from Thames Ditton to Teddington lock.  Another section ticked off my river Thames swimming. We saw gorgeous houses, dragonflies, ducklings, bridges (I love bridges),  very few boats and so much more.  So good to be able to carry on swimming for hours and enjoy our packed lunch at our destination.  Really enjoyed it all. 
.  This is my home stretch so I do this all the time.  Look me up if you need a local guide!
.
June 2nd 2020, 5.123m, 2 hrs 
Totally gorgeous chilled out swim with Fiona & Simon. 
May 26 2020, 4,630m, 1 hr 51 minutes.
Beautiful swim with lots of swans!!
May 19 2020 , 3,788m, 1hr 38 minutes.
Such a beautiful swim.  We walked up to chertsey bridge from Shepperton lock and had a glorious swim back.  Happy and basking in the sunshine.  Another fantastic adventure. 
22 October 2019. 5,615m 3 hrs 14 minutes.
Bit of an epic swim.  Big thanks to Stanley for organising it for us.   5.6km from Truss's island to Chertsey meads.  I was not feeling on top form, so decided to wear my tri suit and boy am I glad I did! 
The water was about 15 degrees and we were swimming for just under three hours. Swimming under the M3 was interesting and very noisy.  The route included two locks (we walked past them).  Lots of encouragement from walkers and the usual people thinking we must be bonkers.  The middle section was tough.  It's a long swim!  Actually my longest ever open water swim!  We got to Chertsey just as the sun was setting.  Absolutely beautiful. Feeling very proud of myself and I've ticked of another section of my river Thames swim.   Time for a g&t I think! 
22 September 2019, 5,059m, 2 hrs 49 minutes.
A fantastic swim with Stanley and the gang, tea and cake at the halfway mark and swimming under the M25 motorway.  Driving on it will never be the same again.  Loved it!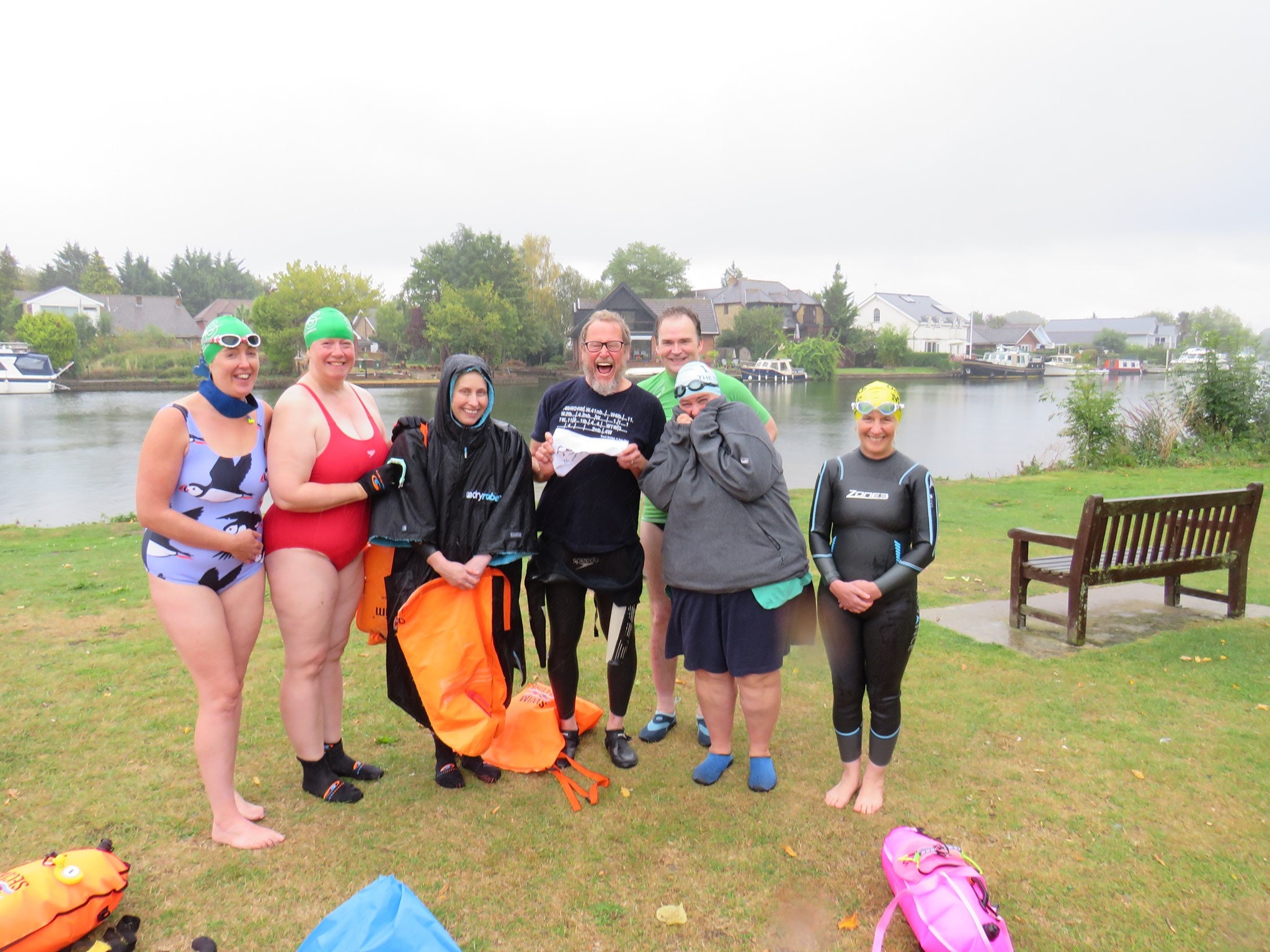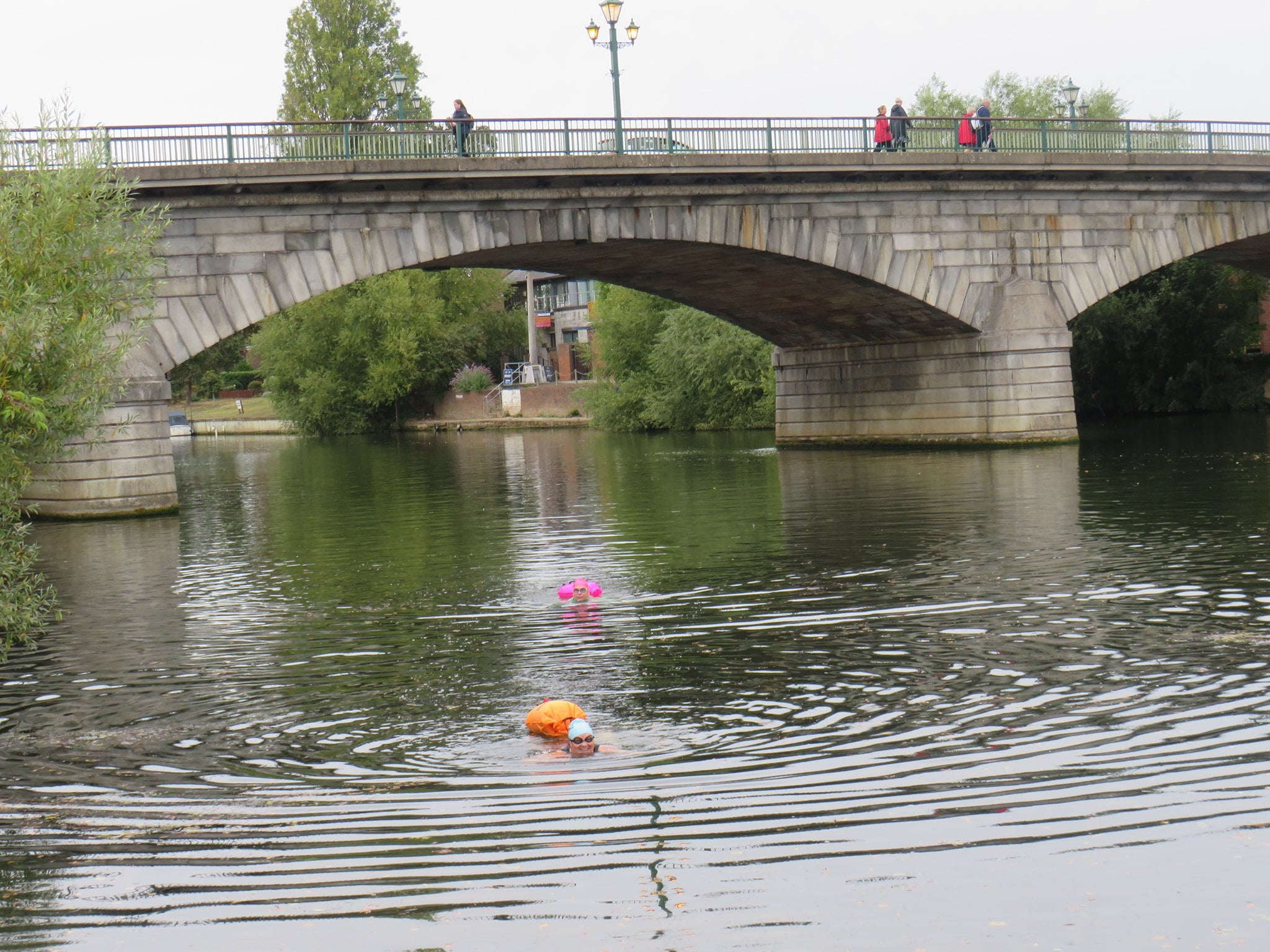 11 June 2020, 8,180m, 3 hrs 10 minutes.
Another glorious section of the Thames completed.  A 3.7 mile walk upstream to our get in point at Datchet, then we enjoyed the swim back.  Lots of baby birds, Heron, Kingfishers, Eel screen, big grand river side houses and luscious green scenery. Just over 3 hours in the water.  Wonderful. Water temperature approximately 15 degrees.  Tough going at the end due to exhaustion.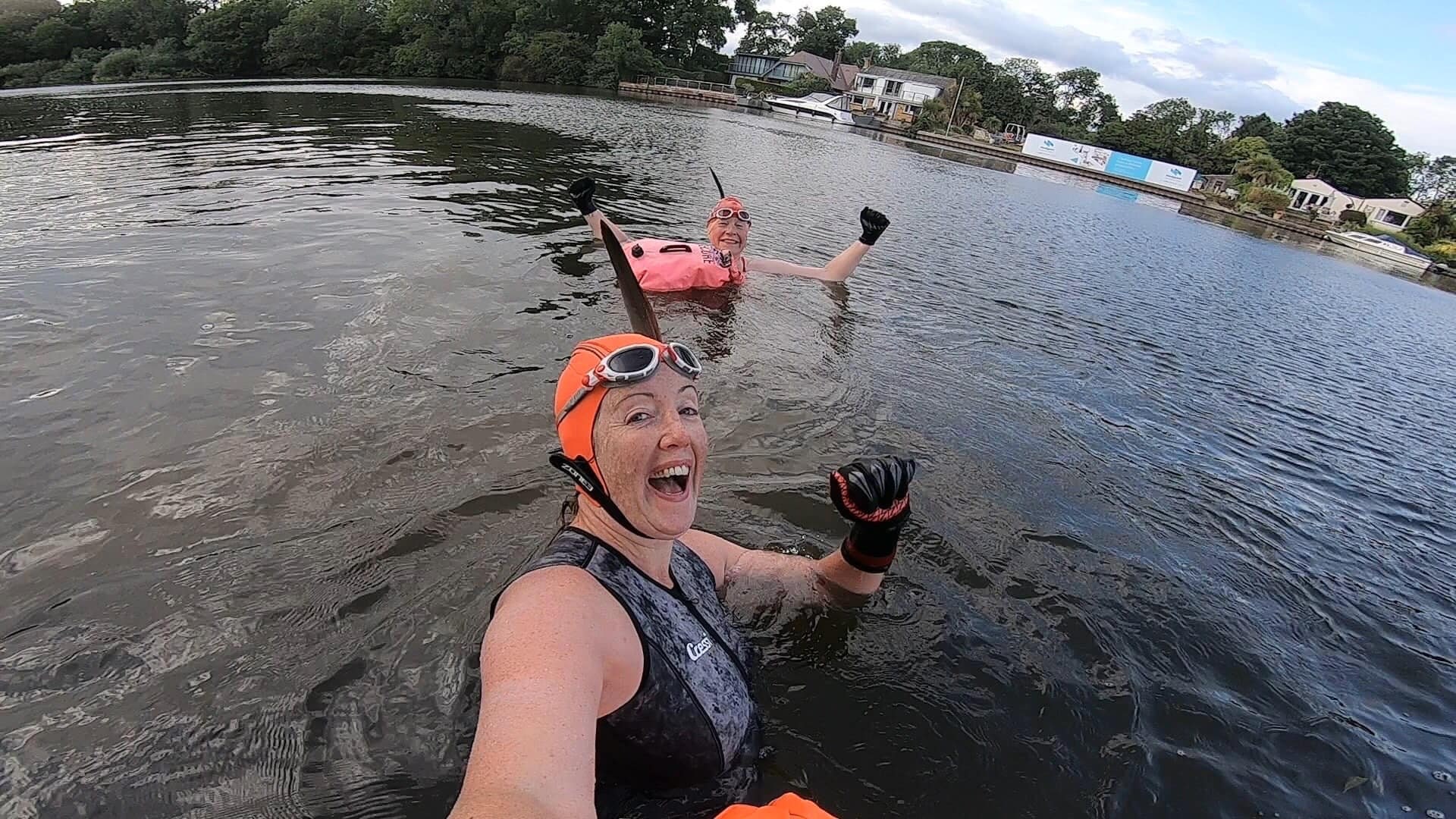 16 June 2020, 7,546m 2 hrs 36 minutes.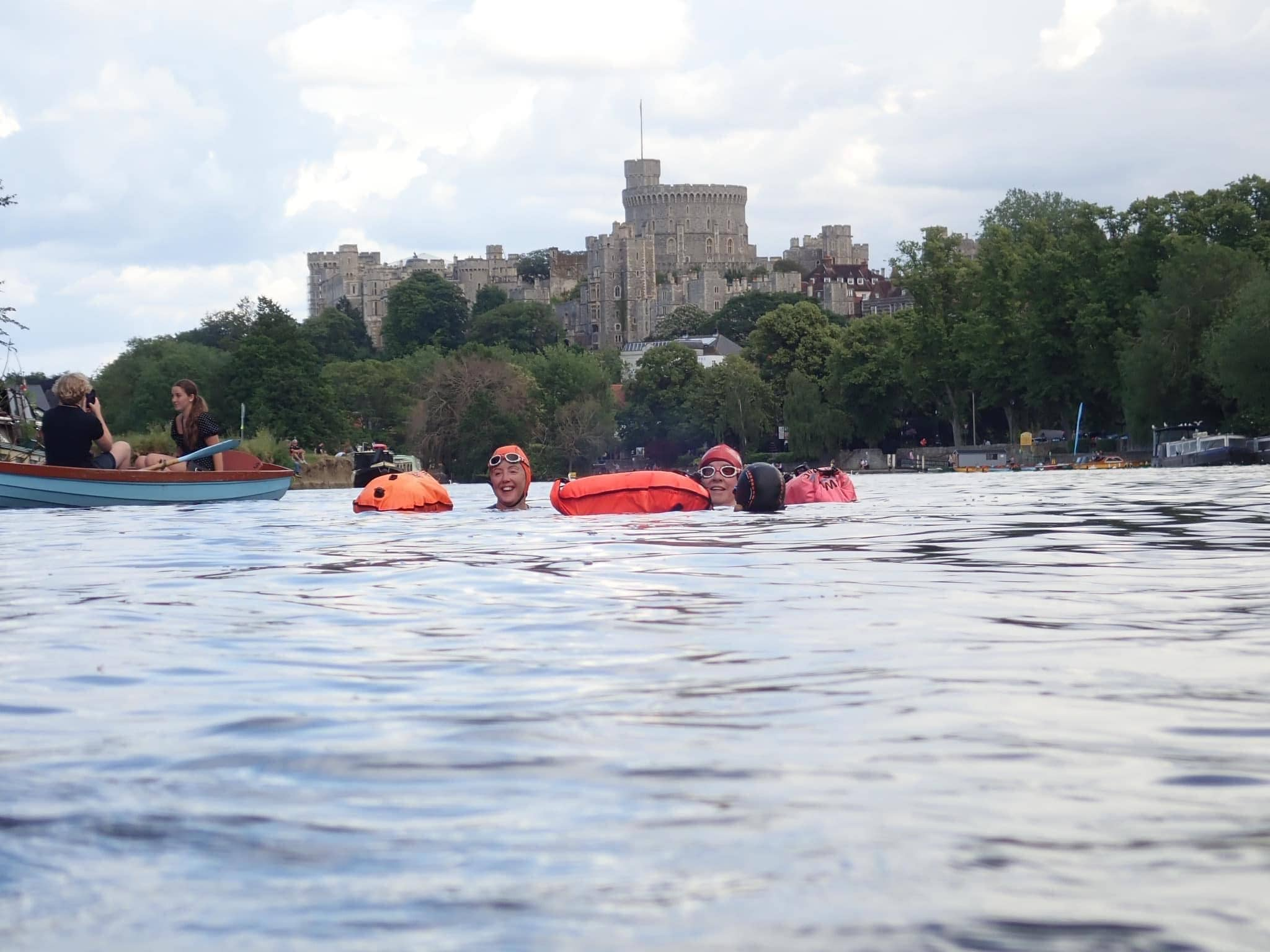 Another section of the river Thames completed.  We walked up from Datchet to Boveney lock, passing beautiful wildflower meadows brimming with wildlife and then enjoyed a spectacular swim back.  The swim included some amazing views of Windsor castle, water lily, dragonflies, heron, boats, fishermen, lots of swans and geese.  A really special swim.  Thank you to Fiona, Simon & Sally for your wonderful company.   
23 June 2020, 5,695m, 2 hrs 18 minutes.
Fantastic 3.9 mile walk up the Thames path to Bray lock  followed by a swim back to Boveney lock. Another section of my Thames swimming completed.   Lots of dragonflies, massive pond skaters, water lilies, near decapitation by a Eton skuller and lots of huge properties to dream about. Next up is the Clivedon stretch!  Give us a wave if you're in the area. 
30 June 2020, 8,396m, 3 hrs 14 minutes.
Such an amazingly beautiful stretch of the river Thames and another 4.9 miles (my longest swim ever) from cookham lock to Bray lock ticked off my Thames journey.   Clivedon house, kingfisher, friendly locals, stunning houses,  lots of celebrity riverside mansions, vast wide river lined with lush green trees, islands, beautiful boat houses and the oldest self supporting bridge in the world.  It was designed by Isambard Kingdom Brunel. All finished off by a friendly greeting, consommé, sandwiches and wine. What a treat.  Thank you John. 
7 July 2020.  9,042m, 2 hrs 56 minutes.
Swimming with beautiful people in beautiful surroundings.  The aroma of meadowsweet filled the air and the water was cool (17 degrees) , silky and flat.  Only a few boats out.  We even saw other swimmers! It was quite tough.  It was cold, long and a mental and physical challenge.  Feeling very accomplished now and looking forward to a good nights sleep. Next week Medmenham to Marlow next week. 
21 July 2020, 7,049m, 2 hrs 53 minutes
What a swim!  4 miles from Medmenham to Marlow.  Gorgeous stretch of river,  the sound of red Kites about us and warm clear Thames water.  We had a planned get out point, but when we got there there were loads of swans heading there.  We had to abort that plan and ended hurling ourselves out and onto the bank like seals.  Very funny!  Thankfully we weren't cold.  Even after just under 3 hours in the water swimming.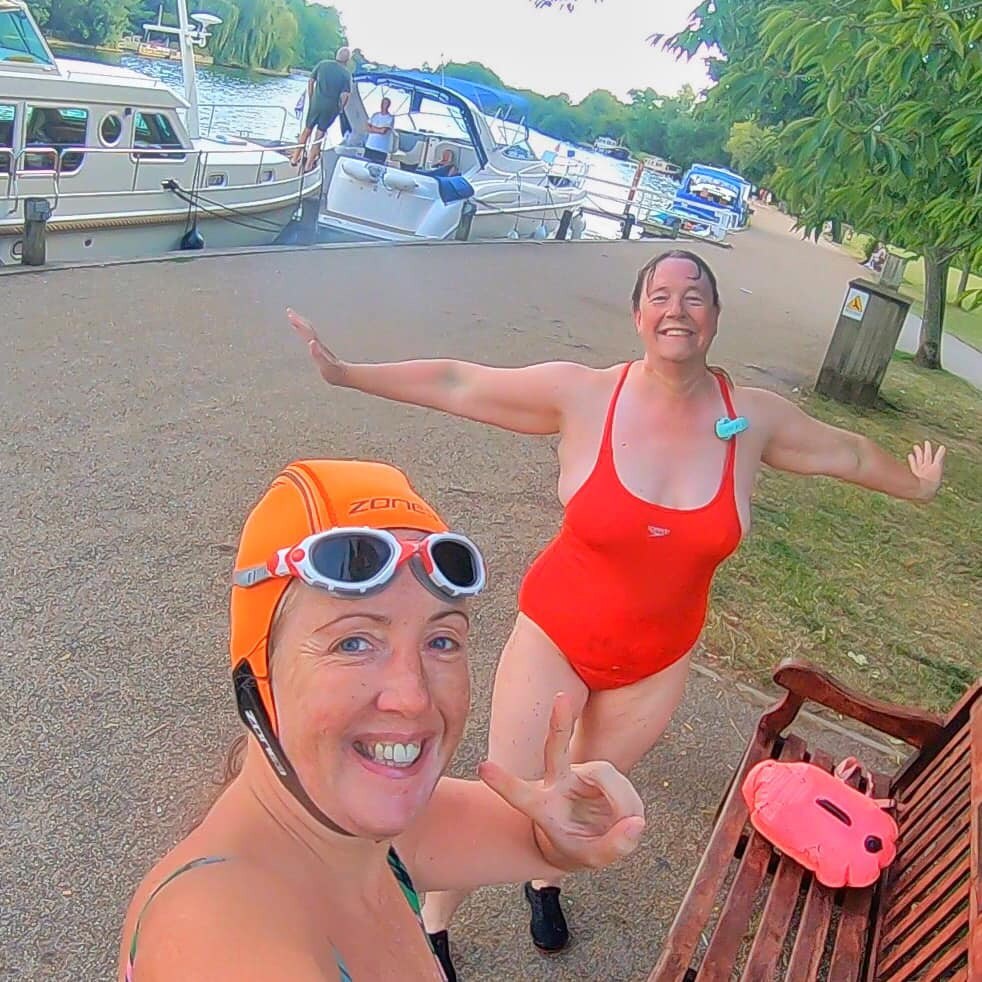 28 July 2020, 7,019m, 2 hrs 23 minutes.
Another gorgeous stretch of the river Thames.  Kingfisher, cows, lots of geese flying over as well as small planes and red kite.  Such a stunning place.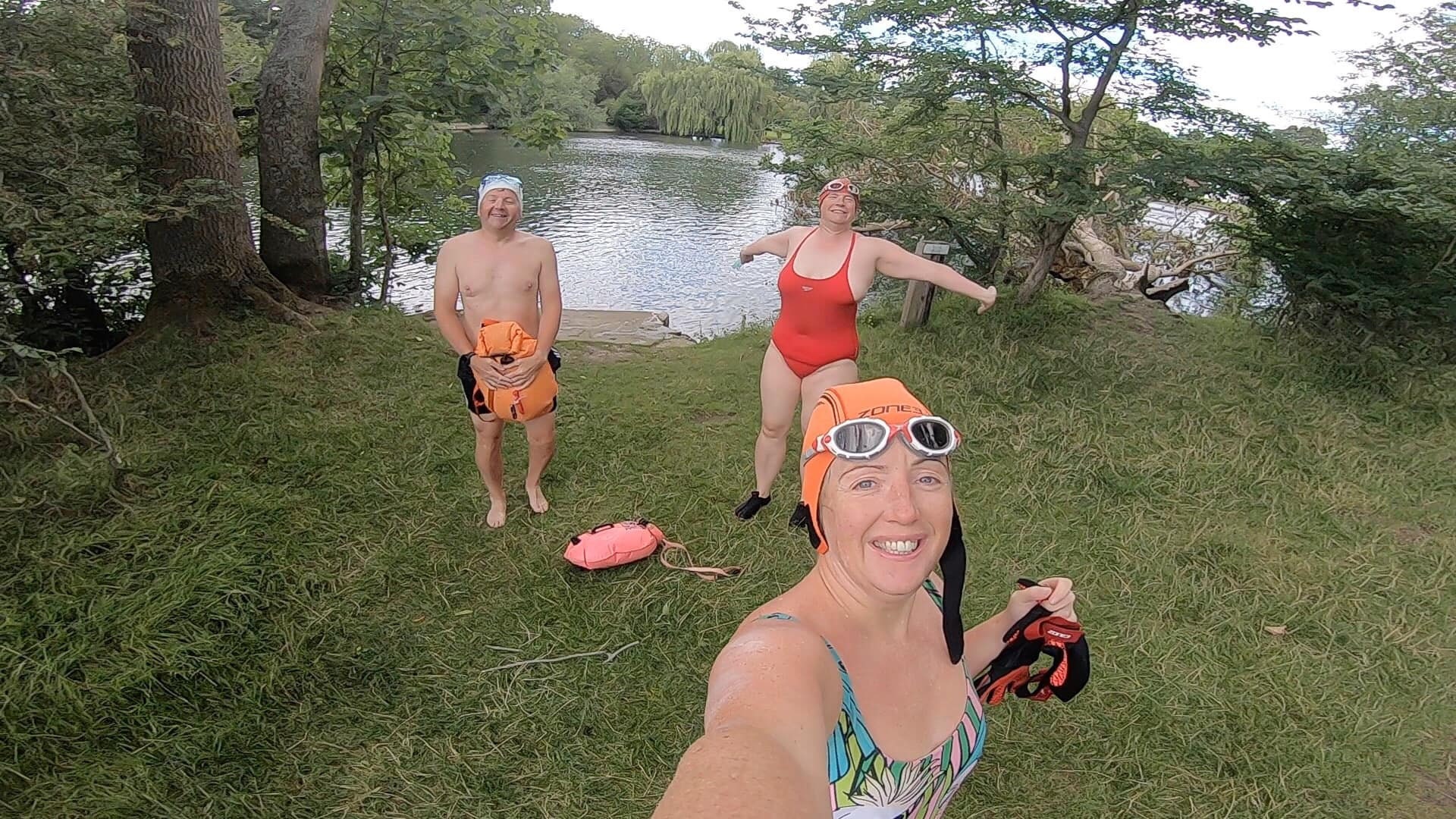 8 September 2020, 6,340m , 2 hrs 48 minutes. 16 degrees water temperature.
Such a beautiful stretch of river. Starting at Shiplake we got into the river with a few cygnets to keep us company and the river opened up to a really wide part.  Lots huge houses and little islands.  Very wild looking until we got to Henley and then there were a few more boats.  There were reeds under the water all the way which were tickling us.  I guess that is a good indicator of a healthy river.  We saw at Marsh Lock that there are salmon and trout in the river.   It was a beautiful swim thank you river Thames.  You surprise me every time! 
15 September 2020, 8,372m, 3hrs 
Lots of huge Riverside mansions, really beautiful designs, stunning gardens and gorgeous boathouses. A lot of islands to navigate.  
The water temperature today was around 16 degrees.  It was a hot day and I didn't get cold during the swim.  Just when we got out to cross over Sonning lock.
24 September 2020, 7,002m, 2 hrs 57 minutes.
A chilly swim today!  The water temperature was hovering around 15 degrees.  We were in for just under 3 hours, so not surprised we were cold by the end. Today we did the caversham bridge (Reading) to Sonning bridge.  Just over 4 miles.   An amazing amount of swans at the start.  They even followed us for a short distance.  After we left the built up area we came to a rather uninspiring and boring stretch.  I think it would probably have improved with some sunshine.  We were all feeling the chill. Getting out twice at locks didn't help.  The water quality wasn't very good up at Reading. But I was expecting it to be less because it is a built up area.  Sadly where there are humans there is usually pollution!! I'm pretty sure we left the town coated in diesel! Thankfully the Sonning stretch is beautiful.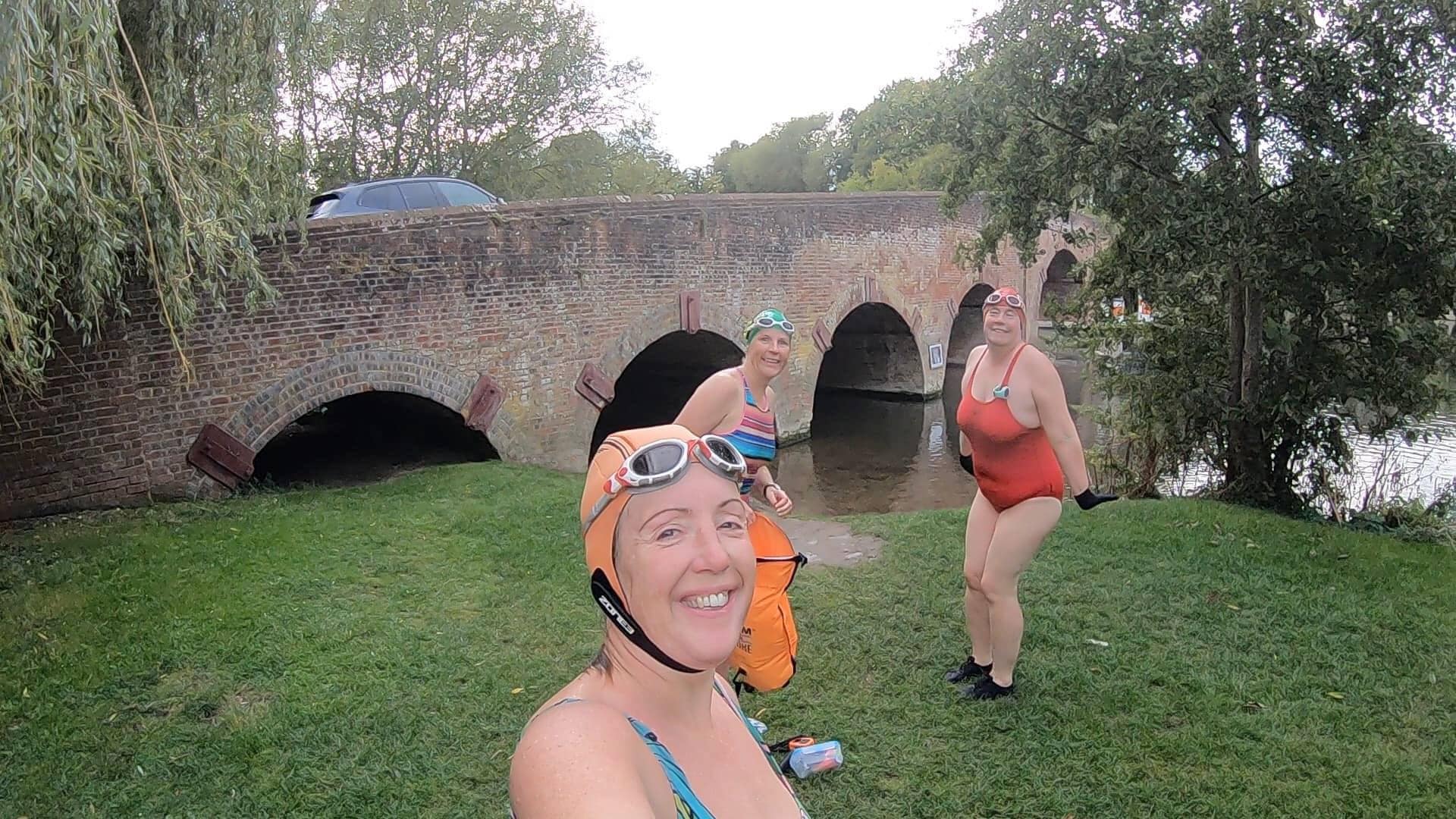 15 October, 4,923m, 1 hr 17 minutes.
This swim gave a lot.  Kingfisher, swan and goose fly overs, gorgeous houses, cold water, dramatic sky, rain, sunshine, rainbow, friendship, ottering.  A fantastic 3.2 miles in just over an hour. A nice current to help us along.  Good times.  
20 October 2020, 5,915m 1 hr 49 minutes.
Gorgeous chilly, silky, sun kissed water.  Hovering around 11 degrees.  Kingfisher,  hundreds of noisy geese. Good to see the baby peacocks that we saw last week as we got to the end of the swim.  In the water for about 1 hour 50. The warmer air temperature made a huge difference.  Loved it. 
3 November 2020, 7,027m, 1 hr 39 minutes.
Fantastic swim!  Both out of our isolation and making the most of it.  Gorgeous sun drenched, swoosh, wildlife filled 7km swim from Streatly to Pangbourne. A really beautiful stretch of river.  We decided to walk after our swim today, just incase it got dark during the swim.   Around 11 degrees today.
10 November, 6,049m, 1 hr 57 minutes.
Low winter light and absolutely stunning houses with riverside hideaways.   Beautiful boathouses, deer, geese, kingfisher, sheep and the promise of otters.  We passed under a viaduct and enjoyed the flow of the river as we made our way down the river to Streetly. As we approach the end of the two gentlemen were sat by the boathouse enjoying a sneaky cigarette in the open and said they'd just seen an otter. Fiona and I both very excited and became completely silent in the hope that we might see our dream animal in the river Thames. We didn't see it, but the promise of an otter was exciting enough.  
Water temperature 8 degrees. 
17 November 2020. 4,634m 53 minutes.
After a beautiful walk through classic English historical villages along the Thames path, we got to our get in point next to Wallingford bridge.  As we sheltered under the arch to change we saw a kingfisher and many red Kites flew over. We enjoyed a fast current for 3 miles, and lots of really pretty river side properties.  Only one boat out today.  The river was on red boards, this means that boats are advised not to use the river. Leaving a splendid river for us! 3 miles in 1 hour!  Nice. 
24 November 2020, 5,073m, 1 hr 19 minutes.
Today's swim was pretty perfect!  Low winter light, beautiful walk through villages in the Chiltern Hills on the Thames Path. We found a perfect entry point at Shillingford wharf, where we got changed and then made our way into the water. The current was quite strong, but not too bad. The joyful pace, gave us the opportunity to see lots of wildlife.   Most memorably, six or seven Kingfishers, a woodpecker, Heron, Cygnets and red kite. All in it was amazing and ending with the best chocolate brownies and a beautiful handmade glass Kingfisher made for me by Fiona for my birthday. What a swim!!   8 degrees water.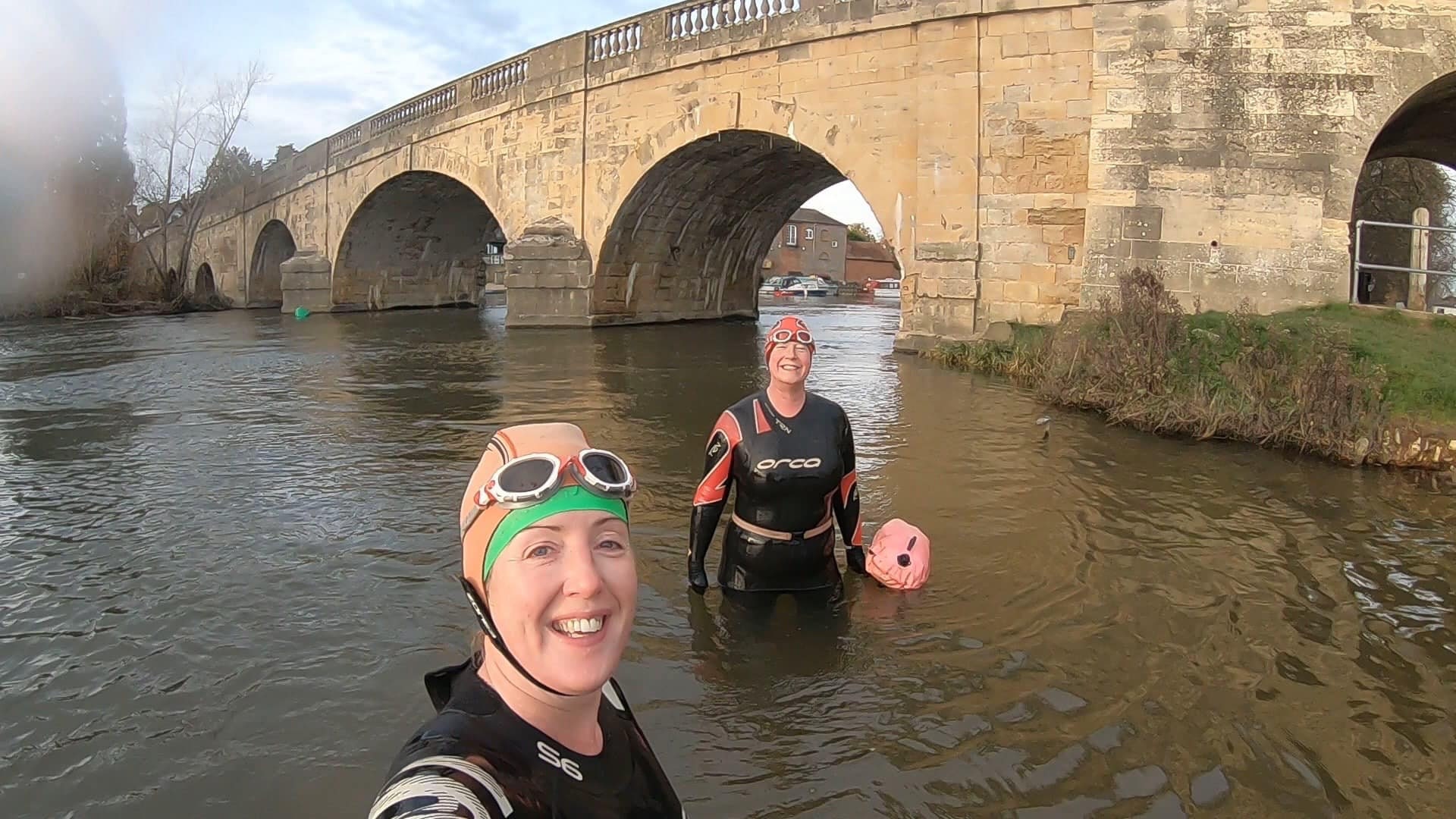 1 December 2020, 6,712m, 1 hr 58 minutes. 
Best quote from today... "I can't believe what I'm seeing" from a gent watching us swim under him as we swam down the Thames today. A lot less current than last week, so we had to actually swim properly.  Not just Otter down with the fast flowing water. Lots of wildlife on this stretch plus a few sheep and chickens (in a very fancy pen)! It was only one degree colder than last week, but felt colder today and by the end we were ready to get warm again. Really enjoyed it though. A fun adventure on a cold December day. 
15 December 2020, 5,820m, 1hr 16 minutes.
A bit of a muddy one today, but a nice current to help us along.  There was even a friendly lock keeper. One kingfisher spotted today,  sadly not by me. But it was definitely prime kingfisher territory.  A chilly 6-7 degrees in the water.  Really beautiful winter light.  Loved it! 
27 April 2021, 3,746m, 1hr 14 minutes. 
Entering the water just after the hydro power station at Calham.   We made our way through the shallow area with Lily and lots of luscious green willow trees.  Then under the beautiful Culham Bridge.  Escorted down river by a friendly Swan, we passed Didcot powerstation the water became strangely warm. Our finish point was just after the railway bridge.  Just before that a Chinook swooped low over us.  The loud sound is amazing to hear. A bit of a scramble to get out, but we managed.   We got changed in the field and then made our way back to our cars passing a field full of swans. A gorgeous and strange scene.  Water temperature 11°C. 
20 April 2020, 3,214m, 1hr 22 minutes.
So good to be back doing our Thames swims again.   We started at Culham, walked up the Thames Path to our entry point on the Abingdon on Thames riverside.  Getting change in glorious sunshine.  Trying our best not to flash our white bits at passers by.    We got in the water it was so lovely and clear at a perfect 10°C.     Abingdon really looked like it has so much history.  Lots of buildings linking to trade routes on the river.  Really beautiful.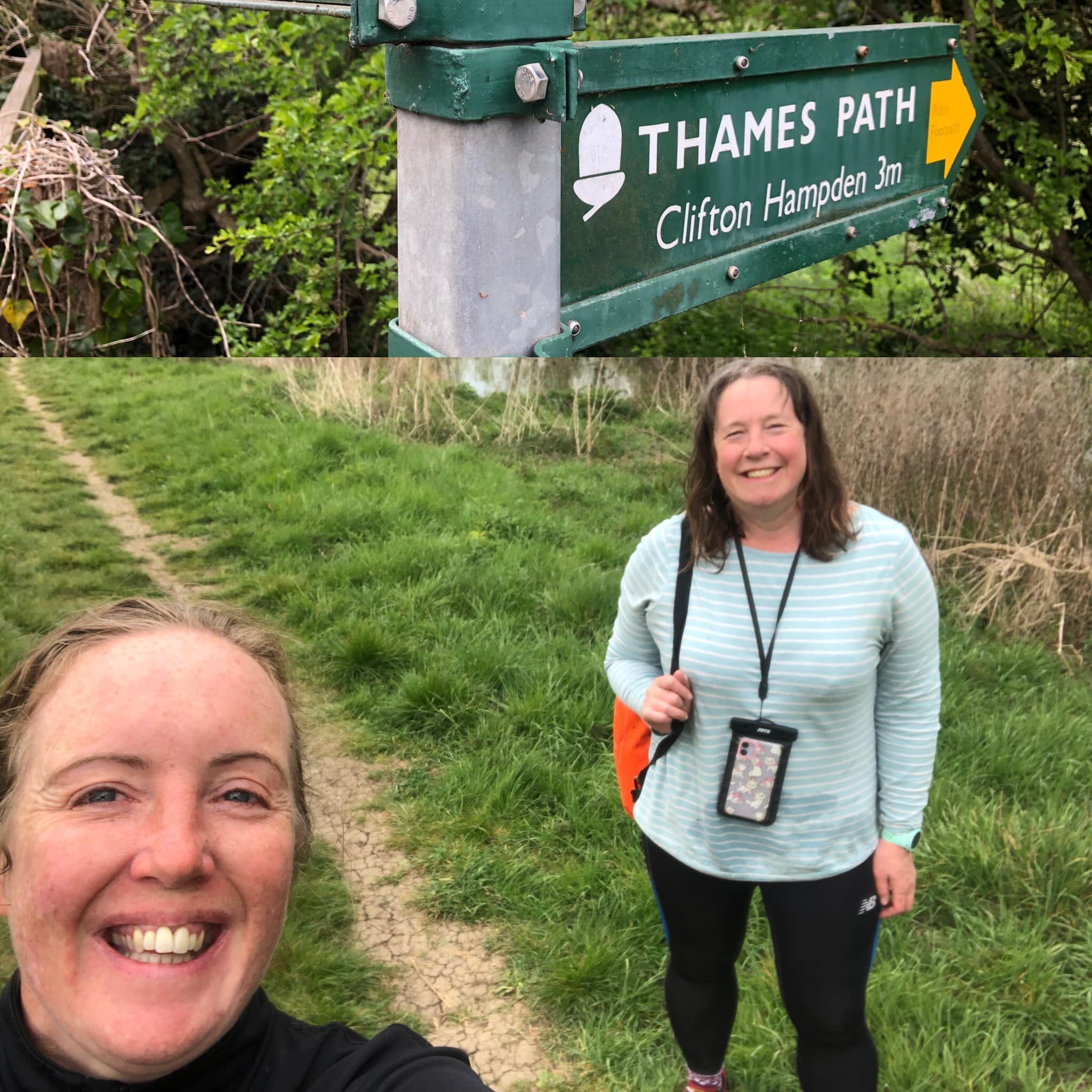 4 May 2021, 2,899m, 1 hr 16 minutes.
Well that was a challenging swim.  Very choppy waves in the river at Abingdon today as we made our way along the next section of our river Thames journey. After lunch with my parents, I met up with Fiona and we made our way up the Thames path to our next entry point.   The first stretch of the river was quite exposed and 2 foot waves and high winds made swimming quite hard work.  Luckily when we reached a more sheltered section, we enjoyed a nice relaxing stretch as we got the end end. Thankfully it only rained when we were in the water.    2 miles swimming in 11°C water. 
18 May 2021, 4,457m, 1 hr 32 minutes.
After an emotional hug and lunch with Mum and Dad I headed over to Radley to meet Fiona for our swim.  With a fruity selection of weather forecast we headed off to our next section of the Thames. Arriving at Radley we parked our cars and walked up to our get in point.   With threatening clouds overhead we decided to go for a shorter distance of just over 2 miles. We headed in and immediately enjoyed current assisted swim.  Along meandering a river and high banks of luscious trees filled with bluebells. We passed some grand houses and finally reaching our exit point at the railway bridge.  Clambering out onto the bank was quite funny and very muddy!  We then made our way back up the Thames Path through the mud to our cars. All in all it was a fantastic and beautiful stretch of river.   Next week we head further in to Oxford!  I'm so excited.  It feels like home territory.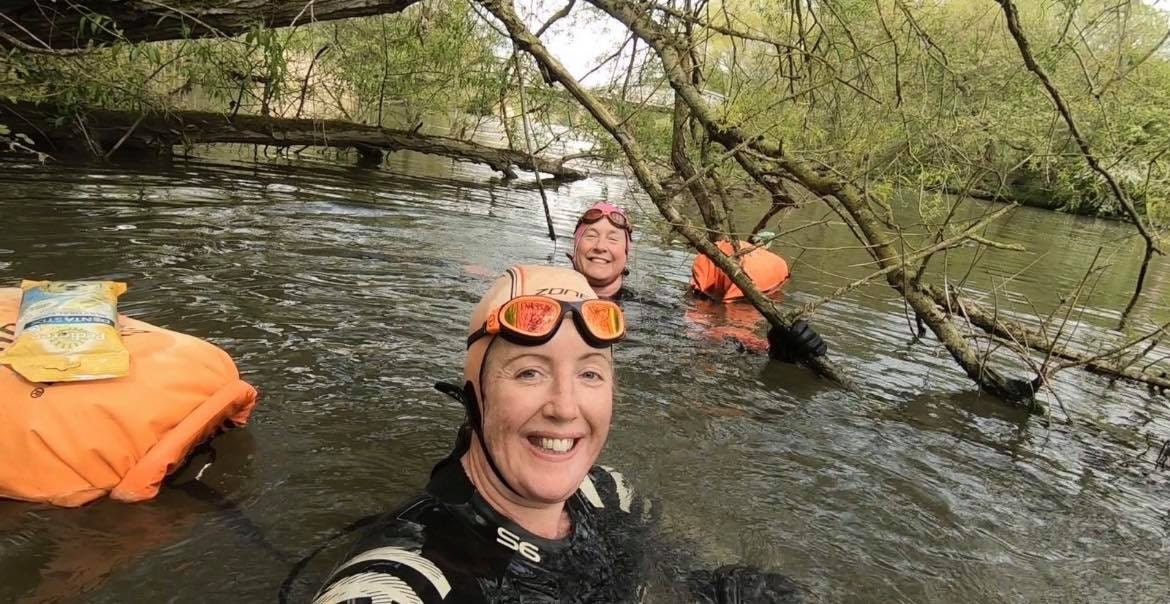 25 May 2021, 5,206m, 1 hr 20 minutes.
A walk up the Thames path to our entry point and a swim with the current back to Radley. Kingfisher, cygnets, terrapin and more.  Really pleased with my new Zone 3 breaststroke wetsuit.  So much more flexible and less buoyant than my other one.  Great for these longer swims when the water hasn't quite warmed up enough to go without.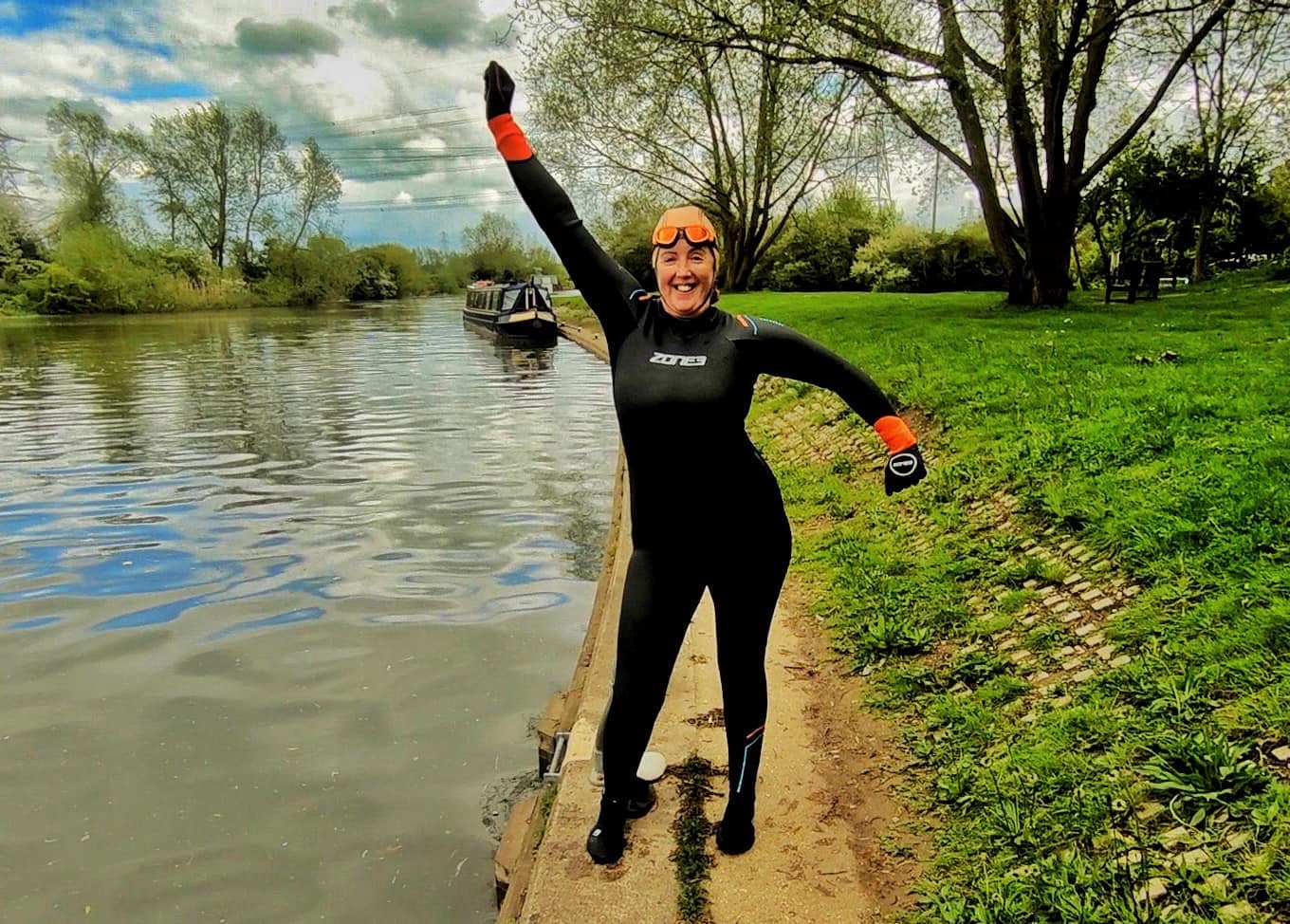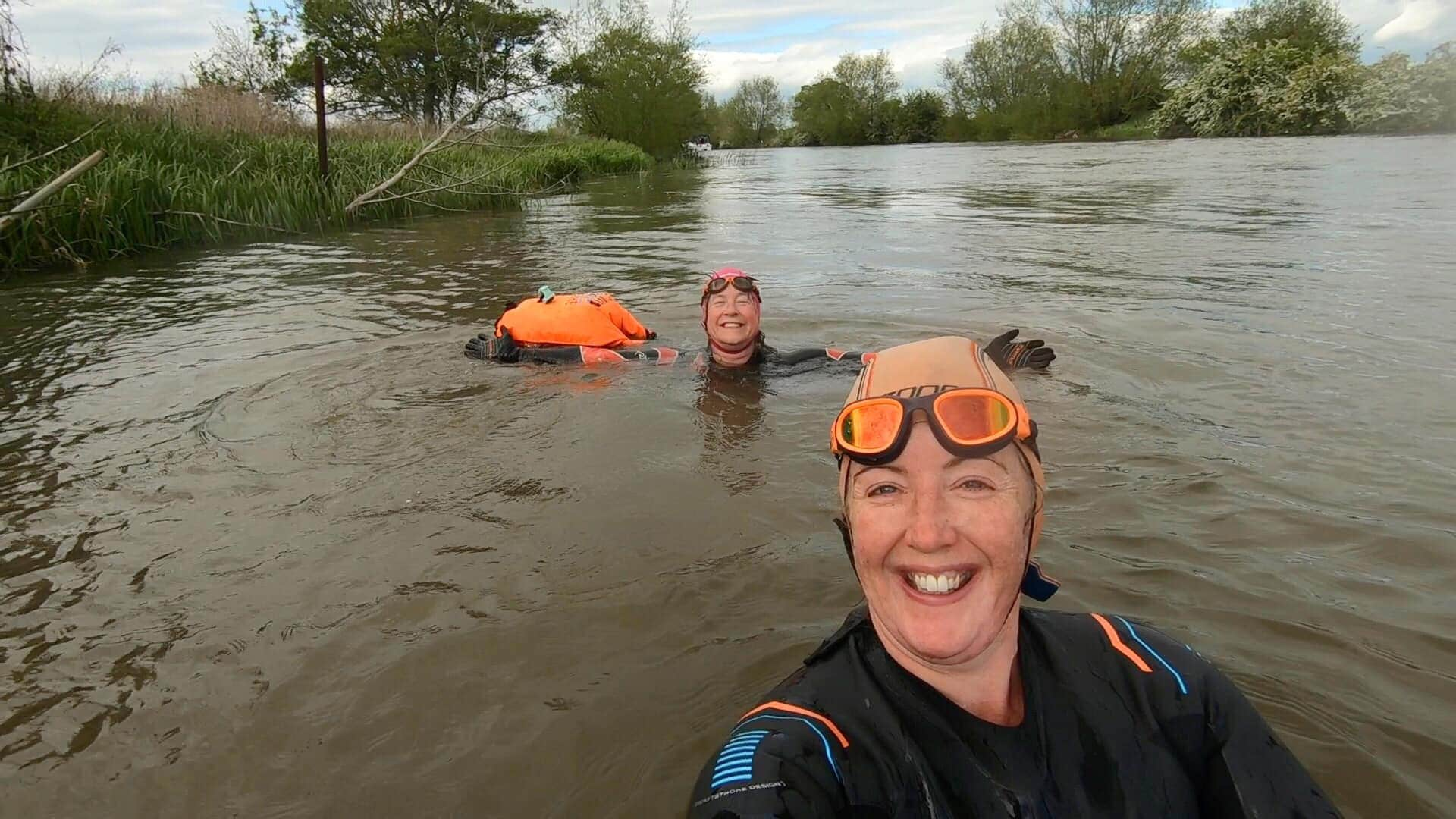 1 June 2021, 3,352m, 1hr 29 minutes.
Hooray!! The sunshine is out and we can ditched the wetsuits.  A beautiful walk up the Thames Path to our get in point at The mouth of the river at Oxford. The first stretch went passed all the Oxford boathouses. Lots of cruisers and some punters.  Then under a bridge full of housemartins and then onto a more open and secluded part of the river. Iffley Lock was possibly one of the most beautiful locks we've seen on the whole of the river Thames bridge.  It is also one of the first to be built on the Thames.  After the lock the river opened out into a section with banks lined with beautiful wildflowers and pink rhododendrons. Such a stunning day for our 2 mile swim in the Thames.  A big thank you to those who have advised us on and currents, getting in points, parking and temperature.  Local knowledge is so useful for our swimming experience.  Next we head into Oxford!  I can't wait!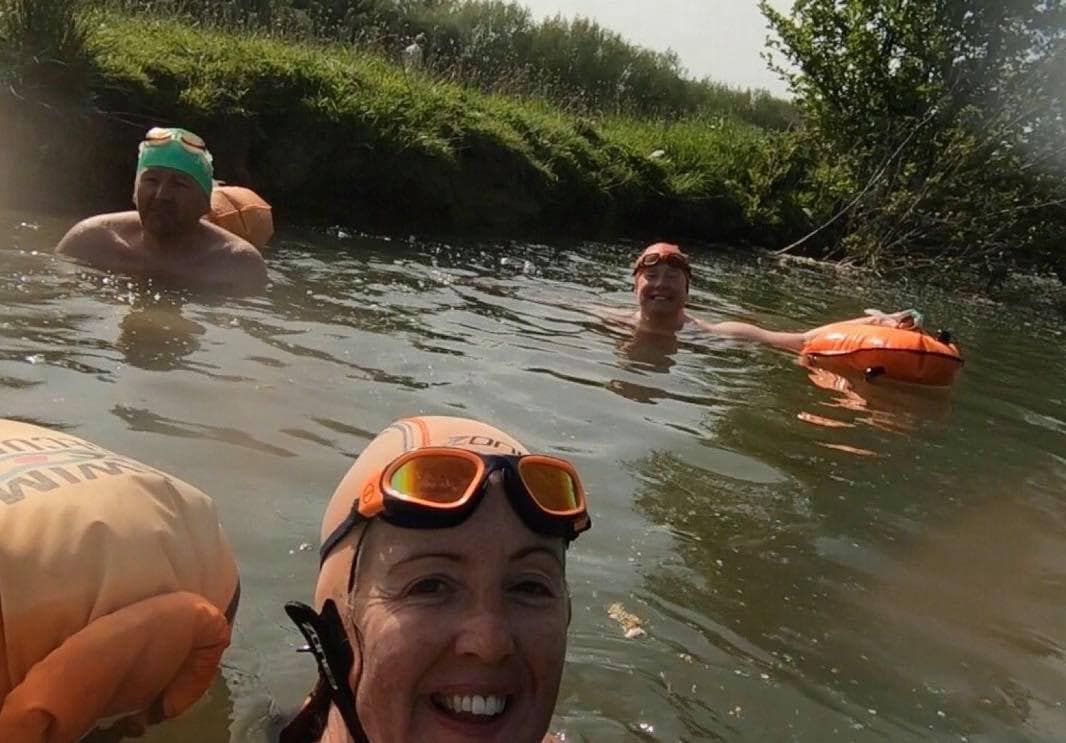 15 June 2021, 3,291m, 1 hr 28 minutes.
First of all a beautiful walk up the Thames Path,  scouting our return route along the way. The water looks beautiful and and clear we spotted some fish.   There's lots of wildflowers and lots of happy people along the path. As we reach our get in point the Vista opens out onto the beautiful Port Meadow which is filled with youngsters enjoying the water.   Lots of swimming & colour, lots of life! We got changed in shade and then made our way into the water. We had a blissful current to help us along.  The banks were full to the brim with beautiful wildflowers, reeds, elderflowers, roses, lots of dragonflies & tiny fish. I think this is one of my favourite stretches of The Thames. So many bridges & beautiful buildings as well.  Riverside allotments. The people were really friendly which makes all the difference. Near to our exit point we decided to take a loop of the island and then swing back to steps.  Hard work against the current, but a good work out. As we emerge from the water feeling very pleased with ourselves we stride out proudly back up the Thames Path across pedestrian crossings in our swim kit.  Very amusing. We then got changed in the shade and then made our way home. 2 miles swimming in heaven.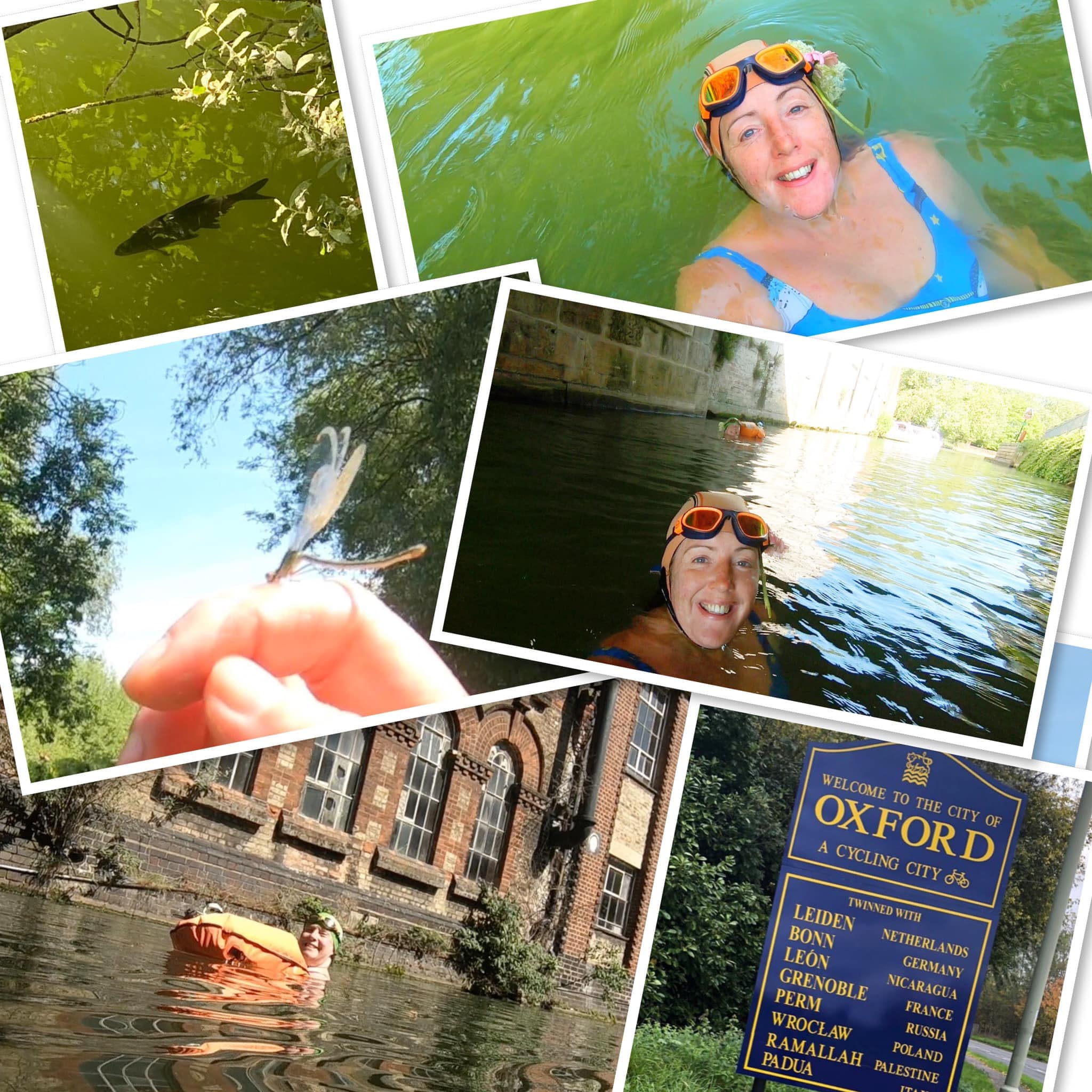 22 June 2021, 4,044m, 1 hr 42 minutes.
The river was a lot colder today we thought around 14°c. We entered the water at Kings Lock and immediately spotted a oystercatcher sitting on a nest. I couldn't believe my eyes. As we swam past it flew off. Saw it returning to its nest as we swam a few hundred metres down. This stretch of the river was very bendy and very shallow in places.  I imagine it would be very challenging to navigate in a boat. As we got to the lock the river opened up and the beautiful Port Meadow was on the left and the Thames Path on the right. We were greeted by some gorgeous cows who were taking a drink from the river. Then we made our way down to South Port Meadow through unusually weedy water. A beautiful swim even on a grey cloudy day.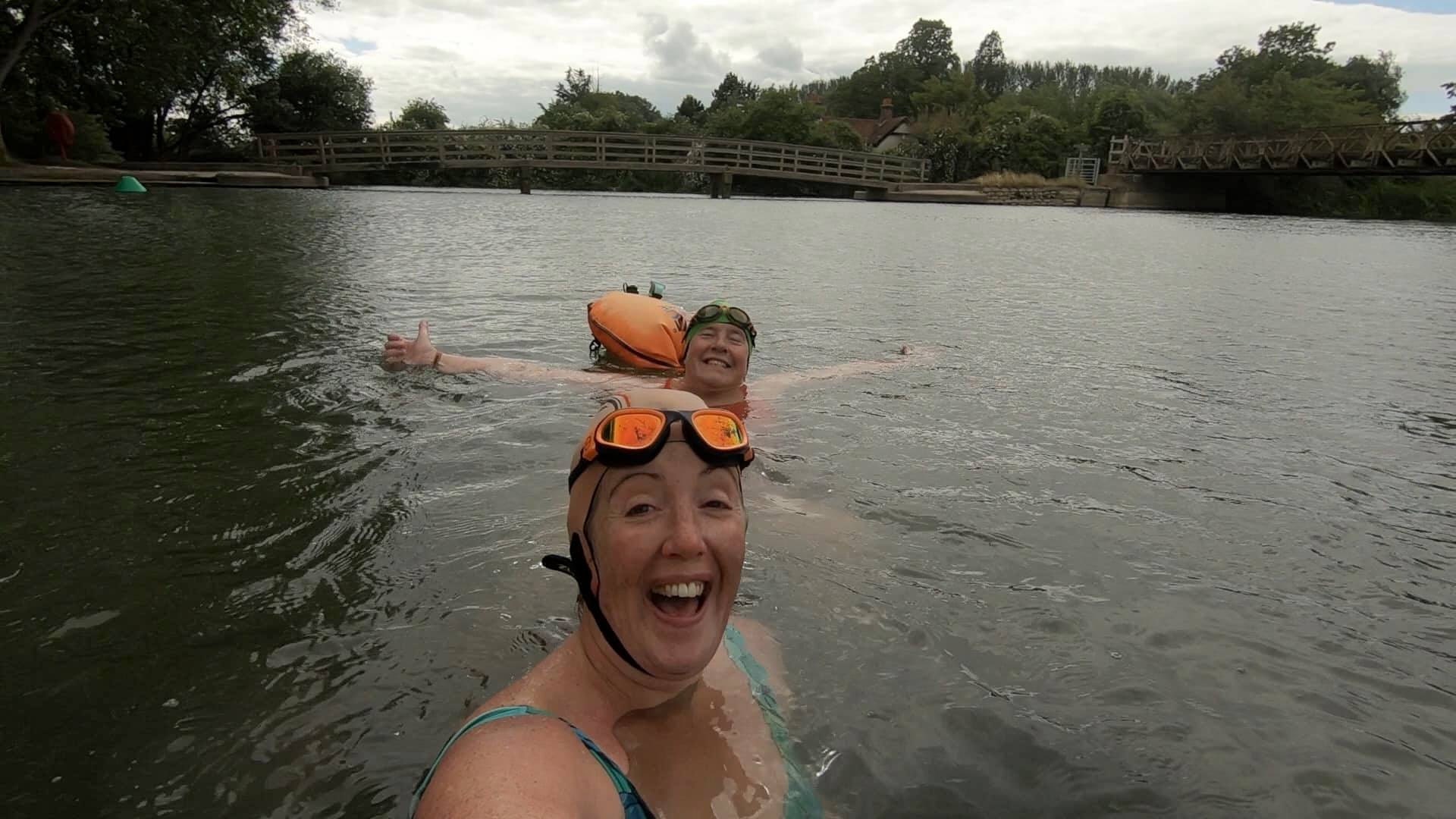 6 July 2021, 4,074m, 1 hr 43 minutes.
What a beautiful stretch of river.  We only saw one other person on the swim!  It's inaccessible banks for most of it, so we had it to ourselves until we got to the lock and junction joining onto the Oxford canal.  Lots of birds, bees, butterflies, dragonflies and green! Our search for an Otter continues!  One day!  
13 July 2021, 3,991m, 1 hr 56 minutes.
Normally at the start of our swims I'm really excited for the swim head.   Although the walk to the start point was stunning lots of wildflowers butterflies and alongside the reservoir I wasn't feeling my usual positive self. We entered the water and then all of a sudden the darkness crept in. I found myself feeling very negative and came to the conclusion that it must be hormonal and food related.  It wasn't positive, but it wasn't as bad as some things I have been through.   I could feel the chemical imbalance in my brain and knew I needed to deal with it. I told Fiona how I was feeling and immediately felt better.  Throughout the swim I was thinking about food, but had the happy distraction of all that was surrounding me. The stretch of river was very Bendy and unfortunately very little current to help us on our way. After all the rainfall we had yesterday we thought we'd have a good current to assist us but it turns out that this is probably the slowest current we've had on our whole River Thames experience. So my lesson from today is eat plenty and then I won't obsess about food for the whole swim.   It was also a reminder that the simplest of things can effect your mental state.  Luckily I am good at working out what it is and dealing with it before it turns into something worse.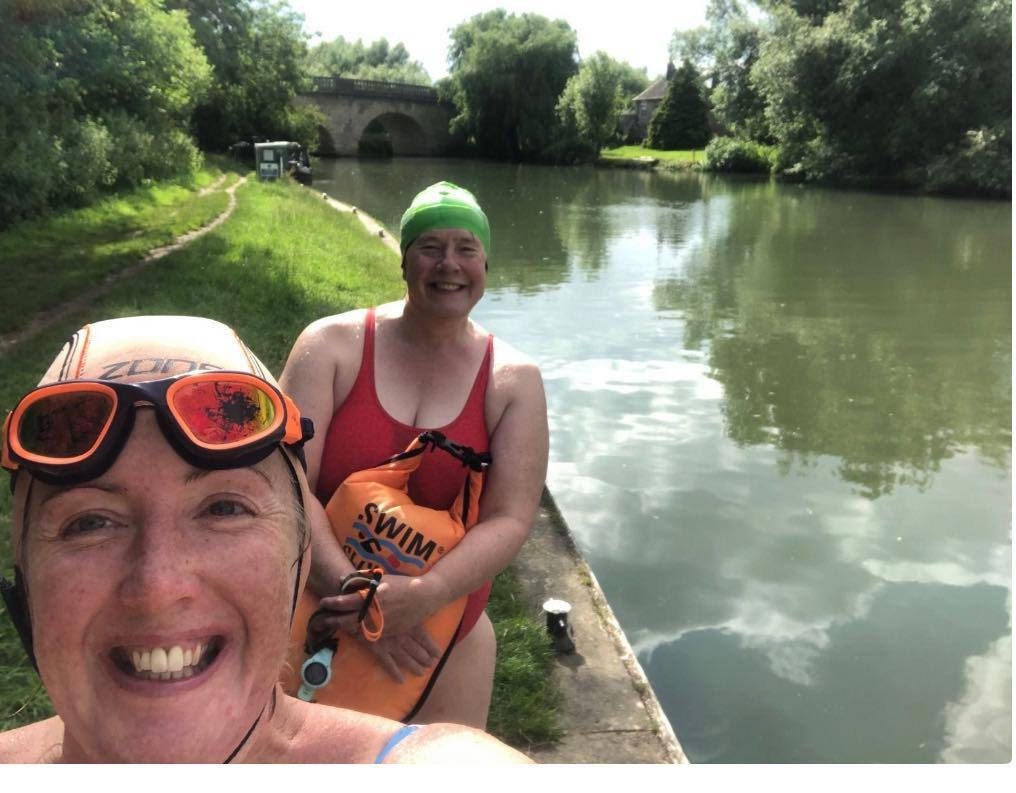 20 July 2021, 4,323m, 2 hrs 4 minutes.
Well that was absolutely blissful!  You'll be pleased to know that after a substantial lunch my swim today was much more enjoyable! No thoughts of food crossed my mind (well apart from when we swam past a pub)!  This stretch of river was absolutely packed with wildflowers, dragonflies and then lots of agitated Geese near the end. Northmoor lock to Farmoor reservoir 4.3km in glorious sunshine.   After spending some time in other rivers and the sea, plus educating myself I am now even more aware of how much better our beloved river Thames could be.  The weeds should be luscious and green.  Not coated in pollution.  Please help us do more!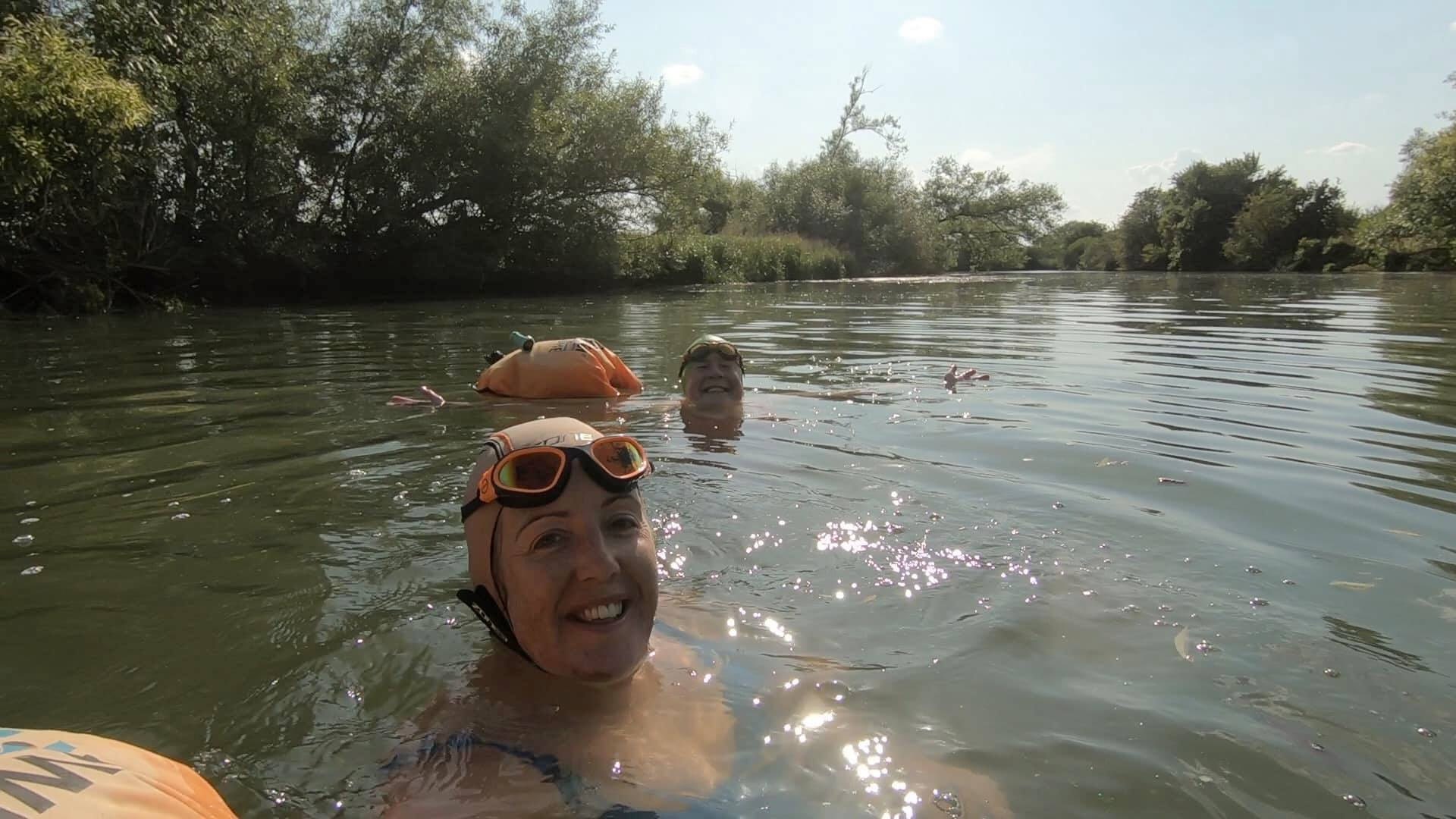 3 August 2021, 7,597m, 3hrs 23 minutes.
Swimming from Shefford Lock to Northmoor Lock. In the water for over three hours I think we swam about 5 miles. We stopped to admire the gorgeous housemartins displays as they feasted on the flies. Lots of blooming waterlily flowers and in amongst one patch we spotted a grass snake. A real tick off for wildlife spotting list. Now we just need some otter. The whole stretch looks luscious and green after the rain and there were jumping fish the whole time. Very Tranquille water with a few houses down the last stretch. And what look like the most motorised punting boats out on the water. A challenging but very rewarding swim.  Only about 28 more miles of The Thames to swim!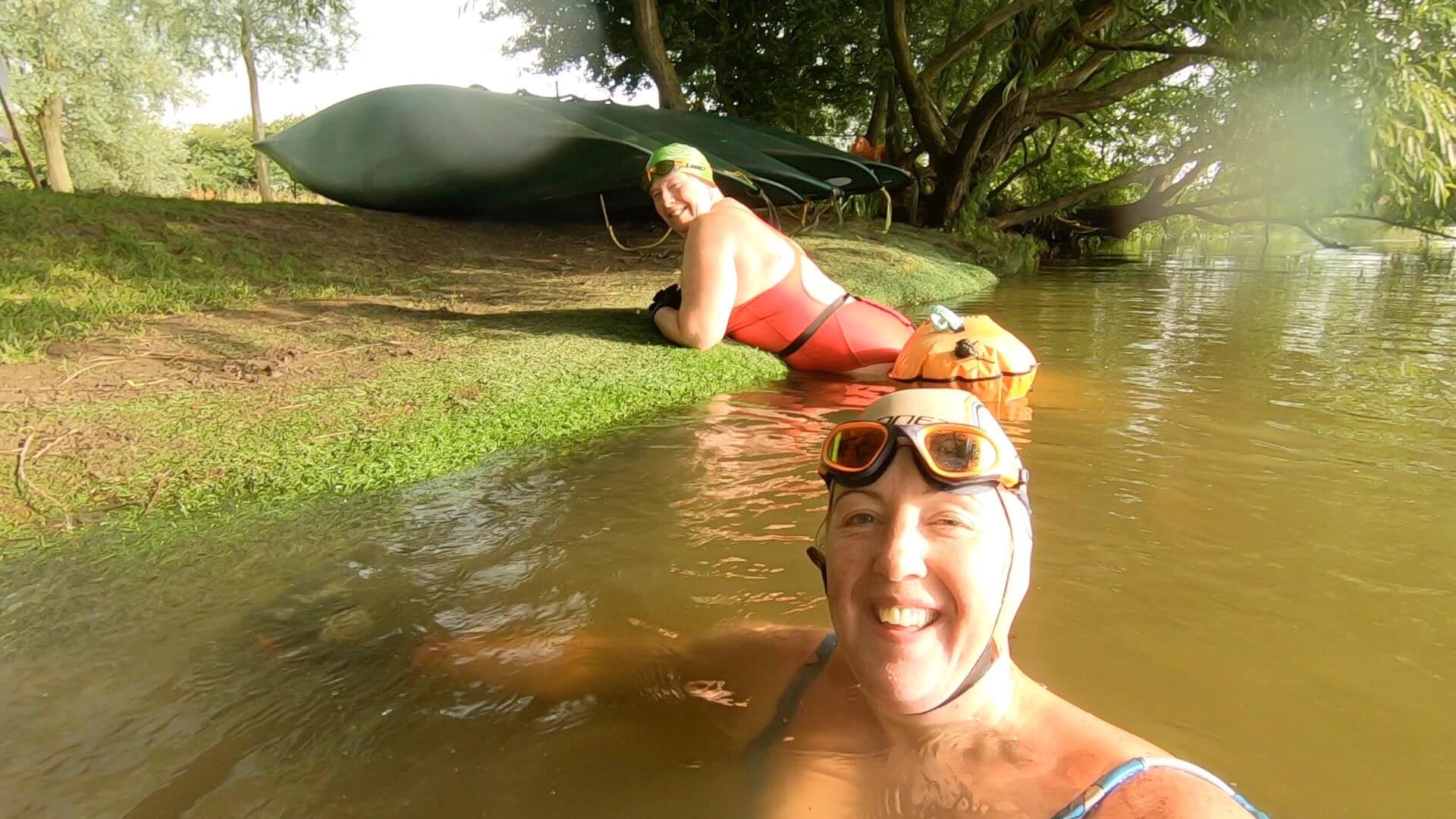 24 August 2021, 5,125m, 2hrs 26 minutes.
Finally after swimming the majority of the River Thames our dream came true and we saw an Otter 🦦  Otterly amazing. (I borrowed a photo from Google for my video). Of course this was the main highlight of a swim but the surroundings today were absolutely stunning. Luscious! As we left tadpole bridge we commented that it was like swimming in something out of swallows and Amazons. And as we reached Shifford Lock passed the Weir I also think I saw another snake wiggling it's way across the water. Best swim ever!  
This swim was particularly significant as it joined the dots between different stretches of The Thames that we have already completed. Now all we need to do is get to the source and walk some of the way, then swim what is swimable to Hannington bridge.   Then officially we have swam all of the Non tidal Thames.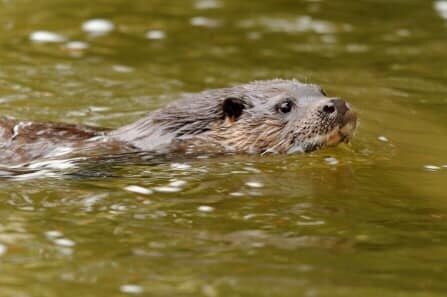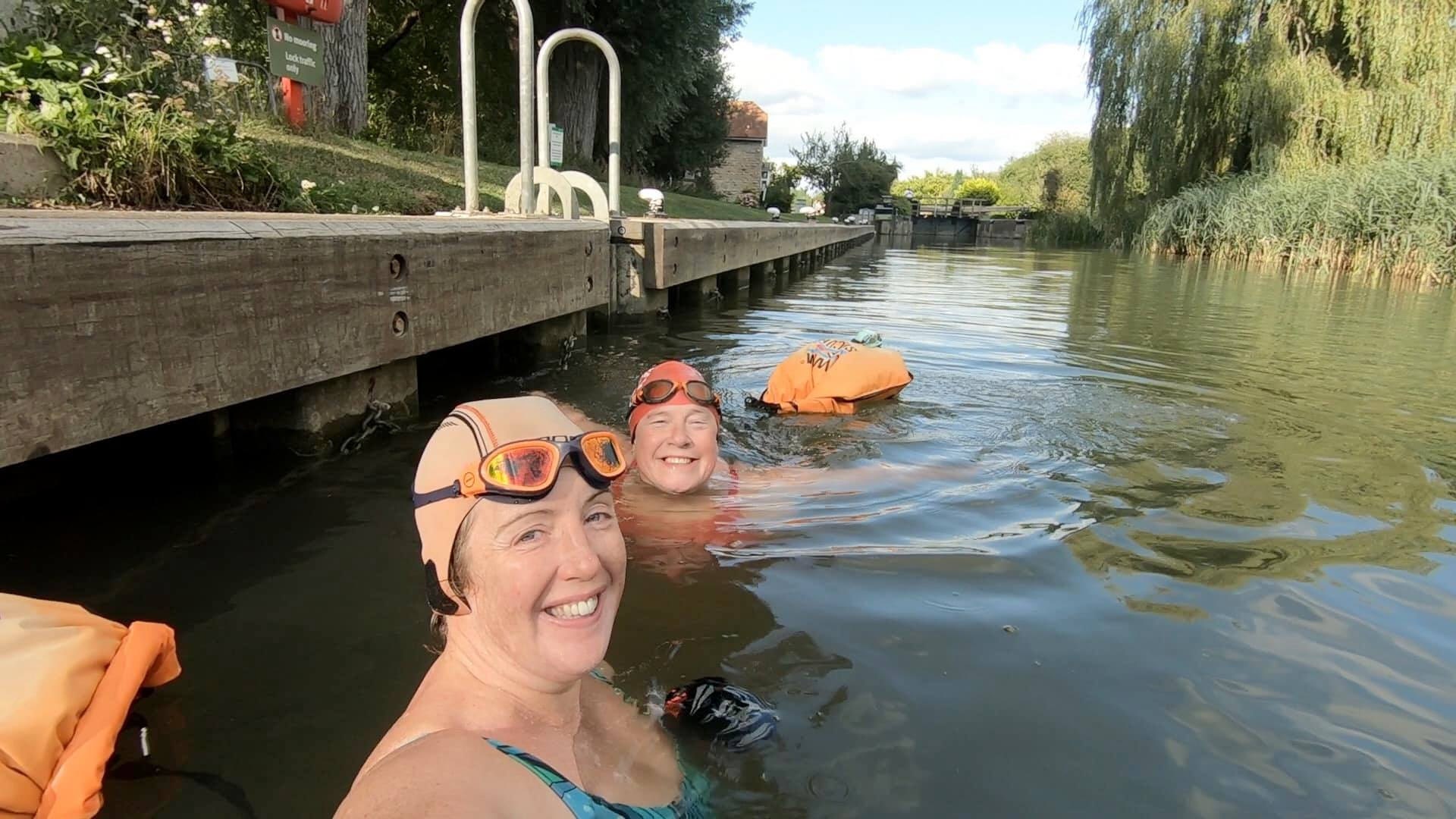 1 September 2020, 5,767m, 2 hrs 19 minutes.
We started today's Thames swim with a little concern about the sudden drop in the water temperature in the last week.  I'd found myself getting cold on previous shorter swims in the days before.  The wetsuits were ready for an outing!! We got there and the sun was shining, so we thought we'd take a chance.   After a walk up the Thames path, we got changed in the sun.  Not like last week when it was raining! The water felt cold as we immersed ourselves.  We got ice cream heads for the first bit of front crawl.  Soon after our faces became acclimatised and we got into our rhythm.   This section of the Thames is very bendy, some very shallow and narrow sections.  Not many landmarks to nosey at.  Just a handful of small boats and two swans.   Some fishermen enjoying this quiet stretch of river.  Then as we approached our exit point opposite the Trout pub at Tadpole bridge, we provided the customers with a little entertainment as we clambered up the bank.  All very dignified ofcourse. Great swim ladies.  Thank you Fiona Irwin & Louisa Bell.  Also a big happy birthday to Louisa.  Great cake!!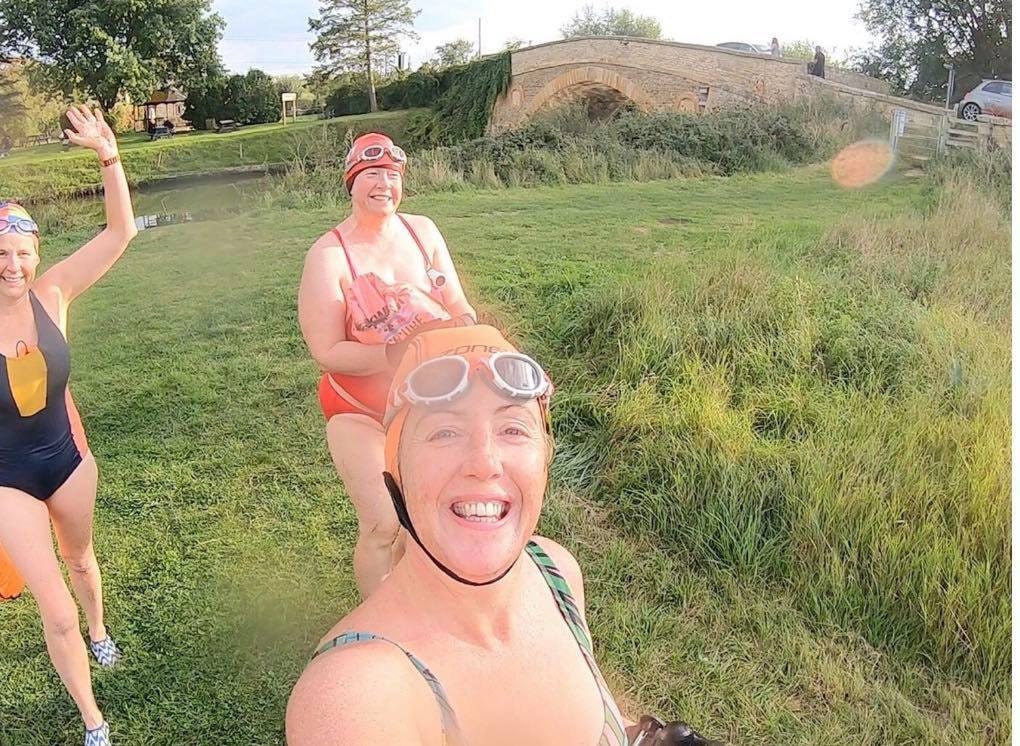 Continue our adventure on the next page of my blog!  Here's the link  Swimming The length of the non tidal river Thames in 2 years PART TWO (juliet-turnbull.com)